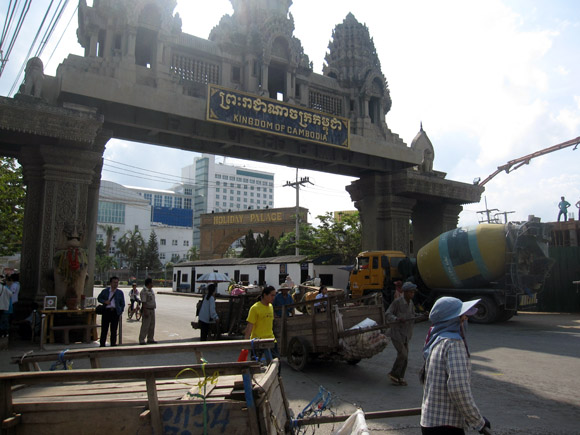 1.  Mo Chit Station- Bangkok
Start at Mo Chit Station– Bangkok's Northern bus terminal.  Take a bus to Aranyaprathet that departs every 30 minutes starting at about 4 am for the price of around 200 baht (US $6).  Bus takes about 4 hours.
2.   Rongklua Market- Border
The bus will either take you all the way to the border or it will drop you in town and you will need to spend less than 100 baht (US $3) on a tuk tuk to the actual border at Rongklua Market.
CAUTION: If you take a tuk tuk, don't let the driver take you to a middle man to get your visa.  Go all the way to the border and get it officially so you don't get ripped off.  Insist that the tuk tuk takes you to the border, if the tuk tuk tries to stop at a visa service, tell him to continue onwards.
Get exclusive updates
Enter your email and I'll send you the best travel food content.
3.  Border Crossing
Handle Thai immigration and walk through the Cambodian arch and finish the paperwork and payment of US $20 for a Cambodian Visa (have some US $ on you). You will then be lead to a FREE government shuttle bus (hassle free) which will take you a few kilometers into Poipet to the tourist taxi and bus station.
The choice of transportation to Siem Reap is either bus or private taxi.  The bus usually costs $8 per person while the taxi costs $12 per person.  However, the buses are rather infrequent with one in the morning and one in the evening.  If you have a group, kindly finagle a taxi and strike a deal.  Joining with a few other travelers, we were able to get a taxi for 5 for US $40, splitting the cost.  You kind of need to haggle a deal  but will probably pay somewhere around $10 per person.
4.  Poipet to Siem Reap
The 2 hour taxi ride will take you into the town of Siem Reap where most likely it will drop you off at a tuk tuk stop where all kinds of middle men will try to give you a free ride to a guest house in an effort to sell you a tuk tuk for the next day and make a commission on the guest house.  We were taken to the decent Green Town Guest House and accepted the offer, though you have NO obligation.  The tuk tuk driver will also attempt to get work for the next day by offering to take you to tour the temples, in my opinion not a bad offer.  If you want nothing to do with their services, kindly ask them to take you to your guest house of hotel of choice.
5.  Siem Reap Tuk Tuk
To hire a tuk tuk for an entire day of temple hopping should cost about US $12. Haggle a little and eventually reach a similar price.
OVERVIEW: The transportation from Bangkok to Siem Reap takes approximately 7 hours and costs approximately US $15-20 with very little pain and not too much effort.
Recommend:
I would recommend leaving Mo Chit bus station at about 6 am.  If you arrive in Siem Reap in the afternoon you can purchase a single day ticket ($20) to the temples at 5 pm.  This allows you to see the sunset and have the entire following day at the same cost and then maximize 24 Hours at Angkor Wat Temples.  We organized a tuk tuk for the first evening and the entire following day for $14 and had an outstanding trip.
Get exclusive updates
Enter your email and I'll send you the best travel food content.