Hawaiian Plate Lunch
Hawaiian cuisine is synonymous with something known as the "plate lunch."
A Hawaiian plate lunch is the simple combination of steamed rice, creamy macaroni salad and a choice of meat.
It's normally packed into a compartmental foam container (or traditionally on a plate and put into a pie box) so it's easy to transport on the go. Disposable chopsticks are the choice utensil, but you'll aslo find plastic forks and spoons.
Plate lunches are made to consume at the beach – in fact every time I eat a plate lunch (anywhere I happen to be), I find myself dreaming of relaxing at a beautifully inspiring beach listening to the waves.
The Meat
The most complicated decision you'll have to make when comtemplating a plate lunch is the meat that will be the main event of your plate. Along with the starch, you'll be served a generous heaping of delicious meat!
Nowadays there are lots of items to choose from, but here are the classics:
Get exclusive updates
Enter your email and I'll send you the best travel food content.
BBQ Chicken, Beef, Pork – Hawaiian barbecue style, similar to Japanese teriyaki
Fried Mahi Mahi – Breaded and deep fried mahi mahi fish
Hamburger Steak (remember that epic Loco Moco?) – A thick hamburger patty mixed with onions and seasonings
Chicken Katsu – Japanese style fried breaded chicken
Some Hawaiian plate lunch restaurants will offer more choices, but these are the standards, the specials that have been tested throughout the years and passed.
The Macaroni Salad
The macaroni salad is like Thai chicken rice sauce, it's one of the make or break ingredients of a good plate lunch.
It should be mayonaise-ey and creamy, not overly sweet, and slightly salty so it mixes up nicely with the rice and meat. You don't want it to coat the rice like gravy, but you want it to mingle with the rest of the plate just a little bit.
Most plate lunches are served with 1 scoop of macaroni salad (known better just as "mac salad"), but you can also choose to get 2 scoops if you prefer.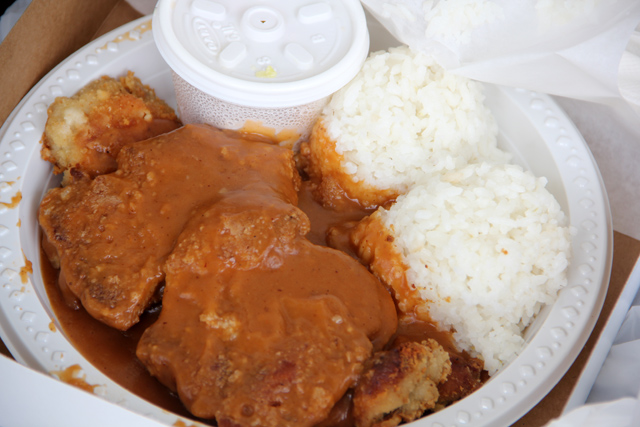 The Rice
The last remaining fundamental part of a Hawaiian plate lunch is the rice. Most large plates come with 2 scoops of rice, but mini or small plates will only include a single scoop.
The rice is medium short grain rice that is cooked moist and slightly mushy. The consistency goes well with the fried greasy meats and the macaroni salad to complete a Hawaiian plate lunch.
Where to Eat Plate Lunches in Honolulu
There are many hole in the wall locations to grab Hawaiian plate lunches in Honolulu, but here are a few popular and easy to visit locations.
Rainbow Drive In – One of the most well known and popular place lunches in Honolulu is Rainbow Drive In, located in Kapahulu, near Waikiki. They've been doing their thing for over 50 years now and their plate lunches are simply a Hawaiian classic.
Address: 3308 Kanaina Ave, Honolulu, HI, 96815, (808)737-0177
L&L Hawaiian Barbecue – There are locations all over Honolulu and even in the mainland of the United States. They have coined the term "No. 1 Hawaiian Barbecue," and their plates lunches are large in size and delicious.
For more Hawaiian plate lunch advice, check out Ono Kine Grindz and The Tasty Island.
Have you ever had a Hawaiian plate lunch? What is your favorite kind?
Get exclusive updates
Enter your email and I'll send you the best travel food content.