Immediately after licking that glorious bowl of sundubu jjigae clean, I decided to go for restaurant number two.
I had about 30 more minutes before I had to head back to the Seoul-Incheon Airport and decided to check out a famous spot that I had heard about, but hadn't had the chance to eat at the last time I was in Seoul, known as Gogung Bibimbap.
Bibimbap, a Korean food that includes rice with all sorts of goodies on top, all mixed up with a sweet chili paste, is one dish worth traveling for.
Gogung Bibimbap was recommended on both the Visit Korea tourism website and on CNN Travel, so I was eager to give it a shot myself.
Searching for the restaurant I randomly passed my favorite mandu spot, and almost got distracted, but managed to pull myself away.
Again, you can never go wrong with kimchi, one of the world's great condiments.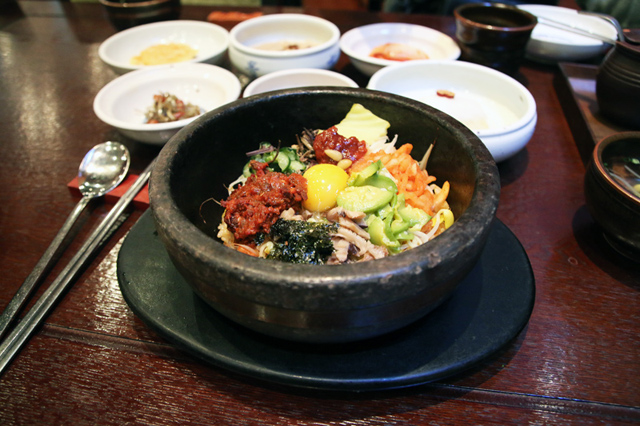 There was a full menu, but really there were only two main choices on the menu: Jeonju style bibimbap in a gold metal bowl, and dolsot bibimbap (돌솥 비빔밥) served in a flaming hot earthenware bowl.
Get exclusive updates
Enter your email and I'll send you the best travel food content.
It was a cold day, so I had no choice but to go for the dolsot version.
It arrived to our table in just a few moments after ordering, a rainbow colorful array of toppings over rice, cooking away to the beautiful sound of sizzle.
Price – 11,000 Won
One thing you have to remember about dolsot bibimbap (돌솥 비빔밥) is that you need to start mixing it up pretty quickly after it arrives at your table to prevent the bottom from getting burnt.
Doesn't look as beautiful now… but that's alright.
The rice was slightly crispy-fied, and the the veggies and sauces all had excellent flavor. The sauce was a sweet chili paste and there was an excellent flavor of sesame oil in the mix.
How did this famous bibimbap compare?
I'll first say that Gogung restaurant in Seoul is very famous, and it's written up in all the tourist information guides.
The dolsot bibimbap (돌솥 비빔밥) was excellent, but it was also very expensive.
I've had plenty of bibimbaps, in and out of Korea, that were just about as good and only half the price. Gogung is a really nice restaurant, the food is delicious, and the experience is great, but overall, it's very pricey for what it is.
Stomach warm and full, we hopped back on the train and headed back to the airport.
We boarded our plane to Honolulu on Korean Air, and guess what I had for my next meal?
Korean Air bibimbap… and it was actually pretty good, simple, but good!
Gogung (고궁 – 인사동점) at Insadong
The restaurant is located on the main Insadong walking street. You can take the subway to Anguk station, Exit #6, walk for a minute until you get to the walking street, make a left, walk about 500 meters or so until you reach the small mall on the left side known as Ssamji-gil building. Gogung is located in the bottom basement of that building.
Open hours: 11 am – 9:30 pm daily
Do you love Bibimbap?
Get exclusive updates
Enter your email and I'll send you the best travel food content.