At 3,210 meters, the Poon Hill sunrise view of the snowy rugged Annapurna Himalaya range, was worth every grueling step it took to get there!
Having the Himalayas close up, literally almost in my face, was a breathtaking sight!
The Ghorepani Poon Hill trek is a 4 – 5 day hike in the Annapurna mountain range in Nepal. It takes a moderate level of fitness to complete, and the max elevation is 3,210 meters (so there's no real risk of altitude sickness). Pokhara is the closest main access city to begin treks into the Annapurna range.
For the first part of this guide I'll share our itinerary of what we did and where we hiked each day.
Then below the day overviews you'll find all the information about how we prepared and arranged the trek, including costs and everything we spent.
We did the Ghorepani Poon Hill trek in mid-March 2013, which is low season, and it was still quite cold (probably got down a little below freezing when we reached Ghorepani). Ghorepani Poon Hill Trek can be done year round, but in the thick of winter there might be quite a lot of snow and ice on the trail.
Alright, now onto the guide…
Day 1 – Nayapul to Tikhedunga
Starting at about 8 am from Pokhara (the main closest town to the Annapurna Himalaya range), we took a taxi (taxi cost us 1,500 Nepali Rupees) to Nayapul to begin the Ghorepani Poon Hill trek.
The first day trekking was quite easy, and we mostly made our way gradually uphill walking along a gravel road. We stopped for lunch at Green Land Restaurant, a small house restaurant that was about the only option for food in the area. I chose vegetarian dal bhat for lunch, a combination of rice, dal, and vegetables. It was good and they offered as much rice as I could eat for 300 Rupees.
We continued hiking for another few hours, the road finally turning into more of a trail.
After arriving in the village of Tikhedunga, we checked into Tikhedunga Guest House, a beautiful lodge with a nice view and the sound of a waterfall in the distance. Our double room cost just 350 Rupees.
For dinner, I ordered a plate of white plain rice (150 Rupees), and a plate of stir fried veg noodles (270 Rupees), and also popped open a can of fish I had brought with me. I then had a cup of tea (50 Rupees) for dessert.
Water was available for re-fill for 60 Rupees per liter.
We slept early on Day 1 of the Ghorepani Poon Hill trek in order to wake up early the next morning.
Total trekking time – about 5-6 hours
Day 2 – Tikhedunga to Ghorepani
On Day 2 we woke up quite early, about 6 am, and ate breakfast. I personally ate muesli, which I had carried with me, in order to save money (video) on food. I ate a few cups of muesli cereal along with water for breakfast.
This day's hike was quite challenging, we walked straight up the face of the mountain for about 4 hours, eventually catching glimpses of the white snow capped Annapurna peaks.
The views were amazing!
For lunch we stopped at a small little house. I saw the sukuti (dry buffalo) hanging in the outdoor kitchen above the fire and I couldn't resist ordering a huge plate full. After chopping it into small pieces, she fried it up with some onions and spices and served it to me along with rice and dal. It was marvelous, and all I could eat for 400 Rupees.
After lunch and an hour of rest, we continued hiking. After about 3 hours we reached the cold Ghorepani village.
At Ghorepani we checked in to Dhaulagiri Lodge, located right at the top of the village in the main square area. They charged 300 Rupees for our room and 100 Rupees for a hot shower (which was semi hot).
Ghorepani was freezing cold when we were there, and shortly after arriving, it began to rain which turned to hail. There was also some old snow on the ground in Ghorepani. Luckily, just after the hail stopped, the weather cleared and we got some amazing views of the Annapurna Himalaya range.
For dinner I ate a plate of vegetable fried rice (260 Rupees) and a cup of milk tea (60 Rupees). We went to sleep early as the next day we would climb up to Poon Hill summit.
Total hiking hours – about 7-8 hours
Get exclusive updates
Enter your email and I'll send you the best travel food content.
Day 3 – Ghorepani to Poon Hill, Ghorepani to Gandruk
At 5 am, we got out of our cozy sleeping bags piled high with blankets, dressed up (using our down jackets that we had rented in Pokhara), and made the 45 minute climb to the top of Poon Hill for sunrise.
The clear morning view of the Annapurna range was nothing short of majestic! This was the view that the entire Ghorepani Poon Hill trek is based upon, and it's worth every step to get there.
We hiked back down and had breakfast at the lodge, I stuck with my muesli again. Drinking water was 60 Rupees per liter, so we refilled all of our bottles before beginning the main trek for the day.
On Day 3, the views were incredible. I literally couldn't help myself from stopping every few steps to take another photo and video clip. We hiked along a parallel ridge, surely one of the most scenic hikes I've ever taken. The trail included lots of downhill and there were some sections of the trail that were covered in snow and ice – a little scary in some areas – but we took it slow and careful.
For lunch we stopped for another delicious plate of vegetarian dal bhat, a meal I really enjoyed. The achar chili sauce in particular was wonderful. Price for dal bhat was 360 Rupees.
We continued to hike, and got caught up in a little rain storm (which luckily didn't last for too long) until arriving in the incredible town of Gandruk. Gandruk is actually quite a large village, and the views of the Annapurnas are outstanding. I wanted to stop hiking right there and remain in Gandruk for a month without doing anything but staring at the mountains – an amazing village.
We stayed at Muna Hotel for 350 Rupees per night.
I was so tired and so extremely sore on Day 3 that I just ate some snacks which I had brought with us and headed to sleep very early.
Total hiking hours – about 10-12 hours
Day 4 – Gandruk to Deurali
On Day 4 of the Ghorepani Poon Hill trek we had a leisurely morning, woke up about 7 am, but didn't get started hiking until 8:30 or so. Since I had skipped dinner the night before I ordered up a huge plate of, you guessed it, dal baht (360 Rupees) for breakfast! A few heaps of rice and vegetables later, I was ready to start hiking.
I couldn't find re-fillable drinking water in Gandruk, so had to buy a some 1 liter bottles for 100 Rupees each, ouch, but worth it.
The trail was mostly downhill, and mostly stone steps; it was great on the heart, but horrible on the knees. We hiked down and down and then back up again, passing through small villages and numerous small farms along the way.
We took a break for lunch, and since I had eaten a huge breakfast, I decided to just eat a few cups full of muesli for lunch, along with some other snacks.
At about 5 pm, we arrived to the very sleepy town of Deurali, really only a couple hours from a road (so if you were really pushing, you might be able to do the Ghorepani Poon Hill trek in 4 days).
We got a room at Hotel Trekkers Inn (350 Rupees), owned by an extremely nice Nepali lady who really took care of us. She boiled hot water for our showers and cooked us some delicious Tibet bread (140 Rupees) and an omelet with rice (320 Rupees).
I went to bed quite early again, sleeping like a baby!
Total hiking time – about 10 hours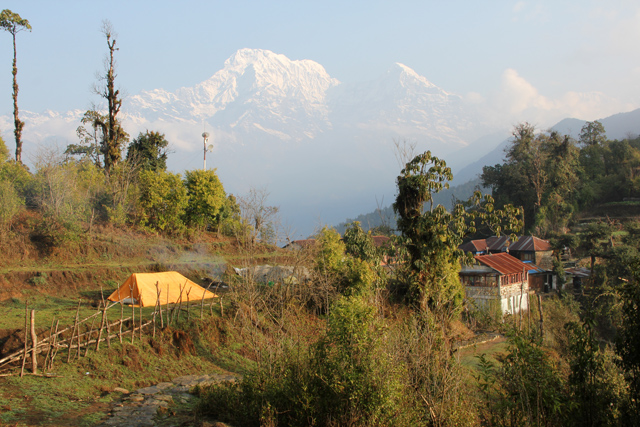 Day 5 – Deurali back to Pokhara (or to the Annapurna Eco Village)
We woke up quite early, I had a huge breakfast of muesli (of which I still had an entire bag still left), and began hiking. It only took about an hour to reach the permit check town of Pothana, a village that has road access and I think you could get a bus or taxi from quite near back to Pokhara.
We had arranged plans from Marigold Hotel (back in Pokhara) for our guide to lead us to the Annapurna Eco Village (1,000 Rupees per night). So we continued hiking, breaking for some dal bhat and fried chicken for lunch, and finally reaching the Eco Village in the early afternoon.
The Annapurna Eco Village was in a beautiful setting, but I didn't like it that much. Due to its eco-ness, we had to get our own shower water in a bucket (and other things like that), and after 5 days of trekking I was just ready to do nothing and relax. So we ended up staying for just 1 night before catching a taxi back to civilization, Pokhara.
Ghorepani Poon Hill Trek Videos
Throughout the five day hike, we filmed videos detailing the main things we did and saw each day. Just watch these amazing views!!
Part 1 of the Ghorepani Poon Hill Trek includes Day 1 – 2
Part 2 of the Ghorepani Poon Hill Trek includes Day 3 – 5
Trek Preparation
While in Pokhara, I stayed with, and booked everything through Marigold Hotel (Amrit Tours) – very highly recommended. The rooms at Marigold Hotel are around 700 Rupees, they are extremely clean, and the family that runs the hotel (as well as the tour agency on the ground floor) are all extremely friendly and helpful. Internet works pretty well when the electricity is on.
After asking around at various trekking tour agencies, Marigold (Amrit Tours) had some of the best prices and since they were so nice to us, we arranged everything through them, again I'd highly recommend their services.
Trek Permits
There are 2 different permits required for the Ghorepani Poon Hill trek. My wife and I paid a total of 6,650 Rupees for our permits.
1. Annapurna Conservation Permit – 1,000 Rupees per person
2. TIMS Trekker's Permit – 1,825 Rupees per person
Marigold commission for arranging all permits – 500 Rupees per person
With little time to research or to worry about arranging all the permits myself, we had our guest house handle all our permits. You could save 500 Rupees per person by doing all the permits yourself, but I thought it was worth the commission.
Guide and Porter
It's debatable wether you need a guide or not to do the Ghorepani Poon Hill trek. We decided to hire a guide, but if you wanted to save money, not bringing a guide is an option.
What I can say is the trail is very well maintained, however there aren't always great signs, so not having a guide might require a lot of asking which direction to go to which village – could be confusing – but not impossible.
I personally thought it was fantastic that we brought a guide, mainly because we had a local along with us, and I didn't have to keep looking at a map every 30 minutes. I could focus on taking photos and shooting videos without worrying about where to go.
Our guide also knew exactly which guest houses to take us to each night and also which restaurants to stop at. I thought having a guide was well worth the cost, and my wife felt more comfortable with a guide as well.
Again, we arranged our guide from Marigold Hotel (Amrit Tours) in Pokhara, at a cost of $20 US per day. We hired a guide for 5 days (so $100 for our guide for the entire trek).
There's also an option to hire a porter if you wish someone else to carry your backpack. I think the cost would be similar per day as for a guide, maybe a bit less.
Renting Gear / Supplies
If you're like us and don't have trekking supplies, don't worry, there are plenty of things to either purchase or rent for a trek while in Pokhara.
We came pretty empty handed, and since it was still winter when we did the trek, we had to rent some warm gear.
At a trekking store across the street from Marigold Hotel, we rented 2 sleeping bags (80 Rupees per day), 2 down jackets (100 Rupees per day), and 1 set of trekking poles (60 Rupees per day) all for 5 days for 2,100 Rupees. You'll also need to put down a deposit.
Sleeping bag is debatable, but I'd recommend it. The lodges normally have blankets, but it's better to be safe than sorry.
Other than the gear we rented, I mostly brought a pair of pants, a few shirts, and all the warm gear clothes I had. I hiked in just normal shoes, which are fine overall for the hike. Hiking boo
Accommodation on the Trek
I've done quite a few backpacking treks in the US where I had to bring all my own food, tent, and sleeping supplies. The Ghorepani Poon Hill trek on the other hand is what's called a "Tea House Trek."
Basically, the trek, while it does require a moderate level of fitness, is not an extreme wilderness survivor-man trek.
You basically hike from village to village, stay in decent but barebones lodges, and have the awesome option of eating delicious freshly cooked food.
As for accommodation (and you can see everywhere we stayed by looking at my day to day itinerary above), I didn't even do any research but just let our guide lead us. We did the trek in mid-March and he did mention that it can be challenging to get rooms at peak season, but when we went, it was very quiet, sometimes we were even the only ones in the lodge.
Food on the Trek
I'll be honest that I was initially shocked and then became slightly annoyed at the price of food on the trail. I had become accustomed in India and Nepal for paying a dollar or less for a full delicious meal.
But in the mountains, prices are far higher for food due to everything having to be transported by mule or hand up the mountain. Also, I think there's some standard set prices for restaurants on trekking routes in Nepal.
After a few meals, I finally realized that I was being ridiculous for complaining (to myself) about the cost of food, and so I changed to having a positive attitude. The restaurant owners, while charging a lot for food, are hardly making much profit, and they have to work hard to bring all the food up the mountain. Hopefully the profits from tourism are put to good use.
So instead of complaining, I was thoroughly thankful for the opportunity to enjoy hot and deliciously cooked food all along the trek. Dal bhat, the Nepali food staple of rice, dal soup, vegetables, and achar chili sauce is such an energy packed meal when you're trekking. Dal baht normally costs about 300 – 400 Rupees on the trek. Some Nepali street food (video) would have been tasty too, but restaurants mostly sell packaged chips, cookies, and candy.
The menus were pretty much all the same at every restaurant, offering local Nepali dal bhat, spaghetti, bread, omelet, Tibetan bread, porridge, fried noodles, and fried rice. All meals were about 300 – 400 Rupees. Tea and coffee (terrible coffee, don't order it if you like good coffee, stick with tea) cost about 50 – 60 Rupees per cup.
In order to save money, in Pokhara before we left on the trek, I stocked up on snacks like peanuts and chocolate and also brought some instant noodles, 3 bags of muesli for breakfasts, and some cans of fish.
You could save quite a bit of money by not purchasing food, but in the end I just decided to enjoy the hot cooked meals, and I loved it!
Drinking Water
As you probably guessed, water is not potable anywhere on the Ghorepani Poon Hill trek. So there are a few options for drinking water.
1. There's opportunities everywhere to purchase new bottles of water, so you'll never go thirsty. Usually the price is 80 – 100 Rupees for a 1 liter bottle, depending on how high in the mountains you are.
2. If you have empty bottles, many lodges and restaurants offer drinking water re-fills for about 60 Rupees per liter.
3. Water purification tablets, known as Aquatabs, are available all over Nepal. You just add a tablet to a liter of water, let it sit for a while and it's then safe to drink.
For the most part we tried to re-fill our bottles (option #2), but in some places we had to buy new bottles of water as well. On the last day, I decided to test out the Aquatabs, and I didn't get sick, and saved some money in the process. Overall, we probably had to spend around 300 – 400 Rupees on drinking water everyday.
Ghorepani Poon Hill Trek Costs
By this point, if you're made it this far, you're probably interested in knowing how much we spent in total on the Ghorepani Poon Hill trek. Here's what we spent all together for 2 of us for 5 days:
Day 1 – 1,550 Rupees ($15)
Day 2 – 2,530 Rupees ($25)
Day 3 – 2,225 Rupees ($22)
Day 4 – 2,260 Rupees ($23)
Day 5 – 1,330 Rupees ($13 – not including the accommodation this night)
Taxi to starting point – 1,500 Rupees ($15)
Taxi back to Pokhara – 600 Rupees ($6)
Guide – $100 total ($20 per day or about 2,000 Rupees – 10,000 Rupees for 5 days)
Permits – 6,650 Rupees ($67)
Rentals – 2 sleeping bags (80 Rupees per day for 5 days x 2), 2 down jackets (100 Rupees per day for 5 days x 2), 1 set of trekking poles (60 Rupees per day for 5 days) – all for 2,100 Rupees ($21)
TOTAL Cost of 5 day Ghorepani Poon Hill trek for 2 people – 30, 745 Rupees ($312)
We had an absolutely amazing time, and the views of the Himalayas were beyond spectacular. The Ghorepani Poon Hill trek is a great way to hike and be in the mountains while still being able to sleep securely and warmly and eat freshly cooked meals.
The trek was the highlight of my trip to Nepal and I'll never forget the breathtaking scenery!
Have you completed the Ghorepani Poon Hill trek?
Share your experience and any other tips in the comments section below! I'd love to hear from you.
Get exclusive updates
Enter your email and I'll send you the best travel food content.