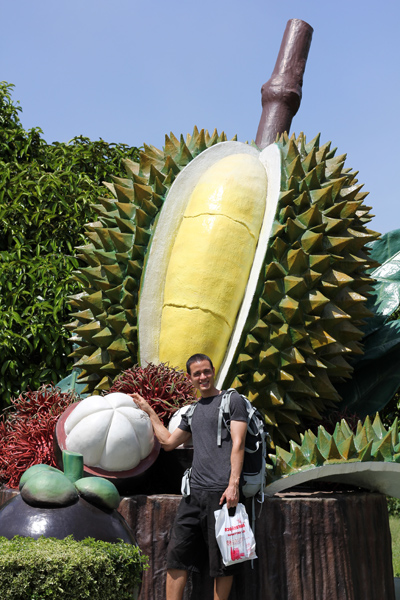 I really think Southeast Asia is one of the best fruit producing destinations in the world (and not just because of durian… though that's a big part of it)!
Every single tropical fruit you can imagine (or even fruits you've never imagined) are grown and eaten in this magical fruit filled southern portion of the Asian subcontinent.
If you're looking for beef, head to Argentina or Uruguay, but if you enjoy fruit, you'll have the time of your life in Southeast Asia!
When I heard "fruit buffet," I couldn't hold back my flaming desire to drop everything and head to the farm.
While tropical fruit is available year-round in Thailand, May through July is when the season really booms at full force.
Trees produce fruit like it's their job to feed us humans – it is!
No, I'm not a health freak, but I just can't help but continually be amazed that edible things so delicious and sweet are naturally produced by trees.
No human could ever create a dessert or snack as overall amazing as a natural piece of fruit (you may disagree, but really think about fruit – could someone make a mango? …no way).
Anyway, on to the juicy fruit buffet!
Suan Supatra Land
It took about 2.5 hours on the bus from Bangkok to Rayong and about 30 minutes on a local rusty bus that dropped us off at the gates of Suan Supatra Land.
Though I was expecting a little peaceful fruit haven where I could roam the farm freely and eat natural candy straight from the arms of the tree, when we I arrived there were a few other massive Chinese tour groups – so it was a bit of a tourist attraction.
But luckily that didn't takeaway from the greatness of the trip, nor did it hinder my fruit buffet demolishing ability (I just had to be a little more food aggressive – something I learned to do well in Vietnam).
Get exclusive updates
Enter your email and I'll send you the best travel food content.
After buying our tickets we were ushered off in a provided trolley that took a few minutes to the first stop: the rambutan station.
This was actually the only fruit we could pick ourselves straight from the tree. They were extremely sweet and equally juicy.
A trolley would pass every few minutes, so after spending a few minutes in the rambutan tree area, we hopped back on and headed to the fruit buffet station.
The Everlasting Fruit Buffet
Imagine walking into a fruit market and being able to devour anything you set your eyes on – that's about what the fruit buffet was, but instead of having to cut everything yourself there was staff slicing and dicing ferociously so we could focus strictly on important things… like how much fruit we could put away.
I began eating a few halves of santol fruit.
You just kind of suck the white fuzzy stuff off the seeds. The flavor is slightly sour and quite sweet and the texture is like a slimy cotton ball.
Of course there were plenty of perfectly ripened mangoes, and despite the fact that living in Bangkok I eat 2 – 4 mangoes daily for breakfast, I would never say no to such a gorgeous fruit.
Snakefruit was another one of the plentiful fruits offered at the buffet, and these were some of the juiciest I've ever had. Snakefruit is highly acidic and very juicy, quite sour with a bite to it.
After finishing the child-play with the other fruits, it was time to move on to the real deal, the king of all fruits.
Now a durian buffet is something that should be handled with respect, once you start eating it's virtually impossible to hold yourself back (due to its deliciousness), yet if you overdose you may end up with hot flashes and heart burn.
There was a stockpile of durian so grand that it probably could have fed the 5000, but luckily it was all for us!
After thoroughly enjoying a few ciabatta sized loaves of durian paired with a few kilos of mangosteen, I exercised self control so I wouldn't embarrassingly collapse from fruit exhaustion.
For the fruit that was easier eaten in bite sized pieces, like papaya, pineapple, jackfruit and starfruit, were sliced and provided on trays.
Growing up in DR Congo we used to have a rose apple tree in our yard. When I was kid I remember climbing the tree just about every single day for years so I could grab a few of the juicy fruits!
Next Station…
Hallucinating off fruit, we proceeded on to the next station – the som tam (green papaya salad) section of the farm.
Suan Supatra Land not only grows fruit, but also a selection of organic vegetables.
When the trolley dropped us off, there were about 6 ladies lined up, mortar and pestle in hand and ready to immediately pound whatever we demanded.
And I demanded it all (politely of course).
I could seriously taste the quality and freshness of the vegetables that were surely picked just hours prior to being served.
The green papaya was exceptionally crisp and the chilies were pleasantly scorching.
I indeed devoured the som tam without hesitation, knowing I could get free re-fills!
Mouth overjoyed and belly stuffed, we hopped back on the trolley, back to the entrance of the farm, and eventually made our way back to Bangkok.
Though my stomach bulged with fruit pregnancy, I couldn't have been more satisfied with the fruit buffet farm in Thailand!
Address: Suan Supatra Land, Nong Lalok, Ban Khai, Rayong 21120 Thailand
Do you love fruit too? Leave a comment!
NOTE: If you're coming to Bangkok, please be sure to check out my Thai food guide and my 101 things to do in Bangkok guide!
Get exclusive updates
Enter your email and I'll send you the best travel food content.