Jaow Restaurant
Location: Yaowarat, Chinatown, Bangkok, Thailand
Address: Yaowarat, Soi Plaeng Nam (On the corner of Thanon Charoen Krung and Soi Plaeng Nam) Phone: 24 02 623 0907, Check out the map here!
Price: Dishes are around 50 baht with rice, a buffet feast will cost about 100 baht per stomach
It is my duty as a human and citizen of this world to bring this precious dining establishment to your immediate attention.  While nosy-ing about one day like I often do in Bangkok's Chinatown (Yaowarat), my subconscious senses lead me directly to an eatery that shocked me.  On the quiet Soi Plaeng Nam (side street) perpendicular to the boisterous Thanon Yaowarat and Thanon Charoen Krung lies this culinary Shangri-La that should be on the food pilgrimage map in Bangkok, Thailand!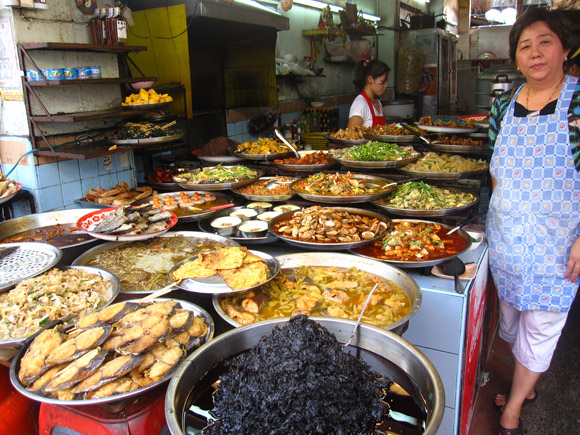 The pre-cooked piles of the best Thai-Chinese food neatly displayed will make your jaw drop to the ground with excitement.  The smiling chef in her baby blue apron will chit chat with you and even offer you a few samples of the most enticing dishes.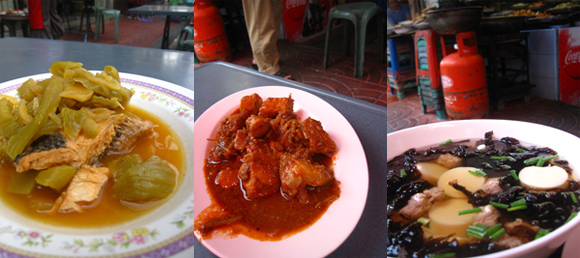 Get exclusive updates
Enter your email and I'll send you the best travel food content.
To list the dishes would take an extensive and mostly unimportant list that fluctuates from day to day, so I won't.  Rather, my advice is to go there, have a look, maybe taste, and then order whatever looks delicious.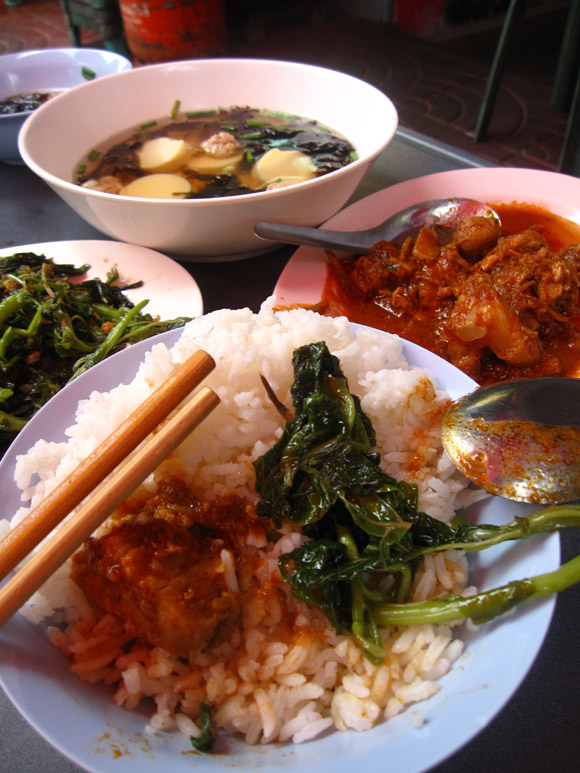 I got my hands dirty with a red curry fish dish, a plate of stir-fried green vegetables (pad yod mala), and a tofu seaweed soup (gang jued).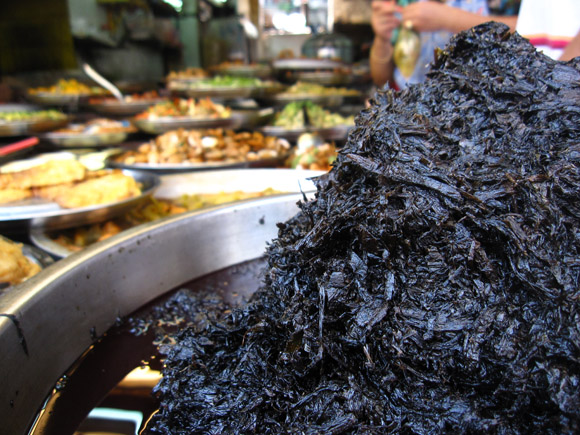 This black vegetable concoction called "Ga Na Shy" is cooked in a thick oil and is a Yaowarat specialty.  It's actually quite a lot better tasting than it looks!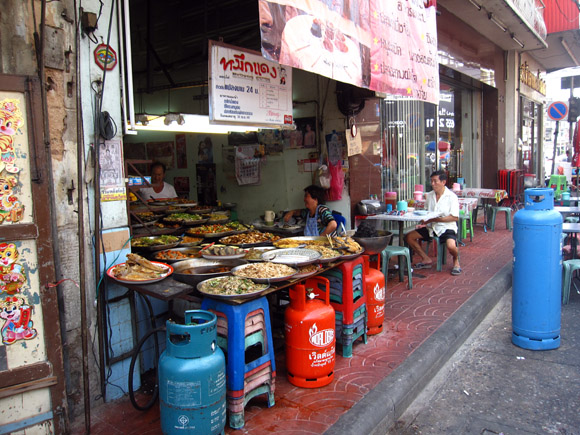 Jaow Restaurant is a spectacular display of ready made food.  Though most of the dishes are meant for takeaway order and ballooned up in plastic bags, there are 2 or 3 tables to sit at if you choose to "dine-in."  Lucky for all of us, the restaurant is easy to spot as the array of delicacies overflows onto the sidewalk on a makeshift table supported by plastic chairs and gas bombs.
This small eatery is an incredible place and I can hardly resist myself from moving into the neighborhood with the sole purpose of Jaow.
-Migration Mark
Get exclusive updates
Enter your email and I'll send you the best travel food content.