The Songkran Festival in Thailand (traditional Thai New Years) is the biggest and most sought after holiday on the Thai calendar.  Songkran is usually thought of as a few inebriated day of throwing buckets of water and shooting water guns where everyone is a target. 
However, with 66 million Thai inhabitants, there must be a bigger picture, so I turned to 27 of my Thai students to get a more local picture of what characterizes Songkran.
Tallying the results and analyzing the trends I came up with a single sentence that I think sums up what the Songkran Festival is for many Thai people.
Songkran is a long holiday to spend time being happy and excited with family and friends, respecting elders, going to the temple, playing with water, and eating seafood.
Below are the results with what I think are the most interesting answers, followed by the highest number of responses.   I will let the interviews speak for themselves and hope you enjoy!
Get exclusive updates
Enter your email and I'll send you the best travel food content.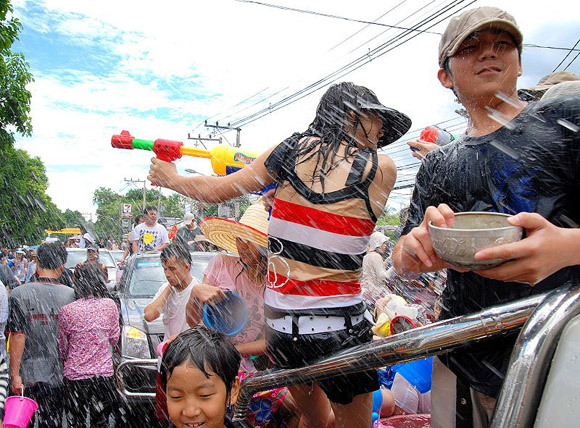 photo courtesy of Takeaway
"Best Holiday in Thailand" – 18 of 27 Students think that the Songkran Festival is the best holiday in Thailand.
1.  What is the first thought that comes to mind when you think of "Songkran"?
exciting and attractive people playing, water wet laugh, funny wet enjoy, water (5), happy (2), exciting (2), visit my family (2), water funny, water festival, water in Silom, water and friends, water and people, hot, fantastic, exciting water, happy relaxation, don't work, long holiday, time to relax
2.  Do you mostly spend time with family or friends?
family (18), both (5), friends (4),
3.  What is the Songkran Festival for you?
a time for me to get wet, enjoy people in Thailand, it's time for family, go out and eat at some restaurants, meet my family (10), play water with my friends (4), have a party with my family (3), a time relax (3), drink, a time that I go to my house, a time to see movies
4.  What kind of food does your family usually eat for Songkran?
Thai food (my grandma cooks for everyone!), ice drinks, ice cream, Thai dishes and perhaps some alcohol, seafood (12), Chinese food (3),  pizza (2), many kinds of soup (2), seafood- crab/shrimp/squid, Issan food, grilled seafood, roasted chicken, tomyum gung, same food as usual, suki yaki, noodles, som tam
5.  What is your favorite thing about Songkran?
i'm soaked, everyone is happy, put the water with water gun to people, shooting water guns and eating seafood, playing water (6), visiting my family (2), playing water with friends (2), stay home and play games, going everywhere in Bangkok, walk on Khao San road, go to the temple, meet new people, going back home enjoying the long weekend, go out with friends, holiday to relax
6.  Do you or your family have any traditions?
build sand castle at temple (old Thai tradition), go to the temple (17), anoint parents and grandparents (5), anoint Buddha (4), give foods to monks (2), go to grandmothers house on first day (2), stay at home and make dinner, talk to each other, go to the beach, drink wine with my family, visit relatives, make merit, have lunch together, go to the sea
An interesting tradition that one of my students mentioned is the annual sand castle (pagoda) building at the temple.  Though not all temples hold to this custom, some families still go to build an intricate sand castle to make merit.
7.  Where is the best place in Thailand to spend Songkran?
Bangkok/Chiang Mai-more funny people, anywhere- because Thai people are really happy for the long weekend, Chiang Mai (6), Silom, Bangkok (4), Temple (3), Pattaya (3), Khao San Road (2), Koh Samui, Hua Hin, Auksa road, Koh Chang, Serom road, anywhere up country.
Get exclusive updates
Enter your email and I'll send you the best travel food content.