Kanchanaburi is a province located in western Thailand, bordering Myanmar, and packed with lush forest and rivers.
A few years ago I spent some time in northern Kanchanburi province, and thoroughly enjoyed hanging out and exploring Sangkhlaburi, but I didn't have a chance to stop by Erawan Waterall until recently.
The Erawan Waterfall is actually a protected national Park in Thailand so there's an entrance fee of 200 THB for foreigners.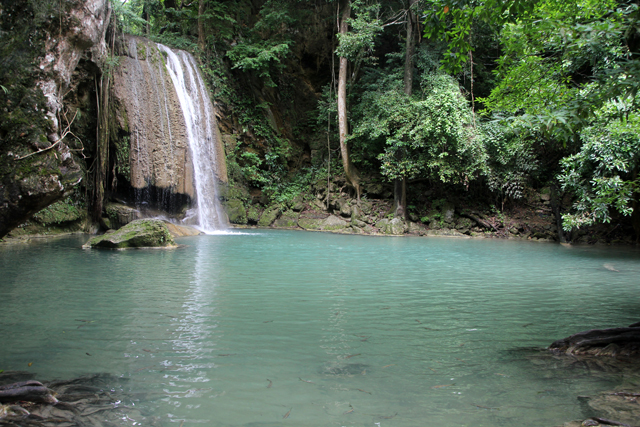 Erawan Waterfall, named after the three headed elephant, is famous for its seven layers of falls (though there are in reality many more shelves and layers than that).
The first layer is not all that much to look at, but just a stream with a few picnic tables. The beauty really begins at the 2nd waterfall where there's a huge pool of water to go swimming in and enjoy the refreshing falls.
Go even further and things keep getting better and better and quieter (however, unless you go in the early morning, there's always crowds of people at the falls).
Get exclusive updates
Enter your email and I'll send you the best travel food content.
The 3rd level of Erawan Waterfall also provides a great opportunity for a dip.
The trail is easily marked and although it becomes progressively less maintained and more rocky, it's a pretty easy climb – no too strenuous – but a little exercise to get you ready to swim.
Hiking along the trail at Erawan Waterfall you'll come across some interesting things in the trees, such as a number of shrines and trees wrapped in colorful cloth for the spirits, and this little head of a teddy bear that sits quietly on top of a big rock.
Erawan Waterfall level number five is a beautifully shaded area with many little miniature falls and a gorgeous environment. Though it can get crowded, if you are able to visit before the buses of tourists arrive, you'll be able to enjoy its pure natural beauty.
We kept hiking and hiking upwards and reached level number 6. Perhaps the water level was a little low the day I visited, but it wasn't overly impressive, so I stayed just for a moment and continued up to the final 7th layer.
If you ever visit Erawan Waterfall, don't stop at level number 6, keep going all the way to the 7th level, and you'll be glad you did!
In my opinion, it was the best level, the aqua turquoise water backed by white rocks and a gentle waterfall made for perfect scenery. After climbing all the way to the top without taking a swim, I was hot and sweaty and jumped right in the water. It was very cool and refreshing!
But if you relax without moving in the water for too long, the fish will begin to attack your feet, nibbling on your toes and heels and eating your dead skin. That's right, the water is full of those fish that give you a natural fish spa (I tried it first in Kuala Lumpur years ago).
The 7th layer of Erawan Waterfall is a perfect reward for climbing all the way to the top. From the first level it takes about 45 minutest to an hour to reach the 7th level.
There's not much food available inside the park, but just outside in the parking lot, you'll find a number of restaurant stalls where you can order different Thai dishes like som tam or pad kra pao.
Kanchanburi is a beautiful province in Thailand that offers many outdoor activities. Spending a few hours at the Erawan Waterfall is a great opportunity to get a little exercise and take a refreshing swim in each level of the falls!
Get exclusive updates
Enter your email and I'll send you the best travel food content.