Luckily in Egypt, you don't have to be the Pharaoh to EAT like one!
This list of 27 things to fulfill yourself with in Egypt is by no means extensive, feel free to share with me what your favorite Egyptian food is!
1 EGP (Egyptian Pound) = $0.17 USD
1. Diet Bread (above)
At the street store, the vendor told me it was "diet bread."  I bought some and ate it, but my trip to Egypt could be described as an antonym of the word "diet."
Price: Almost Free ($0.05)
Egptian Street Food – Arabic Bread

2. Arabic Bread
Egyptian bread that is eaten with almost every possible meal combination
Price: Almost Free ($0.05)
3. Thick Loaf Bread
Solid and heavy Egyptian loaves
Price: 2-4 LE ($0.34 – $0.68)
4. Ful Medames – Mushed Fava Beans
An undisputed and nutritious champ in the repertoire of Egyptian street food! I think not a single day passed for me without devouring a few portions of ful!
Price: ful sandwich 1-2 LE ($0.17 – $0.34) , plastic bag full 2-5 LE ($0.34 – $0.84)
5. Egyptian Sandwich Selection
Egyptian sandwiches are served all over Egypt and include an assortment of fillings.
Price: 1-3 LE per sandwich ($0.17 – $0.50)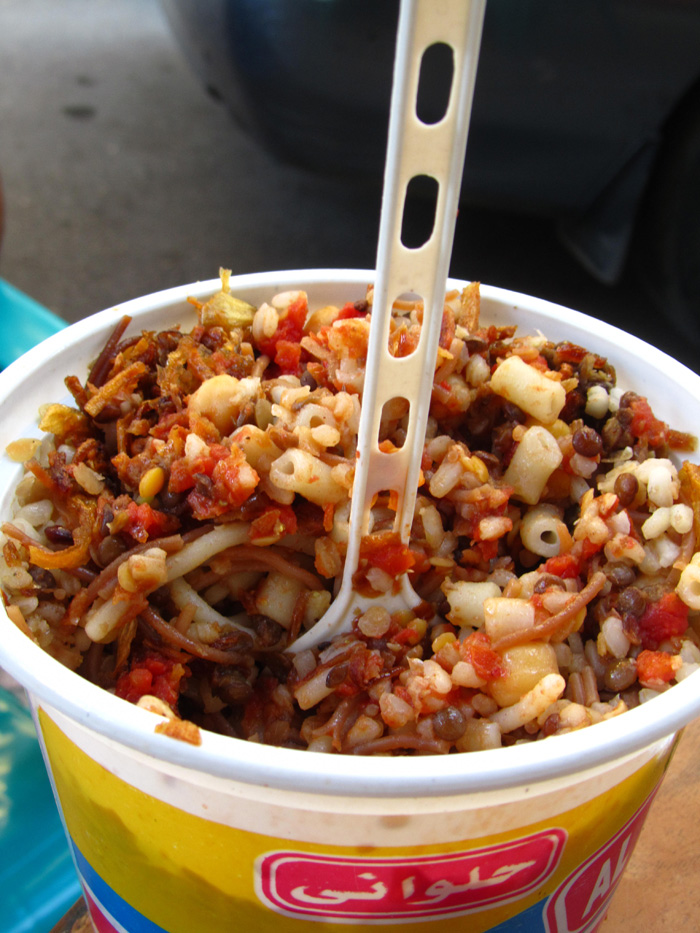 6. Kushari
Looking for a bowl full of filling (and tasty) carbs?  Look no further than Kushari, a true Egyptian manly meal!
Price: 5-10 LE ($0.84 – $1.68)
7. Falafel
Though falafel is enjoyed all over the Middle East, Egypt is recognized as the first to eat these flavorful deep fried treats. I ate quite a bit of falafel, but these little guys in Luxor were among my favorite.
Price: 1-3 LE ($0.17 – $0.50)
8. Tahini
Tahini makes an incredible dip or sauce for Arabic bread and on top of sandwiches.
Get exclusive updates
Enter your email and I'll send you the best travel food content.
Price: normally included in sandwiches, extra 1-3 LE ($0.17 – $0.50)
9. Mahshi
Peppers stuffed with scrumptious spiced rice
Price: 5 LE ($0.84)
10. Egyptian Style Shawarma
Layers of meat, thicker than Elephant legs, slow roast before the cooked outer layer is shaved off and thrown into Arabic bread or rolls to make a fantastic sandwich!
Price: Big sandwich 7 LE ($1.18)
Roasted Chicken in Egypt

11. Roasted Chicken
Rotisserie chickens bathe in their own juices as they revolve in a cabinet of flame roasting heat.
Price: 20 LE ($3.36)
12. Kofta Kebabs
A favorite meat dish of mine in Egypt is the Kofta kebabs.  Minced lamb is mixed with spices and pressed onto metal skewers before hitting the coals.  It's like an Egyptian style ambrosial sausage!
Price: 13.50 LE at Abeer Restaurant in Aswan ($2.27)
13. Form of Halaweyat – Lamb Parts
A pot full of lamb parts boiling in their own grease. Ordered this in a sandwich form, piled into a half of Arabic bread on the streets of Cairo.
Price: 4-5 LE ($0.68 – $0.84)
14. Molokhia
I enjoyed this bowl of Molokhia at the Siwa Oasis; it is a green slimy paste that is made from jute leaves. Though the substance is characterized by a gluey stickiness, the taste is fresh and herbaceous!
Price: from a restaurant at the Siwa Oasis – 5 LE ($0.84)
15. Egyptian Pizza
There's no tomato sauce on this Egyptian pizza! Cheese, chicken, and peppers were stuffed between the layers of the perfectly golden browned pasty dough.
Price: 25 LE ($4.20)
16. Hawawshy
Pronunciation: Ha-WOW-She!
Minced lamb and onions filled the interior of this Arabic bread wrapping before it was roasted in a wood oven. Though it was baked, I could have believed it was deep fried from the crunchiness of the outer bread.
I ate this hawawshy on my first day in Egypt, a grand welcome to Cairo!
Price: 6 LE ($1)
17. Mihallabiya
Egyptian version of milk pudding
Price: 2-5 LE ($0.34 – $0.84)
18. Mombar Mahshy
Despite their appearance, these Egyptian sausages were stuffed with spiced rice and were truly a divine treat on the streets of Cairo!
Price: 2-5 LE ($0.34 – $0.84)
19. Egyptian Dates
I couldn't get over the quality and affordability of dates in Egypt. I bought a few kilos straight from Siwa Oasis, one of Egypt's main sources.
Price: Cheapest price for dates I've ever seen anywhere
20. Basbousa
This overly sweet cake made from semolina flour, is found throughout the Arab world and is a great way to get an instant sugary burst of highness!
Price: 5-10 LE for an entire plate of mixed Egyptian street desserts ($0.84 – $1.68)
21. Crystallized Honey
Sweet dessert known as kunafa. It tasted like flakes of honey with a crunch.
Price: 5-10 LE for an entire plate of mixed Egyptian street desserts ($0.84 – $1.68)
22. Tea
Everywhere, anywhere.  Normally served in glasses with NO handle (unlike the photo), I just thought this photo was cool!
Price: 1 LE ($0.17)
23. Ahwa Egyptian Coffee
The Egyptian variation of spiced coffee
Price: 2-4 LE ($0.34 – $0.68)
24. Coctel
Layers of strawberries, bananas, apples, mango pulp and yogurt make this Cairene coctel a magical street treat! There's no way I could ever pass the stall in Cairo and resist an Egyptian coctel.
Price: 2-4 LE ($0.34 – $0.68)
25. Egyptian B-0reo Concoction
Milk and B-oreo (Egyptian Oreos) cookies, mashed up – Cairo style!
Price: 2-4 LE ($0.34 – $0.68)
26. Pomegranate Shake
A heavenly blend of fresh Egyptian pomegranate juice
Price: 4 LE ($0.68)
27. Sheesha Water Pipe
Egyptian style flavored tobacco smoked through a water pipe – a very popular past time in Egypt.
Price: 1-3 LE ($0.17 – $0.50)
Thanks for enjoying this Egyptian street food journey with me! What kind of Egyptian street food do you like?