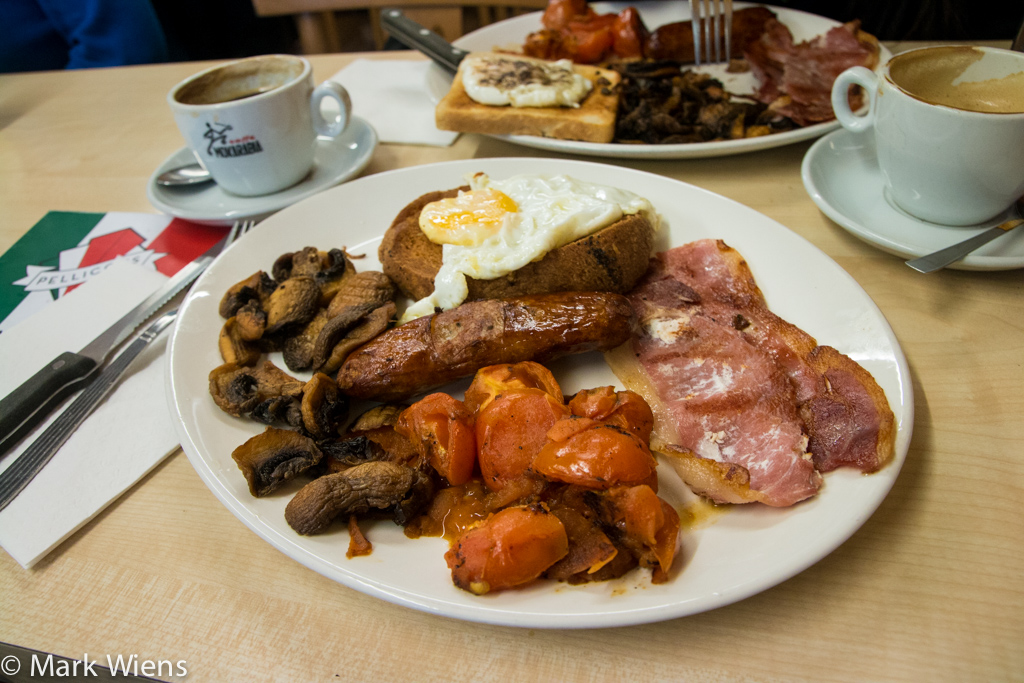 Opened in 1904, E. Pellicci is a neighborhood cafe (or greasy spoon), located on the east side of London.
The restaurant has Italian roots, as you could probably already tell from the name, and they serve a menu that includes a combination of Italian favorites with English dishes as well.
One of the most popular things they serve in the morning, or even throughout the entire day, is their version of the full English breakfast.
And that's what I went to eat…
During the Chowzter food awards in London, Joe DiStefano from Chopsticks and Marrow, had mentioned E. Pellicci restaurant to me, saying he thought it would be a great place to check out.
So a few days later, Ying and I took a walk down Bethnal Green Road in search of E. Pellicci.
Just as a side note, if you're walking on the opposite side of the street from the restaurant, you might walk right past it. The E. Pellicci sign, positioned on the top of the restaurant, is often blocked from view by the green and white striped awning, when you see it from across the road. So just keep a look out, especially if you're walking on the opposite side of the street.
Just outside E. Pellicci, opening mid-morning on the side of the street, there are a number of fruit and vegetable vendors.
On the outside patio of the restaurant, there are a couple of tables, where you can sit if you find an empty table, but we decided to go indoors.
Enter E. Pellicci, and you'll immediately be wrapped in one of the most warm and friendly environments you might ever see in London.
The staff will greet you with a huge smile, sit you down, offer you the menu, and immediately make you feel right at home. The family style service really stands out, even before you ever eat.
For starters I ordered just a black coffee, which was brewed right next to me, and then delivered quickly.
Get exclusive updates
Enter your email and I'll send you the best travel food content.
The coffee was excellent, stout and dark.
Browsing through the menu, I would have loved to taste everything, including their range of Italian dishes, but I did go to E. Pellicci specifically for their full English breakfast, and that's what I decided to settle for.
"Pellicci's Full English", which can be ordered all day long, includes quality sausage, egg, bacon, tomatoes, mushrooms, and a choice of either fried bread or toast.
That was the base of their English breakfast, and from there, you could swap out or add to the base, requesting extra items like beans, black pudding, veggie sausage, or an entire list of other items.
Thinking back, I wish I would have ordered some extras on my plate, like black pudding and beans, but I was still very satisfied with just choosing the base selection of the English breakfast.
I decided to go for the fried bread, something I can't say I had ever eaten before.
The full English breakfast arrived in just a few moments, fresh out of the kitchen at the back end of the restaurant.
The array on my plate included a couple slices of bacon, a piece of deep fried toast with a fried egg on top, tomatoes, fried mushrooms, and finally a quality sausage right in the middle.
I went in for the sausage first, a really tasty English style sausage, which I enjoyed.
It was soft on the inside, and slightly crisp on the outside skin.
The bacon was fried British style, so it wasn't completely crispy through and through like bacon sometimes is prepared, but instead had some meatiness to it, which is the way I like it.
When bacon is too fried, until it's completely crispy, there's not enough substance to it – well that's what I think – so I loved the bacon at E. Pellicci.
The fried bread was like a deep fried piece of toast, so it had a serious oily crunch to it, and the runny egg yolk acted like a nice rich gravy.
The mushrooms and tomatoes were both cooked well, and lightly seasoned, perhaps with a just a pinch of salt and pepper.
While we were eating, one of the friendly staff at E. Pellicci, I think he was part of the family, chatted with us for a bit and mentioned how much he enjoyed eating Thai food.
He said he had never been to Thailand, but would love to visit.
All the staff were extremely friendly, and genuinely happy that we were eating there.
The friendliness and welcoming feeling of eating at E. Pellicci is what really stood out to me.
Similar to Singalila in Darjeeling, India, one of the my favorite motherly friendly restaurants, E. Pellicci had the same type of home style feeling that makes you want to return again and again.
Had I been in London for a longer period of time, and had I been staying in the east London area, I would have loved to return to E. Pellicci for a meal every day.
The full English breakfast was simple and tasty, but it was the outstanding friendliness and service that stood out even more.
I took a few extra videos and photos around the restaurant, paid the bill at the front, and as we were walking out the door, one of the ladies called us and said:
You guys are trying to leave without a piece of my bread pudding, my grandmothers secret recipe.
She handed us a little package of foil, to which we thanked her immensely.
Little acts of kindness and hospitality like this make traveling and eating such a memorable experience.
The bread pudding was nicely spiced, had a wonderful custardy texture, and was just the right sweetness.
E. Pellicci goes down as one of the most memorable meals I ate in London. The breakfast was great, and the friendliness was remarkable.
When you're in London, no matter what area of town you're staying in, you should make it a point to eat at E. Pellicci.
E. Pellicci – London, England
Address: 332 Bethnal Green Rd, London E2 0AG, United Kingdom
Open hours: 7 am – 4 pm on Monday – Saturday (closed on Sunday)
Price: You'll spend about 5 – 8 GBP per person for a great meal
How to get there: I walked form Shoreditch, but alternatively, you could take the Underground to Bethnel Green station, and the restaurant is just a short walk from there.
Get exclusive updates
Enter your email and I'll send you the best travel food content.