You can roll in wearing your pajamas and flip flops, with a bad case of bed head, or in your gym clothes… and nobody's going to care.
DeFalco's is the home-style Italian deli everybody wants in their own neighborhood.
DeFalco's is an Italian deli and grocer located in south Scottsdale, Arizona, just a 10 minute drive from Tempe (where you'll find Arizona State University).
Taking a break from the glories of Mexican food, Italian is a pretty satisfying option.
Enter DeFalco's and you're greeted by a small and friendly Italian grocery store.
Pastas, sauces, and a great variety of olive oils and wines take up most of the shelving.
The racks of pasta and cans of olives and marinara sort of lead you directly to the more glorious offerings DeFalco's has waiting for you: the deli.
It's the brightly illuminated cabinet, stocked with house-made Italian sausages and salamis, that greets you.
Keep walking, and you'll find a cabinet full of Italian desserts.
Get exclusive updates
Enter your email and I'll send you the best travel food content.
Make a left and you'll see a fridge of Mediterranean inspired salads and fresh antipastos. Then look up and you'll see the menu.
The menu at DeFalco's contains a good sized list of hot and cold sandwiches, pastas, plates, pizzas, and then the full assortment of salads, meats, and desserts – there's no shortage of delicious looking items to choose from.
I went to DeFalco's with friends quite a number of times when I was attending Arizona State University, Scottsdale being quite close.
Though I have eaten quite a few options off the menu, I can hardly persuade myself to eat something other than the meatball sub… because it's so good.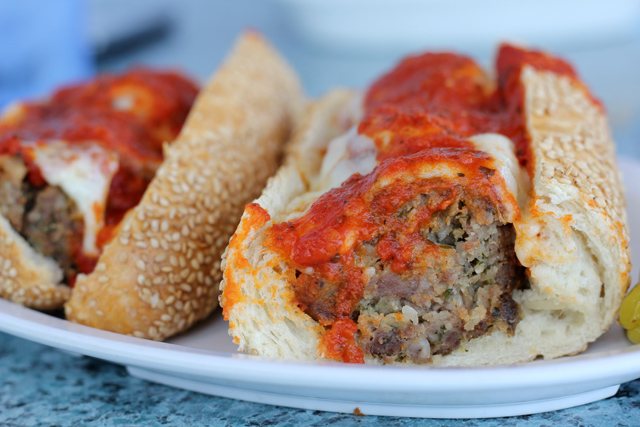 So, you can guess, the last time I went to DeFalco's, I ordered the meatball sub.
The mega meatball sub from DeFalco's is stuffed full of golf ball sized meatballs which are seasoned with spices, topped with just the right amount of mozzarella, and then generously coated in a layer of tangy marinara sauce.
It's good every single time.
Price – $7.25
On the menu you can either order a whole or a half of a sandwich.
However, I would NEVER recommend you get the half, you need the full thing.
But what if you want to enjoy a half of one sandwich and another half of another sandwich?
That's when it's convenient to come with a friend, or many friends.
The cheese steak sandwich is another winner off the DeFalco's menu.
The beef is tender, the onions and peppers are caramelized, and the cheese melts it altogether into a beautiful sandwich harmony.
Works out pretty well to have half a meatball and half a cheese steak sandwich.
The fridge full of prepared salads and cold pastas is always tempting too.
This time I settled for Greek salad, a combination of cucumbers, cherry tomatoes, red onions, feta cheese, bell peppers, and black olives, all seasoned with olive oil and a dash of herbs.
It was a wonderful fresh touch to the meat filled sandwiches.
DeFalco's Italian Deli, Scottsdale, Arizona
Address: 2334 N Scottsdale Road, Suite 133A Scottsdale, Arizona 85257
Phone: 480-990-8660
Open hours: Monday – Saturday from 10 am- 9 pm, Sunday from 11 am – 9 pm
Prices: Most full meals cost around $7 – $10, but sizes are big and filling.
Get exclusive updates
Enter your email and I'll send you the best travel food content.