When I heard about a small, ethnically Chinese village, located northwest of Chiang Rai town, I was intrigued…
…But when I heard there was delicious Yunnanese food available, that's when Ying and I decided we HAD to visit immediately.
Mae Salong (ดอยแม่สลอง)?
The official name of Mae Salong (ดอยแม่สลอง) has now been changed to Santikhiri (สันติคีรี), so if you look it up on Wikipedia, that's what they refer to it as.
However, locally, it's still known as Mae Salong (ดอยแม่สลอง), and the road signs still all use Mae Salong (ดอยแม่สลอง), so I'll stick with that name throughout this article.
Mae Salong is located in the northwestern region of Chiang Rai province, in a area called Mae Fah Luang, which is right along the border of Myanmar.
At the end of the Chinese Civil War, a group of Chinese, who wouldn't succumb to defeat, lived nomadic lives in Myanmar. Eventually they found their way to the hilltops of Mae Salong (ดอยแม่สลอง), where they set up a village.
The Thai government allowed them to stay in Thailand, as long as they fought for Thailand.
Today, the village still exists, and it's still very Yunnanese Chinese.
I'm not an expert when it comes to history, so if you're interested, you can read much more about the story of Mae Salong here on Wikipedia.
Ok, now let's get into the day trip we took to Mae Salong (ดอยแม่สลอง)…
You can get to Mae Salong by a series of buses and rot songthaews (local pickup trucks), but the easiest way  to get there is to either take your own motorbike or car.
Ying and I decided to rent a car, which we arranged through our hotel in Chiang Rai (highly recommended if you're looking to stay somewhere nice and quiet). That way, we could drive in a bit more comfort (I'm getting older!) and what I was really happy about, was that we could stop whenever we pleased.
From Chiang Rai town, at first you have to drive north through the city (towards Mae Sai) for about 30 minutes or so until you reach the turnoff to Mae Salong.
Tea stop at Choui Fong (ไร่ชาฉุยฟง)
After making the turn off the main Mae Sai highway, and following the signs for Mae Fae Luang, you'll come to a famous tea plantation known as Choui Fong (ไร่ชาฉุยฟง).
We decided to make a quick stop, since it was right along the way, to use the bathroom, to see the tea fields, and to get ourselves some tea!
The views of the tea fields and the mountains in the background (the mountains are where Mae Salong is), were beautiful.
The Choui Fong (ไร่ชาฉุยฟง) tea farm is a set up a little on the touristy side, with vans of tourists that stop by, but it definitely is worth a stop, especially if you're taking your own transportation (rather than a public bus).
You can walk around the tea fields at first, and then make your way to the gift shop and cafe for some refreshment.
Ying went to the cafe and ordered a green tea frappaccino and asked for it to be not too sweet.
I had a little taste, and it was actually quite good, nice and strong on the green tea flavor, and not too sweet (but I'm not huge on fancy drinks, I just like normal steeped tea).
I went to the Choui Fong (ไร่ชาฉุยฟง) gift shop and had a tea tasting session.
The tea was all exceptionally wonderful, and I ended up buying three bags of tea. When I work, blogging and making videos, I drink a lot of both coffee and tea, so I'm always on the lookout for both.
I'm pretty happy with my selection of tea, which I've already been drinking. The yellow bag of Choui Fong (ไร่ชาฉุยฟง) is probably my favorite.
Get exclusive updates
Enter your email and I'll send you the best travel food content.
Prices – For 3 bags I spent about 400 THB, but they have many different prices and qualities
Back on the road…
After a 30 minute worthwhile break at the tea farm, and feeling nicely refreshed, we got back on the road, and followed the signs for Doi Mae Salong (ดอยแม่สลอง).
By this time, the road was becoming more and more curvy, and we started to climb in elevation. The views also started becoming more and more beautiful as we climbed higher into the hills.
Arriving in Mae Salong (ดอยแม่สลอง)
From the tea farm, it took us about 1 hour to reach Mae Salong (so direct from Chiang Rai town, without stopping at the tea farm, it took about 1.5 – 2 hours to drive there).
The village is quite small, but it's big enough, and receives enough tourism (mostly in the high season of December I think) to have a number of restaurants, and quite a few little tourist souvenir stalls.
The village is at an elevation of 1130 meters, not too high, but high enough to have fresh mountain air, and cooler weather. We went in September, so it wasn't too cold, but I've heard that it can get very cold during winter.
Lunch at Im Pochana Restaurant (ร้านอิ่มโภชนา)
As soon as Ying and I arrived to Mae Salong, our minds were on one thing only: lunch.
There are a number of restaurants as you drive through the village, some of them serve Yunnanese style food.
We chose to go to a restaurant called Im Pochana Restaurant (ร้านอิ่มโภชนา), a restaurant that's sort of at the far end of town, situated on top of the hill, just after the Mae Salong market.
Yunnanese Braised Pork Leg (ขาหมูน้ำแดง)
Probably the most famous food to eat at Mae Salong, and one of the main reasons why I was most interested in visiting this beautiful little village, was to eat their version of Yunnan style braised pork leg.
In Thailand, braised pork leg is extremely popular throughout the country, but normally in Bangkok, and even in Chiang Mai, it's prepared quite sweet for me, which I'm not always a fan of, so I don't eat it frequently.
The version at Im Pochana was far from sweet (I'm not even sure if there was any sugar involved), and it was braised to perfection, seasoned with mild spices like cinnamon and star anise. Incredible.
The pork was so tender and so flavorful – every bite was worth the drive.
Price – 150 THB – plus it was huge, an amazing deal for so much pork!
Instead of being served with rice, like you'll normally find at any Thai khao kha moo stall, in Mae Salong (ดอยแม่สลอง), it's typical to eat braised pork leg with mantou (หมั่นโถ), Chinese steamed buns.
The mantou was just a hint sweet, and it was so fresh and so airy fluffy. Along with bites of tender pork, and dipped into the pork braised broth, it was an outstanding combination.
Talk about comfort mountain food!
Yunnan fried noodles (ผัดหมี่ยูนนาน)
But actually, even as much as I loved the braised pork leg, probably my favorite dish that we ate in Mae Salong (ดอยแม่สลอง) was this plate of Yunnanese style fried noodles.
The yellow noodles were soft, and stir fried with egg, onions, carrots, and maybe a bit of cabbage.
I could tell the noodles were stir fried on a very high fire, because it had that wonderful smokey flavor, and the egg was just slightly charred.
This plate of noodles was outstanding, just like versions I had in China.
Price – 60 THB
Tea salad (ยำใบชา)
Quite different from laphet thoke in Myanmar, this tea leaf salad wasn't exactly what I was expecting to get, but nevertheless it tasted pretty good.
I guess since Mae Salong is such a dominant tea growing region, residents have started experimenting with different dishes to prepare with them.
This tea leaf salad wasn't exactly Yunnanese, I don't think, but more of a modern Thai salad, a can of tuna, mixed with onions, carrots, tomatoes, slices of lemongrass, and a good handful of fresh green tea leaves mixed in.
I did love its freshness, but the dressing was a tad too sweet, but it did have nice sourness from lime juice.
Price – 100 THB
Stuffed and happy, we continued to walk around and explore the village of Mae Salong (ดอยแม่สลอง).
Mae Salong Village (ดอยแม่สลอง)
Walking through the main road in Mae Salong (ดอยแม่สลอง) it's almost hard to believe you're still in Thailand – it feels like you crossed the border into southern Yunnan.
Many signs are written in both Chinese and Thai, and walking along the road, you'll hear more Chinese being spoken than Thai.
Nursing my stomach full of braised pork, I walked slowly through the center of town, enjoying the pleasant fresh air, the lack of traffic or hassles, and just thoroughly enjoying myself.
The village reminded me of Chengyang village in China, and even some of the souvenirs that the old ladies offered me, were similar.
At first I thought these were some kind of beehives for honey, but upon closer inspection, I could see they were entire sunflowers, filled with seeds.
I wanted to buy them, but on second thought, that would have been pretty messy to eat in the car. But I do love sunflowers seeds, and this is about as fresh as they come.
Tea drinkers paradise
Mae Salong is an absolute tea drinkers paradise.
The main street is filled with tea stores, where you can buy great quality local teas for good prices, and get plenty of tea samples if you're so inclined.
Before you buy any tea, many of the sellers will be happy to give you a taste test of whatever you'd like.
I had a great time walking around, and many of the local people in Mae Salong were friendly and inviting.
However, since I had already bought quite a supply of tea at Choui Fong, I didn't taste any tea, but instead went to the single coffee shop, called Mae Salong Coffee Shop, and ordered a coffee, which was good too.
From the center of Mae Salong we got back into the car and followed the signs for the temple.
Temple (พระบรมธาตุเจดีย์ศรีนครินทราสถิตมหาสันติคีรี จ.เชียงราย)
Yes, that's the name in Thai, it's quite a length name, and it goes something like this: Phra Brama Do พระบรมธาตุเจดีย์ศรีนครินทราสถิตมหาสันติคีรี จ.เชียงราย
You could probably walk from Mae Salong town to the temple, but it would take quite a while as it's basically located on the top of the hill.
So having the car, we drove and arrived in a few minutes. But even in our little Toyota Vios, it was huffing and puffing to get up the hill.
The temple kind of reminded me of a combination of Tibetan style like in Gangtok mixed Thai style.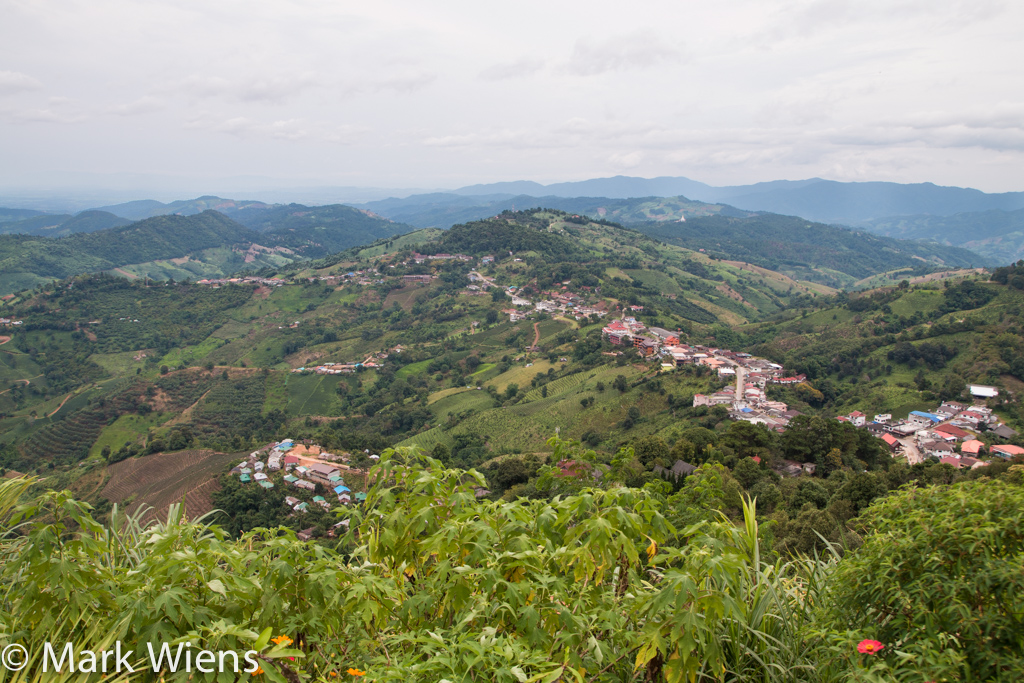 One of the main reasons to visit the temple, is to take in the beautiful view of the village, and the surrounding mountains and hills.
The breeze was cool and fresh, and the scenery was gorgeous.
Some have called Mae Salong the Switzerland of Thailand, and while I don't think it's quite that, it is very beautiful and very fresh.
Here's the full video of the day trip:
(If you can't see the video, watch it here: http://youtu.be/UsU9kvJaa2I)
Conclusion
Mae Salong (ดอยแม่สลอง), also known as Santikhiri (สันติคีรี), is a small village in the northwestern hills of Thailand's Chiang Rai province, on the border of Myanmar. The village is home to an ethnically Yunnanese Chinese community, and it hardly feels like Thailand when you're there.
I took a day trip from Chiang Rai town to Mae Salong (ดอยแม่สลอง), and first stopped at the Choui Fong (ไร่ชาฉุยฟง) tea plantation before continuing to the beautiful village of Mae Salong.
Along with enjoying the beautiful views and mountain fresh air, my highlight of the trip was our Yunnanese lunch feast at Im Pochana Restaurant (ร้านอิ่มโภชนา) – I'm still dreaming about it!
Mae Salong (ดอยแม่สลอง) makes a wonderful day trip from Chiang Rai, but there are also plenty of guest houses to stay at if you want to stay for a few days and soak up the fresh air and get extra relaxation.
I thought Mae Salong was absolutely beautiful, both for the views, and for the uniqueness of being in Thailand, but in a Chinese village.
It's a wonderful place to visit.
How to get to Mae Salong (ดอยแม่สลอง)
Though you can get there by public bus and rot songthaew (local truck transportation), by far the easiest, quickest, and most convenient way is to have your own transportation. For a motorbike, it's a bit of a long haul, but possible, but we chose to rent a car.
From Chiang Rai town, take the main Mae Sai highway (1) toward Mae Chan
Turn on highway 1130 to Mae Salong
Keep following the signs towards Mae Salong, I think we took another left and passed a few army checkpoints, but signs are well marked and easy to follow and in English as well as Thai
Car Rental
Renting a car was pretty affordable at only 1,000 THB per 24 hours (and only 3,000 THB for deposit, which we got back once we returned it), and I think we spent about 500 THB roundtrip for petrol. We arranged the car rental through our hotel in Chiang Rai.
Choui Fong Tea Farm (ไร่ชาฉุยฟง) 
Address: 97 Moo 8 Pasang, Maechan, Chiang Rai 57110
Phone: 66 53 771563
Open hours: 8 am – 5 pm daily
ที่อยู่ 97 หมู่ 8 อ.แม่จัน เชียงราย 57110
โทร. 053-771563
เปิดบริการทุกวัน 8:00 – 17:00 น.
Im Pochana Restaurant (ร้านอิ่มโภชนา) in Mae Salong
Address: Highway 1089, Mae Fa Luang, Chiang Rai, Thailand
Phone: 089-637 5290
Open hours: 8:30 am – 8 pm daily
ที่อยู่ 1089 (ระวังสับสนกับร้านน้องอิ่มโภชนา) แม่สลองนอก , แม่ฟ้าหลวง , เชียงราย 57110
โทร. 089-637 5290
เปิดบริการทุกวัน : 08:30 – 20:00
Hope you enjoyed this post and that it is helpful. Have you been to Mae Salong? Do you have any extra tips or suggestions?
Would you like to visit Mae Salong?
Get exclusive updates
Enter your email and I'll send you the best travel food content.