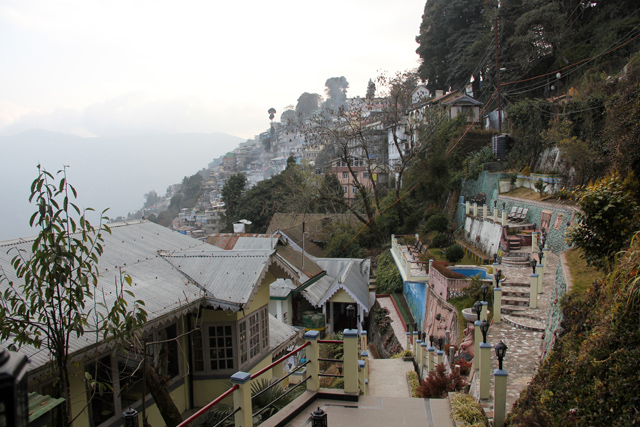 Located in the northeastern section of India, which is very close to Nepal and Tibet (and neighboring Indian state of Sikkim), Darjeeling is in the rolling hills of the Himalayas. It was originally just a small village, but because it's such a lovely place it became a popular hill-station and it has now grown into a town.
Darjeeling is peaceful, located in a beautiful area, and a breath of fresh air from other dusty and hectic parts of North India. Along with Sri Lanka, Darjeeling is particularly famous throughout the world for its production of tea.
Below you'll find my Darjeeling travel guide, packed with lots of useful tips from my 5 day visit. Here's what is included:
Arriving and Leaving
Where to Stay
How to Get Around
Things To Do
Food and Restaurants
Enjoy your visit!
1. Arriving and Leaving
Train to New Jalpaiguri Railroad Station – The closest railroad station to Darjeeling is New Jalpaiguri, known better as just NJP. There's not much to do in the town, but just outside the station, you'll find jeeps going straight to Darjeeling, Gangtok, or a number of other towns in the mountains.
Note: I took the train to New Jalpaiguri (NJP) and because my train arrived late at night I decided to spend the night there before taking a jeep to Darjeeling the next morning (this is a wise idea as it's not safe to take the drive at night due to the dangerous mountain roads, if there even is a service).
If you need to spend the night, we spent one night at Hotel Holydon (600 INR per night) – just a 30 Rupee bicycle rickshaw ride away from the station – in the daytime it's just a 10 – 15 minute walk from the railway station. Not the nicest hotel, but it works for a quick night sleep before heading on to Darjeeling.
If you're coming from New Delhi, you can also get a train easily to NJP.
Jeep (called a Tata Sumo) is the way to get from NJP railroad station to Darjeeling. A seat in a shared jeep cost me 200 INR per person – but price may slightly alter depending on season and time. Just make sure you pay the same amount as the other passengers in your vehicle. It takes about 4 hours by jeep to reach Darjeeling, and luckily the driver stops a few times to stretch and use the bathroom.
2. Where to Stay in Darjeeling
Hotel Capital – During my entire 5 day visit to Darjeeling I stayed at Hotel Capital. Our double room was 800 INR per night and we had a nice spacious room, very warm blankets, and hot water most of the time. It's in a perfect location and I thought it was a good place to stay, but they do charge 10% service charge at the end… to my surprise.
Get exclusive updates
Enter your email and I'll send you the best travel food content.
Click here to check out many more places to stay in Darjeeling.
3. How to Get Around
Walk – For the most part, it's pretty easy to walk around the central areas of Darjeeling. If you decide to visit the Himalayan Zoo, you can take a taxi, or it's about a 45 minute walk to get there. Getting from the bottom of Darjeeling town to the Chowrasta area is all easily accessible on foot.
Tata Sumo Jeep – To get to places like Ghum or to Tiger Hill for the Himalayan mountain sunrise you can either take a shared jeep or a taxi.
4. Things To Do in Darjeeling
Darjeeling Himalayan Railway – The Toy Train, as it's more commonly known, is a classic steam powered locomotive train that runs on a narrow gauge track. The "Joy Ride," is a round-trip ride that leaves Darjeeling railroad station and goes to Ghum and back. It's a touristy ride, but it's pretty cool to ride on a steam powered locomotive. I believe you can book your ticket online (that is when the site is working), but I ended up just going down to the railroad station and purchasing my ticket about 1 hour prior to departure which was at 10:40 am. Costs 270 INR per person for the Joy Ride.
Tiger Hill – One of the most famous things to do in Darjeeling is to wake up early in the morning, take a jeep to the top of Tiger Hill, and watch the incredible sunrise over the tips of the snowy Himalayas. I didn't actually make it to Tiger Hill (I was just too cold), but I've heard great things and I'm sure it's worth the effort if you're interested.
Himalayan Zoo (known in full as the Padmaja Naidu Himalayan Zoological Park) – The zoo is famous for housing many native Himalayan animals and animals that live in high altitudes. The highlights included a white snow leopard and the famous red pandas. It was alright, not the nicest or most well maintained zoo I've been too.
Himalayan Mountaineering Institute – Located at the back of the zoo (above), is the Himalayan Mountaineering Institute. Along with being a functioning mountaineering training center, the museum is pretty cool to browse through and includes lots of things from mountain expeditions.
Mahakal Temple (Observatory Hill) – Just a 10 minute walk past Chowrasta Square, and straight up the hill, is the Mahakal Temple. At the top of the hill there's a great view of the mountains, a cave, a Hindu temple, and lots of monkeys. Just like in Kolkata and other cities in India, be careful with scams and people asking you for donations.
Happy Valley Tea Estate – Darjeeling is one of the most famous cities in India, and the world, for growing tea. You'll see endless rolling tea fields on your drive to Darjeeling. If you're interested in seeing the production of tea in the area, you can visit the Happy Valley Tea Estate. I just wish they would have had some of Grandma's curry.
Enjoy The Beauty – To be honest, more than any of the other attractions that I visited and listed in this Darjeeling travel guide, just the natural beauty of Darjeeling is what I enjoyed most. Walking around the motorless Chowrasta square (The Mall) and then exploring walking only lanes was what I enjoyed doing most.
5. Food and Restaurants
Singalila Restaurant – After getting out of the jeep from NJP, I was extremely hungry, and this is the very first restaurant I ate at in Darjeeling; It proved to be by far the best. Serving a combination of Nepali food and Sikkimese food, the motherly restaurant prepares some serious home style comfort food and caters mainly to locals, especially taxi drivers. Everything I had at Singalila Restaurant, including the chicken curry and beef curry with sides was outstanding.
Full rice meals with choice of meat curry is about 70 – 90 INR, and you can ask for as much rice as you want!
Hasty Tasty – In Darjeeling I ate at Hasty Tasty a number of times, mostly becuase it's in a good location and it's convenient to eat there. Their food, which is all vegetarian and included both Indian and Chinese, is alright, but not the best. The masala dosa was decent and they have both a north and south Indian thali.
Kalden Cafe and Restaurant (Chowrasta Square – then down the lane past the pony stables) – Specializing in Tibetan fast food, you'll find momo dumplings, fried chowmein noodles, curry, and rice. The restaurant is cosy, very small, and the food is decent (though not nearly as good as Singalila). I had veg momos (24 INR), fish curry and rice (55 INR).
Glenary's Bakery – Nicely situated on the walking road heading up to the Chowrasta square is the famous Glenary's Bakery. They have all sorts of baked good and sweets as well as a full menu of sandwiches. I particularly liked the butter chicken roll (40 INR), the chocolate cake, and the chicken sandwich (80 INR). In India things don't open early, so it's nice that Glenary's opens at 6 am. I went nearly every morning to use their wi-fi early in the morning before the main breakfast rush.
Coming from Kolkata, Darjeeling was a breath of fresh air and a chance to take peaceful walks and enjoy the incredible scenery. It's a very pleasant town to spend a few relaxing days in.
Here's a quick video about visiting Darjeeling:
Thanks for taking a look at my Darjeeling travel guide, hope you have a great time visiting!
Get exclusive updates
Enter your email and I'll send you the best travel food content.