In-between dodging raging buses and strolling through the energetic streets of Yangon, one of the most popular activities is to eat street food snacks.
In Yangon, you're bombarded with so many street food stalls on every corner, that it's almost overwhelming. However, you do have to be careful eating street food in Yangon; Not everything looks too fresh, or is served hot.
On top of that, some of the street food snacks are fried in oil that looks like it came from a jeep oil change after many thousands of overdue kilometers.
But one street food snack that you can see being cooked hot and fresh, and that seems to be healthier than many of the deep fried snacks available, is a dosa.
The real name is a "kaut mote", two words that mean folded snack, and it's kind of like a filled pancake or snack, that's folded up to be eaten as a handheld treat (Thank you to Khin for this update).
On my first trip to Yangon, I ate a dosa, which was almost identical to an Indian style masala dosa – it was big and round, filled with a mixture of masala potatoes, and served with a variety of side chutneys and curry sauces for dipping.
But on this trip, I found another type of Yangon street food dosa – perhaps less Indian in flavor – and more of a Burmese street food style dosa.
The vendor was selling her dosas on the corner of Anawratha and Pansodan Street in the late afternoon, and there was a good continuous crowd of people ordering from her.
She worked fast to prepare dosas as quickly as she could, using a small charcoal grill with a hot iron skillet on top. While cooking, she poked the coals every few minutes to bump up the heat from the flaming charcoal below.
There were two different versions of dosas she was making, one savory type, and one sweet kind.
Get exclusive updates
Enter your email and I'll send you the best travel food content.
Ying and I decided to get one of each.
Savory dosa
For the savory dosa, she first spooned a ladle of rice pancake batter onto the hot skillet, and spread it out like a crepe.
After a few seconds, she squirted on a bit of oil from a plastic bottle, which slowly sizzled onto the thin pancake base.
After allowing the pancake to cook for a few seconds, she sprinkled on a handful of pre-chopped cabbage, carrots, beans, bean sprouts, and tomatoes.
A few more moments of cooking, and she added a scoop of boiled peas (pè byouk), all before wrapping it up like a small burrito.
Price – 200 Kyats ($0.20225)
Sweet dosa
The sweet dosa began with the same rice flour pancake batter base, but instead of the vegetables being added, instead she first scraped on a few spatulas of buttery roasted palm sugar.
Next step, she added a handful of fresh shredded coconut (right out of the shell, which she had pre-grated), and finally some small beans (which I didn't even notice she had added until I started eating it).
Price – 200 Kyats ($0.20225)
Newspaper serving
As soon as she finished cooking the savory dosa, she wrapped it in a piece of colored newspaper, smiled, and instructed me to hold it from the top, as the bottom would be scorching hot (I tested… it was!).
I'm not sure how healthy it is to eat out of newspaper, especially colored newspaper, but I'm guessing it's not the healthiest thing to do.
Yesterdays newspaper is a common street food vessel in many countries, but especially when it's something hot like this dosa, definitely a bit of ink rubs off on your food.
I only wish she had been using leaves to serve her dosas in, like the green pea man in Varanasi. Next time I might bring my own napkin.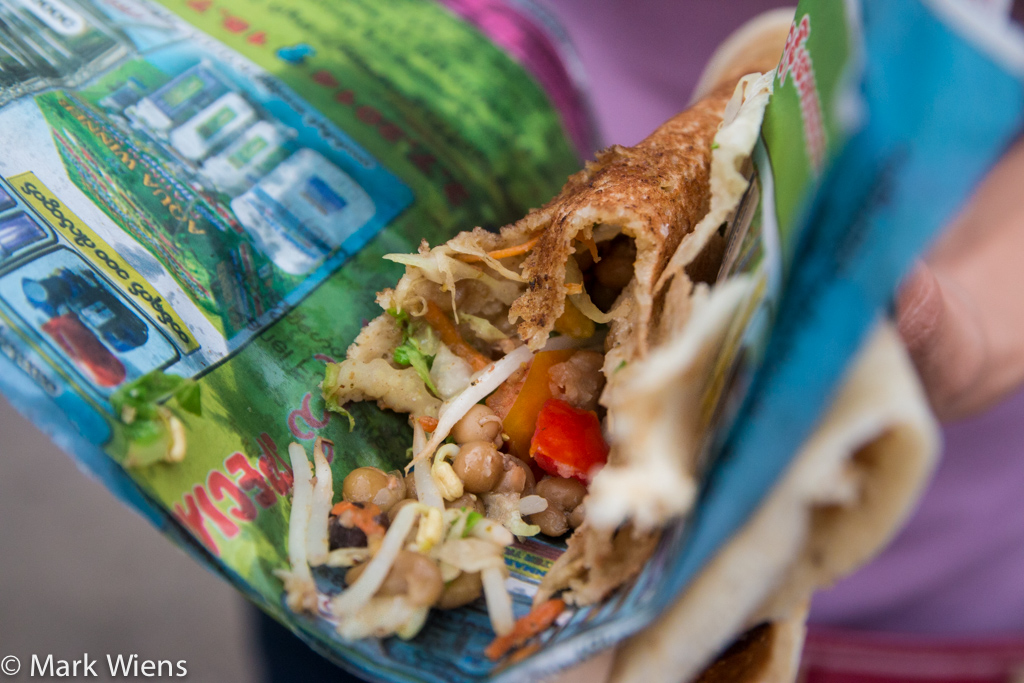 How did they taste?
The savory Burmese dosa included a nice mixture of ingredients, and I enjoyed the sliced fresh vegetables inside. The boiled peas added a wonderful, almost creamy, and rich component to the dosa.
It was quite salty, and didn't include too much other flavors than what the ingredients provided.
The sweet dosa was good.
The palm sugar gave it almost a chocolatey or roasted caramel flavor, and the fresh shreds of coconut were fantastic. The little beans were a little odd, but surprisingly went well with the mixture, and added kind of an extra filling dimension.
Watch the video…
(If you can't see the video, watch it here: http://youtu.be/9k3PysRpF7o)
Conclusion
I have to admit, they weren't the best dosas I've had in my life. But for $0.20 per dosa, it was very good value, and for that price, I don't think one could expect too much.
The savory dosa would have been improved by being complemented by some coconut sambar – that would have given it an extra beautiful touch.
The sweet dosa was really good, though I personally don't eat much sweets.
But one more thing…
The lady selling the dosas was doing a superb job, and I was happy to see her dosa stall thriving with customers in the busyness of the afternoon in Yangon.
When it comes to eating street food when I travel, it's not always about the lavish and delicious foods, but it's about the reality of life and about connecting with people on a daily basis who are living life.
I'm always touched by vendors who work so hard to earn a living, this time, dosa by dosa.
Do you love dosas?
Get exclusive updates
Enter your email and I'll send you the best travel food content.