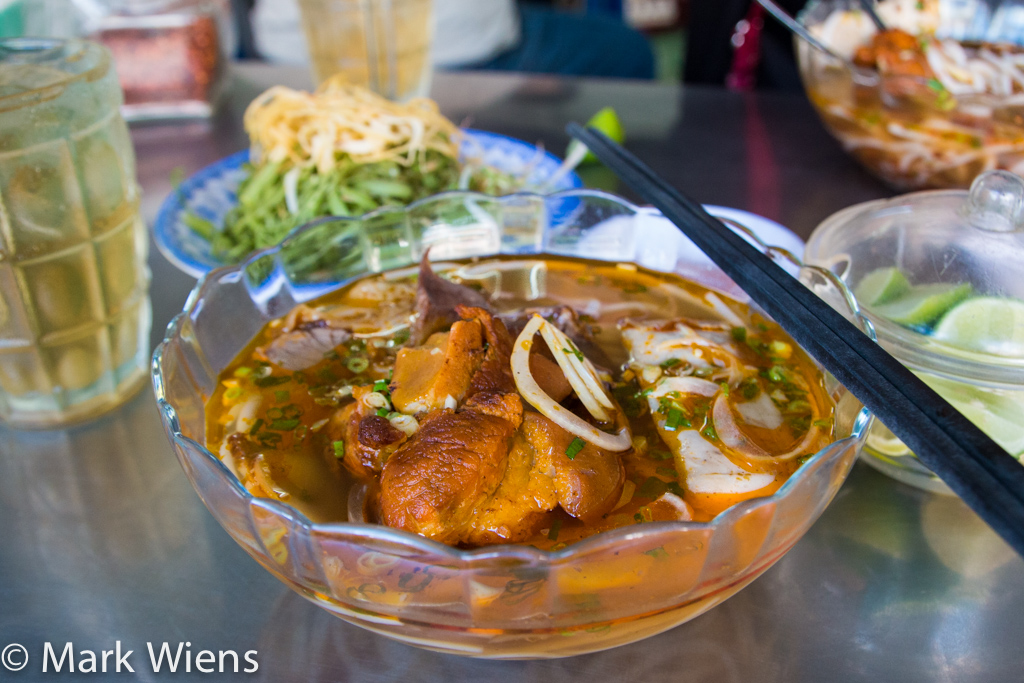 For years I've been eating noodle soups and dishes throughout Southeast Asia.
But at this little bun bo Hue restaurant in Saigon, is where I had my first bowl of noodles in a clear glass bowl.
That's right, at Bún Bò Huế Chú Há, they not only serve a fantastic bowl of this delightful Vietnamese noodle dish, but it's served in a clear glass bowl.
It was a revolution to me…
…for the first time ever, I could see what was floating around in the bottom of my soup, like a fish tank… only more delicious.
Alright, now that you know how cool the clear bowl was, let's move onto the food.
There are a near infinite amount of noodle dishes to try in Vietnam, and what seems to be a favorite for many locals, along with a few others, is bun bo Hue.
As the name suggests, it is originally from Huế, in central Vietnam, but it's widespread and highly enjoyed in Saigon, at both indoor restaurants and street food stalls throughout the city.
I personally haven't had a chance to visit Hue yet in my life, but if I do visit, I'll be sure to report back about the noodles there.
For now, I'll share about a great bowl of bun bo Hue I had during my time in Saigon.
Bún Bò Huế Chú Há
Located on the corner of Võ Văn Tần and Nguyễn Thượng Hiền street, is Bún Bò Huế Chú Há.
The restaurant is sort of half indoors, openly facing the motorbike filled street, yet tucked into a small room, so you have a chance to take a break from the hot crowded streets.
The food is served off a portable cart, which is permanently situated at the front of the restaurant, and proudly displays (like most other street food in Asia), the necessary ingredients used to compose a bowl of bun bo Hue.
Get exclusive updates
Enter your email and I'll send you the best travel food content.
The most noticeable ingredients you'll see is the massive pile of tangly medium sized rice vermicelli noodles, of the fresh variety, proudly mounded into a pyramid (size may differ depending on what time you arrive).
I arrived in the late afternoon, hungry, and ready to slurp down; I order their speciality, of course, bun bo Hue.
Rather than flash boiling the noodles in hot boiled soup, like is the case for certain types of noodle soups in Vietnam, for this particular version, she just divvied the noodles into separate bowls, and then poured the hot soup over the noodles.
I guess because the bun noodles were fresh and already good to go.
But before drowning the noodles in soup, she first layered on a few thin slices of beef, plus a piece of some type of Vietnamese sausage as well.
And then came the most noticeably beautiful hunk of meat of them all, a gorgeous orange stained slice of ox tail (which is commonly used in the recipe I late found out).
Next, she ladled on a cup of red oily soup broth, and finally sprinkled on a handful of both chopped white onions and green onions, before delivering it to our table.
Generosity in Saigon
Now as you probably know, I'm more than a little obsessed with taking photos of all the foods I eat (that's part of the reason I blog).
So I spent probably a good five – ten minutes photographing the beautiful bowl of bun bo Hue, making sure to cover every angle of the hunk of orange meat as I could.
The duo of ladies that were head of the kitchen, and I'm assuming the owners of the restaurant too, laughed and smiled, as I intensely took photos of their handiwork.
After I was satisfied, I was about to start garnishing my bowl of bun bo Hue, which was a little on the cold side by now (don't worry, with the amount of photos I take, I'm used to eating cold food), when one of the ladies, yelled out to me in Vietnamese.
I have no clue what she said, but she walked over to me, grabbed my bowl of noodles and said something along the lines of, "you have to eat the soup when it's hot (in Vietnamese)," and she proceeded to actually dump out my soup broth, and refilled it with a fresh scoop of piping hot broth, and a fresh handful of onions.
She gave me a huge smile, and handed me back my bowl of beef noodles, to which I thanked her profusely.
I experienced this type of generous service and friendliness time and time again while eating in Saigon,
Most Vietnamese noodles are garnished with an assortment of herbs like culantro and sweet basil, chili flakes and chili slices, and freshly cut limes, and bun bo Hue is no different.
One of my favorite parts of eating noodle soup is getting to garnish it according to my liking – and I like it with lots of lime juice, probably too much chili, and as many herbs and vegetables as are available.
Along with raw basil and culantro, I also received a nice plate of blanched water morning glory, banana flower, and bean sprouts to accompany.
The broth of the bún bò Huế at Chú Há was wonderful, with a smooth beef flavor, a bit of red oil floating on top, salted to perfection (with likely some MSG included), and with a slight citrusy component to it.
Along with my personal addition of sour lime juice and chili, it was a wonderful well rounded broth.
The noodles were rice vermicelli, but unlike the rice vermicelli used in dishes like bun cha or bun thit nuong (which are equal to that of Thai khanom jeen), these rice vermicelli noodles were more like spaghetti in shape, and though they were soft, they were also bouncy at the same time.
But the real highlight in this bowl of bun bo Hue for me, was the main hunk of ox tail.
It was tender, but retained some of the wonderful beef grainy texture, and had perhaps a slightly lemongrass flavor to it.
I was served with a small bowl of what tasted like sweet tamarind sauce, which the mom of the kitchen motioned for meat to dip my slices of meat into, giving the meat a slightly fruity tart flavor.
If you have a few minutes, watch the full video of this meal now:
(If you can't see the video, watch it here)
Conclusion
Bun Bo Hue is an extremely popular Vietnamese beef soup noodle dish.
Although the original version of the dish comes from Huế, in the central part of the country, it's hugely popular, and widely available in Saigon (Ho Chi Minh City) as well.
When I was in Saigon, just down the road from where I was staying*, was Bún Bò Huế Chú Há (Hạnh), a restaurant specializing in the dish, and when I walked past, I knew I needed to try it out.
Along with serving their version of bun bo Hue in an awesome clear see-through glass bowl, the soup was nicely balanced, and the beef was tender and flavorful.
I think overall, I still loved this bowl of noodles better, but I thought bun bo Hue was also delicious, and the service at this particular restaurant was top-notch – the ladies were very kind and friendly.
Bún Bò Huế Chú Há is one of perhaps thousands of places to eat bun bo Hue in Saigon, Vietnam, but it's a good place, and the kind service that I experienced will keep me coming back for more.
Bún Bò Huế Chú Há
Address: 300 Võ Văn Tần, Phường 5, Quận 3, Tp Hồ Chí Minh, Vietnam
Open hours: 6 am – 10 pm daily
Prices: 60,000 Vietnamese Dong for the deluxe bowl that I ate, including the ox tail chunk
How to get there: The restaurant is located pretty close to Tao Dan Park, right along Vo Van Tan. Click on "13. Bún bò Chú Há" to see the exactly position on my Saigon restaurants map.
What's your favorite Vietnamese noodle soup?
Get exclusive updates
Enter your email and I'll send you the best travel food content.