Who else loves beef stew?
Located on a corner, within the small lane neighborhoods of Saigon, Bò Kho Út Nhung is a restaurant that's known in the area for their beef stew, in Vietnamese known as bò kho (bo kho).
During my stay in Saigon, after eating at various other restaurants in the same neighborhood, and sampling a famous Vietnamese dessert, Ying and I went to the restaurant, eager to try a bowl of Vietnamese stew.
I had read about this restaurant recommendation thanks to Eating Saigon, and after looking at the map of Saigon, I realized it was located very close to some other restaurants I was wanting to eat at.
In the morning Bò Kho Út Nhung serves pho, and then beginning in the early afternoon, they shift their product to bo kho – so just keep in mind that although the restaurant is open from 6 am – 11 pm, you must wait until about 1 – 2 pm to get their beef stew.
Bò Kho Út Nhung is the type of restaurant, like so many others, where you can actually smell the food you're looking for before you even find the restaurant.
As soon as I made the turn from the main road into the small neighborhood side-street, I immediately got a familiar whiff of simmering beef and tomatoes.
The stew was sitting at the front of the restaurant, street-side, on low heat, keeping warm, and just waiting for the next customer to arrive to be dished out.
As soon as we arrived, the restaurant owner came out to greet us with an extremely warm and inviting smile.
Just like at so many of the restaurants I ate at while in Saigon, she was extremely friendly, and just had a nice hospitable feeling, that made us feel welcome.
They had tables set up both within the restaurant up a couple of stairs, and they also had some tables lined up along the outer edge of the restaurant along the sidewalk.
We chose a street-side table and proceeded to order.
Get exclusive updates
Enter your email and I'll send you the best travel food content.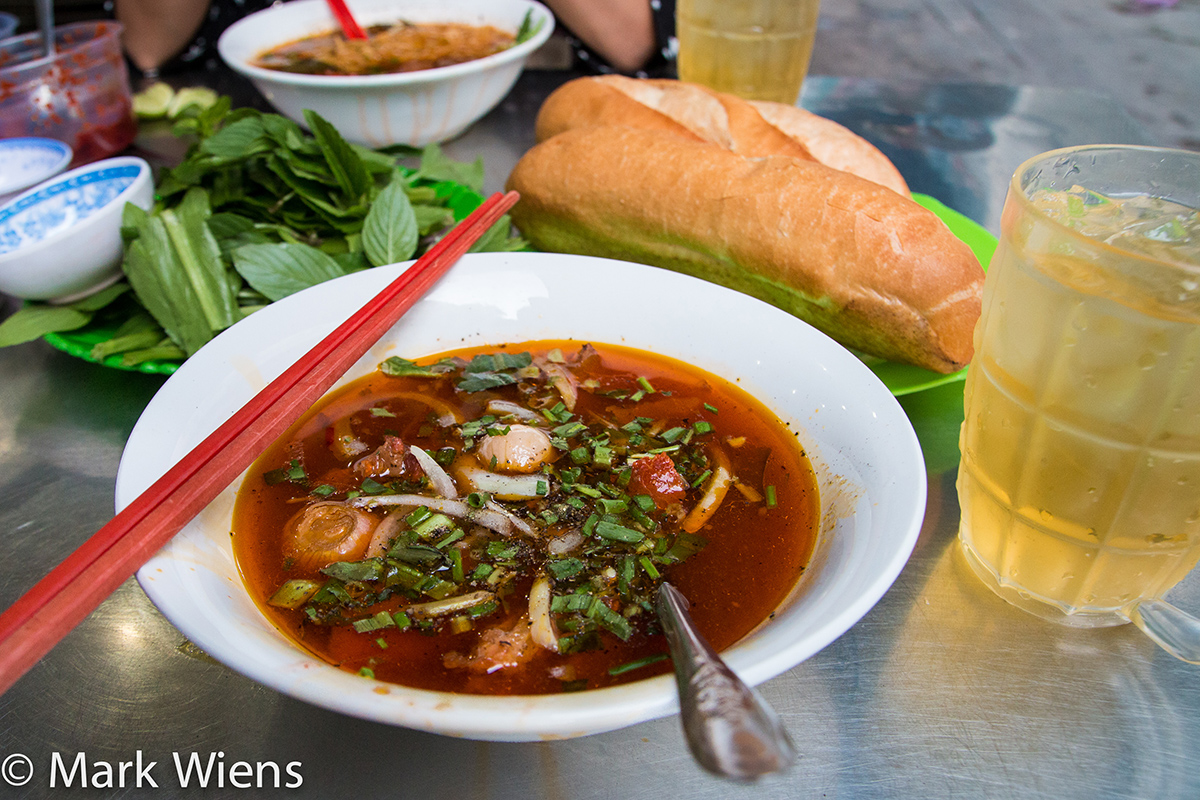 There were two main ways to order bo kho, a bowl of beef stew served with noodles on the bottom, or a bowl of beef stew served plain to eat with bread on the side.
Since I had been eating multiple bowls of noodles everyday in Vietnam, I decided to go for the banh mi, or crusty baguette option.
The bo kho was bright red in color when it was served in my bowl, and included a pretty simple combination of big sized nuggets of slow tender stewed beef, carrots, and whole shallots.
After it was dished out, a handful of green onions, cilantro, sliced white onions, and a dash of pepper, were all garnished on top.
The beef was nicely tender, the carrots were naturally sweet, and probably one of my favorite ingredients from the bowl were the whole stewed shallots, which melted in my mouth and bursted with all the juicy flavors from the soupy stew.
The broth of the stew was quite a mild flavor, I could taste the beef, and perhaps it had a slightly tangy tomato flavor, but not very pronounced.
The only thing I didn't like was that my bowl of bo kho came with a pretty thick layer of oil, it was actually swimming in oil.
So I ended up fishing all the chunks of ingredients out of the stew, eating them with the crusty pieces of baguette, and leaving most of the broth gravy behind.
Note: I've received many questions about what I drank in almost all my photos / videos when I was in Vietnam… some said it looked like I was drinking beer? It's known as tra da, just a very light tea, but it's so common it's sort of served like water in Saigon. I drank it with just about every meal.
Another part of the Vietnamese bo kho eating experience that I fully enjoyed is the way, just like nearly all Vietnamese dishes, it was served with all-you-can-eat fresh raw herbs.
Included on the plate was sawtooth herb, sweet basil, limes, and I think there was some Vietnamese coriander hidden below somewhere as well.
To me, fresh raw herbs to garnish, is one of the top reasons I love Vietnamese food.
Also on the table were a few condiments including some ketchupy looking tomato sauce, and some chili oil sauce, the latter of which I really enjoyed.
My wife Ying decided to order her bo kho with noodles on the bottom, and rather than rice noodles, she got yellow egg noodles.
Her bowl of beef stew turned out to be really good – I liked it better than my bowl, one of the main reasons is because for some reason her bowl didn't include all the extra oil floating on top like mine did.
Perhaps when they serve bo kho to be eaten with bread they serve it with more oil than when served with noodles?
In any case, this bowl had much less oil, so it was that same wonderful gravy, and ingredients, but much less oily.
The noodles were very similar to other egg noodles I've had, but instead covered in the same, slightly tangy and lightly tomatoey stew.
The gravy was nice and thick and coated each noodle. A squeeze of lime and some lemongrass chili enhanced it even more.
For the amount of beef included in the generous sized bowl, I thought it was quite a good deal.
Although the noodles were excellent, I would have probably liked rice even better, since I'm a rice kind of guy.
But that being said, the bo kho with the egg noodles was excellent, and I preferred it much better than the version served with banh mi, mainly because it was much less oily.
Here's a quick shot of the menu and the prices at Bò Kho Út Nhung.
The extremely kind owner made sure I took a photo of this sign to let everyone know the prices and the opening hours.
Conclusion
Bò kho is Vietnamese beef stew, and while I was eating in Saigon, one day I went to a neighborhood restaurant called Bò Kho Út Nhung to have a bowl.
I tried two different versions, just a bowl of beef stew served with bread, and beef stew served with egg noodles on the bottom.
Although the bo kho was a little on the oily greasy side, it had wonderful flavor, and I loved the hunks of tender beef and the slow stewed shallots and carrots. And I also loved the Vietnamese fresh touch, served with herbs to garnish.
My only complaint is that the bo kho served with bread was extremely oily, while the version with egg noodles was much less oily – so I would recommend the egg noodles if you go.
Being a lover of stews and curries, bo kho is another one of my favorite Vietnamese dishes, and a dish you've got to try when you're in Saigon.
Bò Kho Út Nhung – Saigon, Vietnam
Address: 109/7 Nguyễn Thiện Thuật, District 3, Saigon
Open hours: Beef stew is served from approximately 1 pm – 10 pm daily, the restaurant is open starting in the morning, but they serve pho in the morning are open in the morning
Price: 35,000 VND ($1.62) per bowl of beef stew – and it was a pretty decent size portion and included plenty of beef
For the map of everywhere I ate in Saigon, click here.
Have you tried Vietnamese beef stew?
Get exclusive updates
Enter your email and I'll send you the best travel food content.