One of the many Kolkata street food snacks that's popular in bustling areas of the city is bhel puri. This snack is also famous in other parts of India, particularly Mumbai, but I got my first sample while visiting Kolkata (Calcutta).
It's sort of like eating a bag of potato chips, except bhel puri is fresh and drenched in tasty tangy sauce.
The mix includes crispy little curly fritters that look almost like crushed up pieces of raw ramen noodles, boiled and peeled potatoes, puffed rice, brown crumbly things, crushed up parts of deep fried chip like discs, diced red onions, chillies, and coriander.
All the ingredients for bhel puri are tossed into a cone shaped piece of scrap paper (a common Kolkata street food means of serving presentation).
The vendor then proceeds to add a few spoons of chili sauce and tamarind sauce over the crunchy items. He then mixes the dry ingredients with the wet ingredients by giving the cone a little toss with a swift stir of the spoon in repeated motions until the sauce evenly coats the entire snack.
Get exclusive updates
Enter your email and I'll send you the best travel food content.
It's best to stand and eat Indian bhel puri as soon as it's prepared; Wait too long and the crunchies become soggy from the liquid chili sauce.
Back when I was going to university in Arizona, I would occasionally drive down to Mexico with some of my Mexican friends and I was always impressed with not only the irresistible tacos and burritos, but also the "Mexican Doritos" – yes the packaged chips. Heavily spiced in the package, they also came with a little sachet of salsa hot sauce intended to be poured over the chips before consumption.
Bhel puri really reminded me of a bag of Mexican Doritos, yet even more glorious with the addition of fresh ingredients like boiled potatoes, onions, chillies and chopped coriander (cilantro).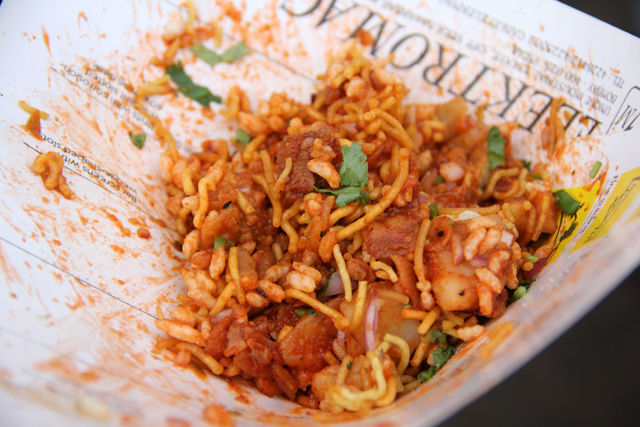 One of my favorite things to do in Kolkata is wander around the New Market, and that's exactly the area where you'll find a host of vendors serving bhel puri that you can order up and stand while eating.
Forget about a packaged bag of potato chips, for just 20 INR (about $0.40) you can enjoy a tasty paper cone of Indian bhel puri!
Bhel Puri Video:
Don't forget to watch the video above so you can see how it's made (and eaten)!
Get exclusive updates
Enter your email and I'll send you the best travel food content.