The street food in New York is worth visiting the city for alone.
Walk around the streets of the Big Apple and of course you'll come across the famous hot dog vendors with their carts, but there's so much more to the street food of New York.
It's a competitive business and only the tastiest will survive.
I recommend you forego the restaurants so you can make time to work your way through the menu at these delicious food trucks…
1. Wafels & Dinges
There are five sweet waffles to choose from at Wafels & Dinges, including the de verdekke – a waffles and ice cream sandwich squashed between chewy wafers.
You can add yummy fillings like bananas, strawberries and Nutella. There are also two savoury waffles on the menu, in the form of a BBQ pulled pork waffle with coleslaw, sweet barbecue sauce and a coolickle, or there's the de bacon + syrup waffle, which they describe as 'scandalous', whatever you choose make sure you don't forget your 'dinges' – a waffle topping!
Wafels & Dinges has five trucks in their fleet. Four have permanent locations: the 'Vedette' cart at the gate of Central Park Zoo, the 'Kotmadam' cart at the Great Lawn near the 85thSt entrance, the Goesting is stationed in front of Eataly daily and the 'Bierbeek' cart at Columbus Circle in front of the Time Warner building. Their flagship truck, the roaming 'Papa Truck'' cart makes its way around New York selling delicious waffles as it goes.
Follow @waffletruck on Twitter for up-to-date information on where the truck is today.
Get exclusive updates
Enter your email and I'll send you the best travel food content.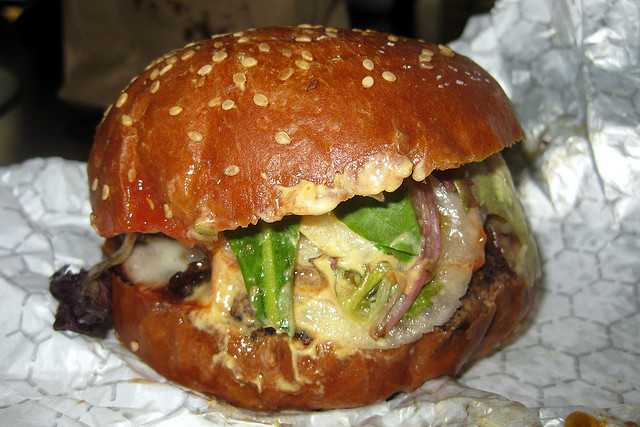 2. Frites'N'Meats
With a catchphrase like 'Saving the world, One Burger at a time' you would naturally expect the best.
The brains behind Frites'N'Meats just wanted to create a mouth-watering, juicy, perfectly cooked burger, served with some killer fries at a good price, they have done just that. This burger is made with thought, they cook each patty to medium-rare so by the time you get to where you're going the heat insulating wrapping cooks it to medium.
There are four burgers to choose from including 'grass fed angus' and the 'wagyu american kobe', and five cheeses as well as 11 toppings to create the perfect burger for you.
You can choose between six aioli sauces for your frites, including sundried tomato and wasabi mayo, difficult decisions are to be made at Frites'N'Meats I think.
Keep up with them on the road on Twitter @fritesnmeats.
3. The Treats Truck
The Treats Truck has regular stops around New York – keep up with them by following their @TheTreatsTruck on Twitter.
The truck – known as 'Sugar' – is filled with freshly baked cookies, brownies, crispy squares, oatmeal cookies and caramel crème sandwiches and people flock from afar to get their delicious sugar fix for the day.
The intelligence behind it comes from Kim Ima, who wanted to spend her days serving up delicious treats to the New York boroughs. You can order in deliveries, or do as I'd do and just pass by and try one of everything. You can even buy Treats Trucks Dollars for a friend or treat someone to a Gift Box filled with sweet goodies.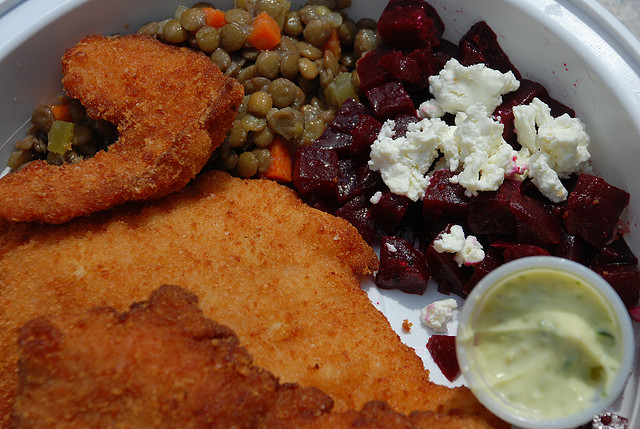 4. Schnitzel & Things
For hearty Austrian fare to keep you on the go all day you need Schnitzel & Things in your life.
The food is prepared daily by founders Oleg Voss and Jared Greenhouse, and they're the only mobile food truck serving authentic schnitzel.
They hand pound the lightly breaded thin cutlet of meat – either chicken, veal or pork – and then fry it to perfection. Go for the platter off the menu and it'll be served alongside some Austrian potato salad, cucumber salad and a lemon wedge.
But the food fun doesn't stop there; you can also indulge in a little bratwurst sausage served with sauerkraut while you're there too. For dessert make sure you try the Tahitian vanilla panacotta, the tartness will give you a kick.
Keep up with them on Twitter @schnitznthings.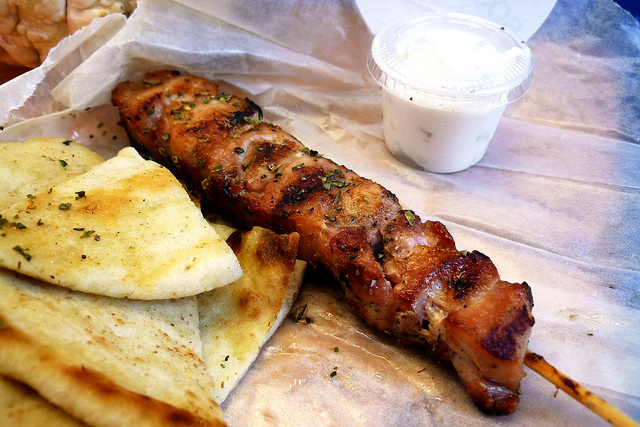 5. Souvlaki GR
Souvlaki GR is the only food truck in New York City serving authentic Greek street food.
They're award-winning fare is so popular they've even opened a shop. But the famous truck is still going, serving tasty souvlaki to anyone it passes. The traditional combination of charcoal grilled meat, wrapped in a warm pitta with tzatziki sauce, tomato, onion is perfectly formed in the Souvlakitruck by founder Kostas Plagos and friends.
You'll always get French fries done the Greek way – topped with Feta cheese – to go alongside your meal, and the prices are cheap and cheerful.
Find out where they're headed next on Twitter at @souvlakitruck.
About the Author: Victoria is a foodaholic traveller. She also works as a travel writer for Hostelbookers.com.
Photo Credit: Schnitzel – kthread, Frites'N'Meats – Wallyg, Souvlaki GR – Wonggawei
Have you eaten at any New York City street food trucks?
Get exclusive updates
Enter your email and I'll send you the best travel food content.