In my single day stay in the Sultanate of Brunei Darussalam, I walked around Bandar Seri Begawan, sped through Kampong Ayer in a speed boat, gawked at Sultan Omar Ali Saifuddien Mosque, twirled Ambuyat Sago starch, and triumphed at feeling like a Sultan.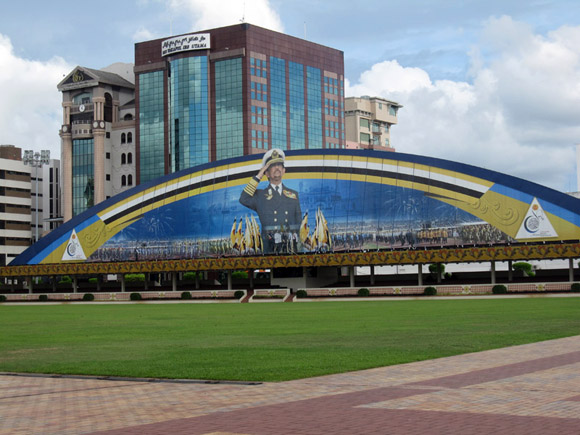 I arrived at about 4 pm in the exotic Aladdin feeling city of Bandar Seri Begawan fresh off the ferry from Kota Kinabalu to Brunei.
Where to Stay?
Although there were mixed reviews of the cheapest and only youth hostel in Bandar, after checking-in, I realized it was much nicer than most places I had ever stayed.
The air-cons pushed cold air and the bunk-beds were amazingly stable and comfortable.  If you need highly adequate but not at all fancy accommodation, Pusat Belia Youth Hostel is a good enough place to bunk for $10 Brunei dollars per night.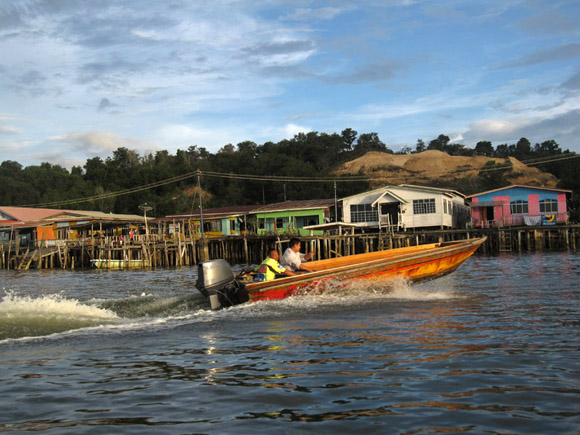 Kampong Ayer Water Village
Kampong Ayer is a huge village built on stilts above the Brunei River that houses around 39,000 residents.
Where most water villages around the world are home to the poorest of the poor, Bruneian's who live in Kampong Ayer are actually quite well off.  Many of the stilted homes are outfitted with electricity, satellite televisions, and internet access.
Get exclusive updates
Enter your email and I'll send you the best travel food content.
Many inhabitants in this oil driven country even own cars parked ashore.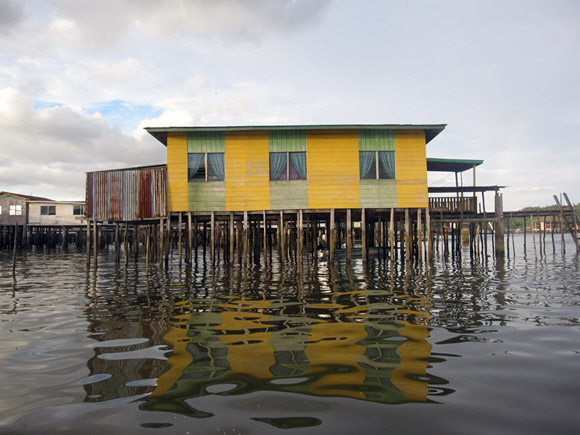 During our kingly boat cruise, our skipper pointed off into the horizon to a glistening somewhat ostentatious golden dome poking through the tree line on the banks of the river.  "This is the Sultan's palace," he proclaimed.  With 1,788 rooms and 257 bathrooms it's a shame I couldn't test the quality of the sewage system (Only open for 3 days to the public on Eid al-Fitr).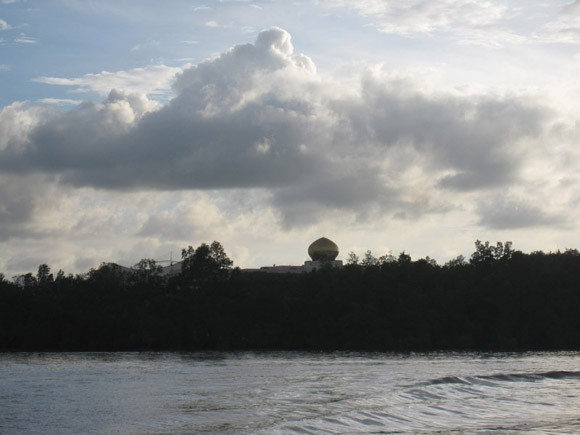 A speed boat cruise through Kampong Ayer can be arranged by one of the many boat taxi's eagerly waiting to give you a tour.  The price will be around $20 Brunei Dollars for an hour boat ride tour (don't expect to really bargain, people are not overly desperate for money in Brunei).
The water village is equipped with schools, hospitals, police and fire stations, Mosques, and the one-of-a-kind Shell petrol station above water on stilts.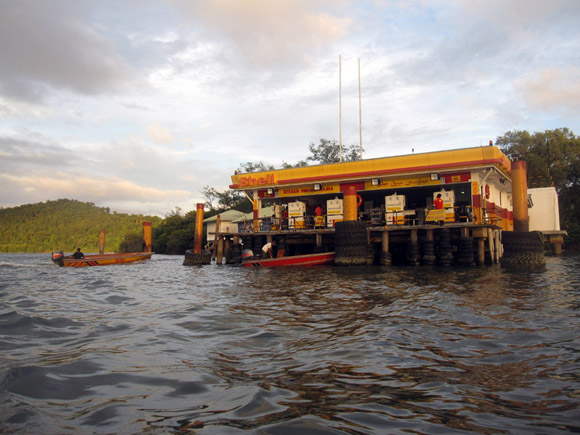 Sultan Omar Ali Saifuddien Mosque
In full daylight, Sultan Omar Ali Saifuddien Mosque in the center of Bandar Seri Begawan is an audacious and remarkable display of design and construction.  In the late afternoon as the sun crept lower and lower with every second, the mosque became even more fascinating.
The electric colors from the golden dome ricocheted off the marble walls and minarets and I felt like I was a part of some extravagant surreal painting.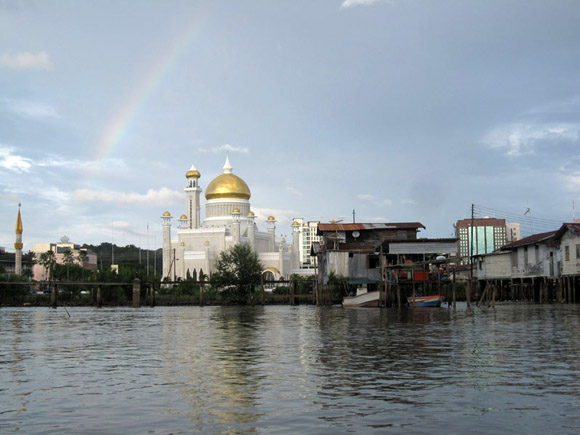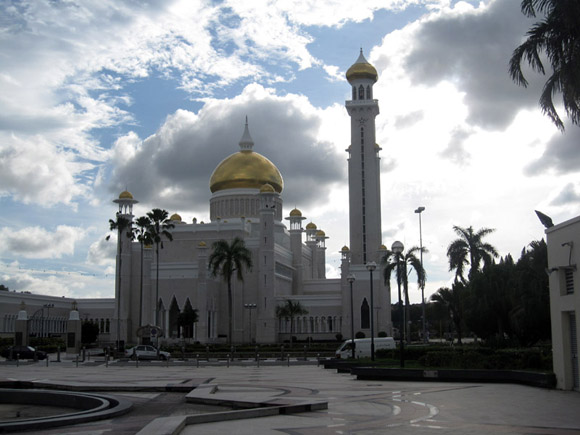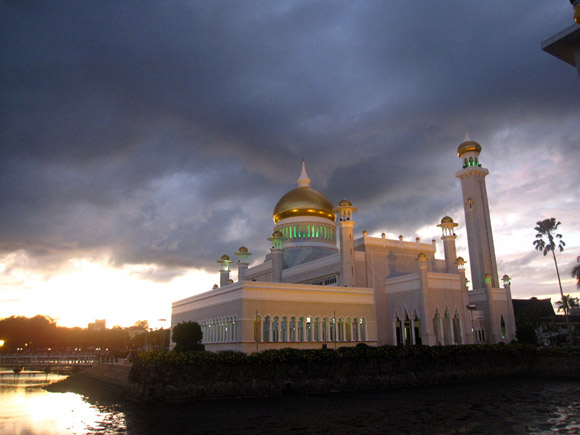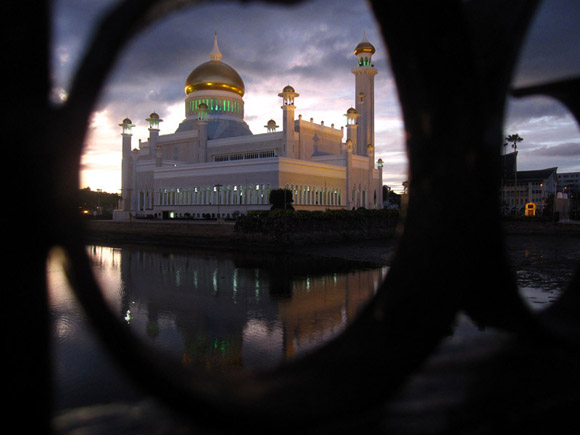 Bruneian Cuisine
After an hour of glossy eyed staring at the mosque and the surrounding skies, I realized my stomach was crying out for food.  Luckily, I was able to locate a local Bruneian dish made from the Sago palm, known as Ambuyat.
This sticky glue like substance was a novelty to twirl into bite sized pieces and further dip into the bizarre but awesomely bursting cacah binjai sauce.  If you are in Brunei you would be missing a lot to neglect an authentic Ambuyat feast.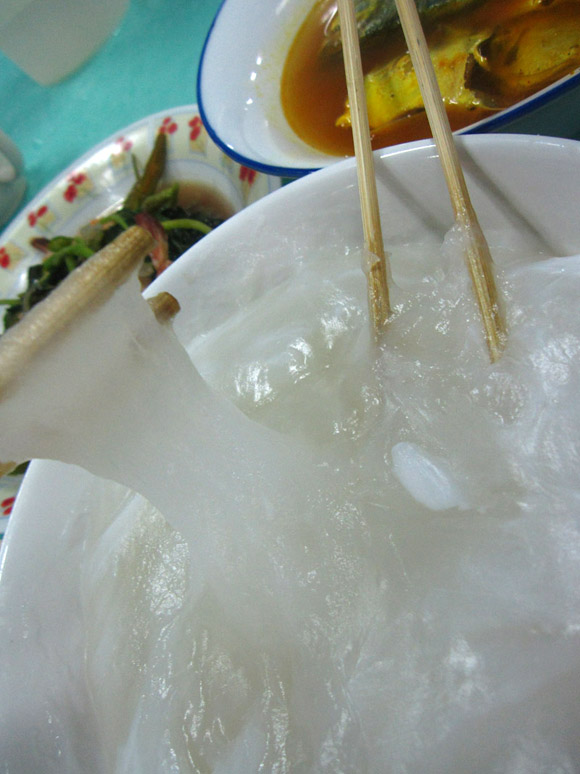 If you have a minute, check out this 1:51 short video to get a  better feel for some of these images!
Though I was only in Brunei for a single evening, I had a luxurious time wandering around and seeing a few of the famous existing sights.
The incredible views from Brunei in such a brief time left me shocked and feeling like I was the Sultan of some exotic fairy tale.
Get exclusive updates
Enter your email and I'll send you the best travel food content.