One of the great Asian sensations these days is something known as the hot pot.
Everything is served or displayed in its raw form and is cooked by scorching the ingredients in a hot spicy pot of flavorful soup broth.
Some hot pot stalls offer self service cooking while others (like this take-away Ma La Tang cart in China) was cooked up by the vendor herself. You may remember one of my favorite meals in the world, also a hot pot style meal, but less of a street and more of a sit down dining experience.
All around Asia you'll find hot pots.
In Japan it is called shabu shabu, Thai street food labels it suki or jim jum, and in Malaysia it's known as steamboat – but they are all the same basic idea.
It's nearly impossible to pass by a stall that's filled with colorful items that are skewered on sticks and nicely arranged on a street cart.
The steam from the boiling cauldron of soup was emitting a cloud of humidity that filled the air with tantalizing aromas… and again, I was the victim of the hook from the food lure.
Get exclusive updates
Enter your email and I'll send you the best travel food content.
And that's the reason I didn't pass by at all, but stopped and immediately started picking and choosing the items I wanted in my Ma La Tang bowl.
The left side of the table was organized with protein, a selection of processed meats that included fish balls and hot dog like sausages.
The center console consisted of a few different varieties of mushrooms, a few kinds of tofu and a number of tuber type root vegetables.
On the right hand side were the stacks of green leafy vegetables including bok choy, spinach, cabbage, leeks and lettuce.
I grabbed a basket added my sticks and handed it back to the vendor.
Each stick costs 1 – 2 RMB depending on what it is.
She then flopped all my sticks into the fragrant boiling pot, blanched everything for a few seconds and pulled them out with her chopsticks.
Grabbing a paper take-away bowl she proceeded to de-stick all the ingredients I had ordered and mingled everything into a single bowl.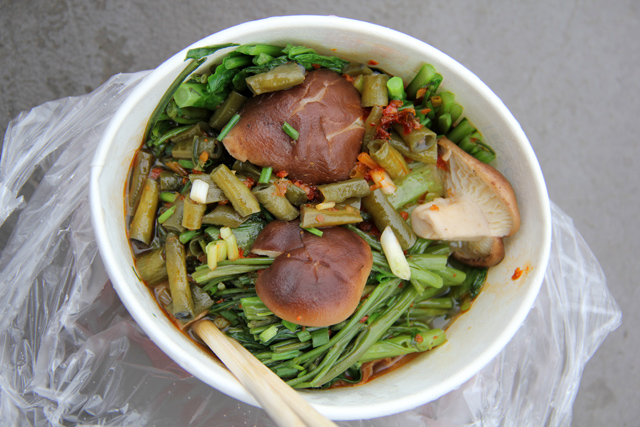 The final step of the Ma La Tang process was for me to add a couple spoons of chili vinegar and a few spoons of Chinese pickles to the top of my bowl.
Here's a quick VIDEO of the meal!
The Ma La Tang hot pot was spectacular, the vegetables were fresh the deep fried tofu was tender and tasty and the mushrooms soaked up the spicy soup like sponges.
When I thought things couldn't get better, I noticed the next vendor over who had another street cart with tubs full of pickled vegetables.
I ordered a side bag of pickled baby ginger, which proved to be a an excellent choice as a flavor booster for the meal. Each bite of the ginger produced the amazing wasabi nose-clearing-effect!
If you visit China be sure to indulge in a few bowls of Ma La Tang hot pot street food!
Get exclusive updates
Enter your email and I'll send you the best travel food content.