You know it's going to be an epic meal when your appetizer is a full plate of grilled chicken and sticky rice.
Bang Saen Beach, located just 1 – 1.5 hours away from central Bangkok, is one of the closest swimming beaches to the city.
But when I go to Bang Saen, I'm hardly there for the swimming.
Yes, the ocean breeze and the fresher air are wonderful, but I head straight to the hammock chairs set up under the shaded umbrellas, and reach for the menu.
There are hundred of Thai street food vendors all ready and willing to prepare whatever your heart desires.
And like normally in Thailand, it desired a feast!
The gai yang (grilled chicken ไก่ย่าง) for appetizer was a perfect pile of turmeric marinated chicken, grilled to juicy perfection.
It was served with Thai chicken sweet and sour dipping sauce, which for the first time, I found completely unnecessary.
Get exclusive updates
Enter your email and I'll send you the best travel food content.
Unlike the quiet perfect meal I had a few months ago, since Bang Saen beach is so close to Bangkok, it's not exactly a peaceful getaway.
Cars continually pull in and out, Pepsi trucks and ice delivery trucks make their rounds, vendors approach you selling all sorts of snacks, jestski's roar in the background, and kids run around making noise.
But it's a happy atmosphere!
I watched these guys fight as I waited for the food to arrive.
Those are my prawns being roasted.
Along with prawns, I'm always happy to eat squid, especially when it's grilled over charcoal.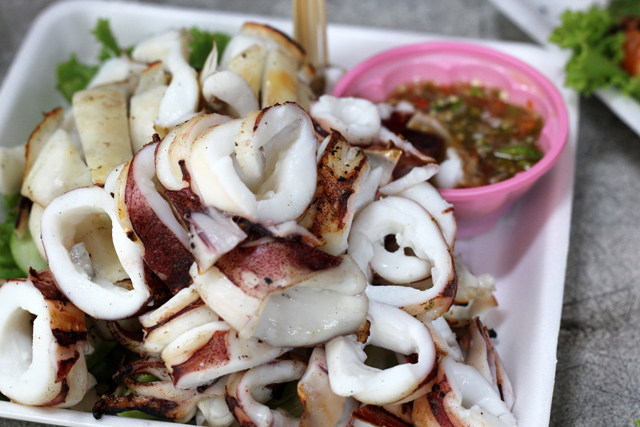 In Malaysia, ikan bakar (grilled fish) and squid is often first marinated in chili sambal sauce and then grilled, but in Thailand the squid is often roasted plain and served with an exciting sauce.
Both ways are excellent.
The pile of tender, hardly chewy, pla meuk yang (grilled squid ปลาหมึกย่าง) was fantastic. The sauce bursted with garlicky chili packed goodness.
The shrimp, after receiving a blackened char, were ushered to our table.
Goong pao (roasted whole shrimp กุ้งเผา) in Thailand are actually 50% head and 50% body.
In many Thai locals' opinions, the head meat and juices that flow from the skull, are the best part of a shrimp. I didn't like it at first, but I'll admit, it's like rich creaminess and pretty good.
Freshly pounded som tam (green papaya salad ส้มตำ) is a requirement for any beachside feast in Thailand.
This version, known as som tam boo pla ra (ส้มตำปูปลาร้า), includes small crabs and fermented fish sauce. It's an acquired taste, but it's utterly fresh and delightful once you start enjoying it.
Som tam khao pot (ส้มตำข้าวโพด), or mixed corn salad is another delicious combination.
Sweet corn is sliced off the cob and dressed with lime juice, fish sauce, and palm sugar to create a tangy and sweet relish like Thai dish.
Finally we topped off this epic Bang Saen beach feast with a towering plate of mixed yam pla duk foo (puffy catfsh salad ยำปลาดุกฟู). Thai yam pla duk foo is normally served as a big blob along with a side of green mango sauce.
On the beach, they mixed everything together from the start, so it all marinated together into a harmony of textures and flavors.
Successfully filled, we drove back to Bangkok.
Have you had any epic meals lately?
Get exclusive updates
Enter your email and I'll send you the best travel food content.