Agra, the city that is home to the Taj Mahal, is one of the most famous and visited places in all of India.
It attracts not only foreigners, but also plenty of local Indians that have come to Agra on holiday or just come for a day trip from Delhi.
I spent a total of just 3 days in Agra, and while I did most of the touristy things (I didn't manage to get off the beaten path so much like I normally do), it was a good amount of time to see some truly breathtaking historical attractions.
Arriving and Leaving Agra
Train – There are two main train stations that cater to Agra: Agra Fort and Agra Cantt.
Agra Fort railroad station will most likely be the more convenient station for you. It's just a few kilometers from the Taj Mahal area (where many guest houses are located) and adjacent to the famous Agra Fort. When I arrived, I paid 150 Rupees for a taxi to my hotel, and, but I'm sure I overpaid. Try getting an auto for about 100 Rupees or so to Taj Mahal. Coming into Agra, I took the train from Varanasi to Agra Fort station.
The second railroad station is Agra Cantt, which is located about 10 kilometers from the Taj Mahal area. When I left Agra to go to Delhi, I had to catch an early morning train from this station. From the Hotel Taj Plaza in an auto rickshaw it cost me 180 Rupees and took about 20 minutes to get there. The station is actually quite nice, organized (in comparison to other stations in India), and the train platform numbers were even listed on display screens!
Where to Stay in Agra
In Agra you can find everything from luxury resorts to budget backpacker hostels, and plenty of mid-range hotels and guest houses. I stayed at the Hotel Taj Plaza for my 3 night visit to Agra, and though it sounds prestigious, it wasn't anything too fancy.
Get exclusive updates
Enter your email and I'll send you the best travel food content.
Hotel Taj Plaza – By far the best thing about this hotel was the location, about a 5 minute walk or so from the east gate of the Taj Mahal. There's also a pretty decent view of the Taj from the top deck restaurant. The room, could have been much better; It was quite old, and not the nicest design or the cleanest. But at least everything worked. We paid around 800 INR per night for a double.
Around the south gate of the Taj Mahal you'll find quite a few budget guest houses and hotel, as well as many local restaurants and businesses.
Click here to see more hotels in Agra.
How to Get Around Agra
Walk – It's convenient to stay in a hotel that's near the Taj Mahal, that being Agra's main attraction. That way, you can walk to the ticket sales office and then either walk or take the free shuttle to the gate of the Taj. However, other than that, Agra is not the most walker friendly city. To visit other attractions within Agra, it's easiest to jump in an auto rickshaw as distances are long and roads are dusty. I did walk one day from the Agra Fort back to the Taj Mahal and it took about 45 minutes.
Auto Rickshaw – While I'm normally a huge walker, I barely even bothered in Agra, it was too sunny, hot and dusty. Auto rickshaws are widely available and will take you anywhere you request, as long as you agree to a price beforehand.
Horses, Camels, and other Animal Powered Rickshaws – Mostly around the Taj Mahal you'll find a number of animal powered carts that you can hire to take you to the gate of the Taj Mahal. You could also ride them from the Taj Mahal to the Agra Fort, but not much longer than that.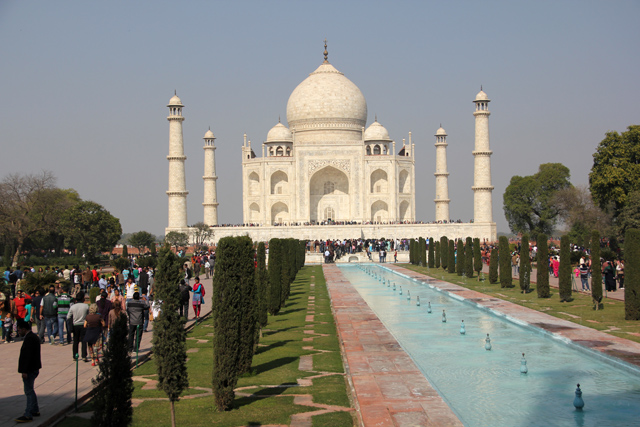 Things To Do in Agra
1. Taj Mahal – I don't think anyone comes to Agra without visiting the Taj Mahal, it's THE reason people visit Agra; I'm not going to lie, it was almost completely the reason I visited the city. The good news is, the Taj Mahal really does live up to its fame (at least I thought so). It's truly a marvelous display of white marble and I was impressed by its beauty and historical significance. At 750 INR for entrance, it's not cheap, but I thought it was worth it. There's a huge list of what you're not allowed to bring in, so make sure you leave those things at your hotel. Here a Taj Mahal video I made.
2. Agra Fort – Another site, which I wasn't expecting to be so impressive after visiting the Taj Mahal, is Agra's Fort. It was yet another incredible piece of architecture history built by the Mughals. Agra Fort is really an entire red walled city, and you can easily spend a few hours browsing the different buildings and lookouts in the fortress. I really liked the fine details within the fort, carved into marble and stone. Entrance was 300 INR and I'd consider one of the things to do in Agra that you shouldn't miss.
3. Baby Taj – The Tomb of I'timād-ud-Daulah, or better known more simply as the Baby Taj, is another great attraction to see in Agra. It's not a big mausoleum, so it doesn't take long to visit, but it's another great example of Mughal construction and design with beautiful detail. It was 100 INR to enter and an auto rickshaw from the Taj Mahal should cost 100 – 150 INR (the Baby Taj is across the river).
4. Mehtab Bagh Gardens – Since I was at the Baby Taj, I decided to stop by the garden across the river from the Taj Mahal as well. It's just an ordinary park designed as a garden, and while it does have a nice view of the Taj Mahal, I didn't think it was worth a visit unless you're really into photography and want to capture a shot of the Taj from across the river. It's also 100 INR entrance.
5. Sadar Bazar – Sadar Bazar is a shopping area in Agra, and while it's a little touristy, it's also quite local. There is a strip of shops where you can find souvenirs and also convenience store items and food. It's a good market to search for leather and marble goods, though I personally have no idea what prices might be. There are a number of restaurants and street food snack stalls in the area, including Mama Chicken House (more below), a place you should eat at just for its awesome name!
Food and Restaurants in Agra
Relax He Relax Garden Restaurant – After spending a number of hours at the Taj Mahal, I was pretty hungry (ok starving), and while I'm normally a budget Indian street food kind of guy, it must have been the impressive ritziness of the Taj Mahal that made me want to eat at a nicer sit down restaurant. About 50 meters outside of the east gate, along the road, is Relax He Relax. It's a restaurant with a few tables in the garden and they serve a menu of mostly North Indian Mughlai cuisine. We had the chicken kadai which was incredibly juicy and flavorful and the mixed vegetable curry along with rice and naan. Our bill came to 640 INR for two. A bit pricey, but it was good, and satisfied the mood to go with the Taj Mahal!
Mama Chicken House – If you go shopping at Agra's Sadar Bazar (more information above) and want some budget chicken and fast Indian food, you can't miss Mama Chicken House. There's both a non-veg and an all-veg branch, separated by the parking lot. I chose the non-veg, because I really wanted some tandoori chicken. I ordered the a piece of tandoori chicken and a stack of hot tandoori rotis for 150 INR. It was excellent!
Especially on the south side of the Taj Mahal you'll find a variety of hole in the wall Indian restaurants as well as Japanese and Korean food and a few Western restaurants.
Agra, along with Delhi (video) and Jaipur, is part of what's called the North India golden triangle tourism route (if you were to draw a line between the cities you'd get a triangle). Despite the crowds of both foreigners and locals, if you enjoy architecture and history, Agra is a place you must visit. I know for sure I was impressed by the attractions in Agra.
Thank you for taking a look at this Agra city travel guide and hope you have a fantastic visit!
Get exclusive updates
Enter your email and I'll send you the best travel food content.