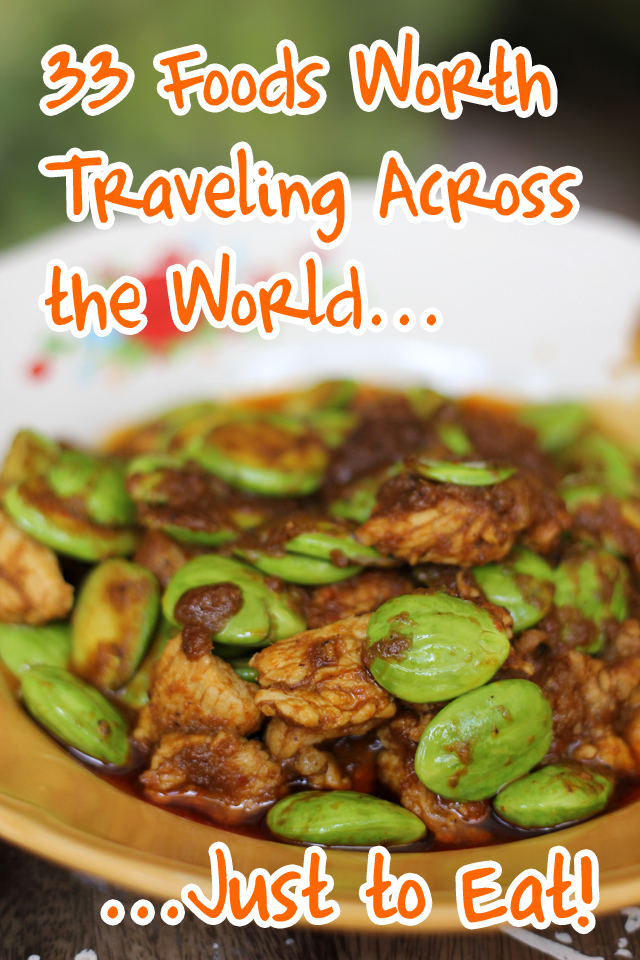 "He that has never traveled thinks that his mother is the only good cook in the world" – Kenyan proverb.
And while mother is the best cook, how many mothers exist in this world?
After returning from any trip I'll often reflect, browse through my photos, and realize that by far the most memorable experiences I had all revolved around food.
And that's no surprise…
Not just because I'm a food obsessed individual, but because food is an essential ingredient of human life – survival, culture, tradition, lifestyle, festivals, relationships, comforts – food plays a part in everything.
To tackle this meaty list of 33 foods worth trekking the globe to hunt down, I decided there was no better way than to ask other jet-setting food passionate bloggers to share their thoughts.
So grab a spoon, and get ready to dig in…
[box type="note" icon="none"]"33 Foods Worth Traveling Across the World Just to Eat" – Click Here to Tweet[/box]
1. Poke (Hawaii, USA)
My pick
Freshly cut cubes of raw Yellowfin Tuna (Ahi) combined with soy sauce, sesame oil, sea salt, chili pepper, sweet onions, and limu seaweed is one of the great culinary creations of this world.
The fish (which should be caught locally and never frozen) is the texture of ripe papaya – so smooth and tender I sometimes can't help myself from chewing with my lips instead of my teeth.
A chilled piece of poke combined with a proportional amount of steamed rice in the same bite is a sensation that's so divine, it's hard to believe you're still on earth.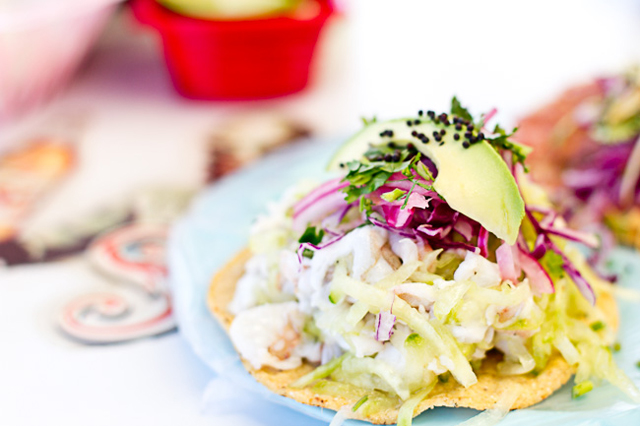 2. Aguachido (Playa del Carmen, Mexico)
Ayngelina from Bacon is Magic
Playa del Carmen is known for its seafood and while you can get great options everywhere, all the locals go to a restaurant called Aguachiles.
Here you can find aguachido: shrimp marinated in lemon juice with clamato and fresh vegetables. Unbelievably fresh and while it is only a few dollars it rivals anything I've eaten at high-end restaurants.
3. Khao Soi (Thailand)
Paul from Walk Fly Pinoy
It's soft and yellow egg noodles bathed in a thick curry broth. Not soup. Broth. It is then topped with deep-fried, crispy egg noodles, and eaten with pickled greens on the side. The broth is coconut milk-based and the curry can either be cooked with chicken, pork, or beef. Beef is my favorite kind of Khao Soi, especially the ones prepared by the Thai Muslim women in Chiang Mai's Muslim area along Chang Klan Road.
4. Poulet Yassa / Chicken Yassa (Senegal)
Phil from Phil in the Blank & Sick on the Road
Yassa is a heaven-sent marinade of lemon, onion and chile, often taken to the next level with a touch of dijon mustard and some freshly grated ginger. Chicken is slow cooked in this flavorful mixture before it is served over rice.
"I can eat plates of it."
5. White Pizza – Old Forge Pizza (Pennsylvania, USA)
Juno from Runaway Juno & Mastertravelphoto.com (Mastering Art of the Travel Photography)
The White pizza is the one. It's not a regular pizza you know; Old Forge White Pizza is a creamy-cheesy-and-even-heartwarming heaven in the mouth. The white pizza has a double crust, on the botton and the top, with cheese filling. I don't know what they do to the cheese, but it's heavenly soft.
You'd want to travel around the world to eat that; I literally did.
6. Kobe Beef (Shin Kobe, Japan)
Jeremy & Shirlene from Idelish
Melt-in-your-mouth, mouth-watering-goodness is how we'd describe Kobe beef! Unlike regular beef, if prepared past medium rare, like steak, the fat would liquefy – that's how melt-in-your-mouth it is. Read more about the dish we'd travel all the way to Japan for here.
7. Eggplant Satsivi (Georgia)
Anil from Fox Nomad
It's a simple Georgian dish of pureed walnuts, eggplant, and spices eaten chilled. An appetizer so simple yet satisfying, my only regret is not having known it existed sooner.
8. Gujarati Thali (State of Gujarat, India)
Derek from Wandering Earl
Just imagine – a large, circular tin plate filled with up to ten wildly flavorful and addictively sweet vegetarian curries sitting alongside servings of dhal (lentils), spicy vegetables, salad and a guaranteed-to-be-yummy dessert. And with a steady flow of fresh rotis and rice delivered to your table throughout your meal, you're free to devour those dishes however you prefer (and devour you will, just as I did above before I was able to take a photo!).
Of course, the best part is that the waitstaff walk around the restaurant constantly scooping more curries onto your plate, refusing to let you stop eating until you've had at least three servings of every dish!
9. Nghêu Hấp Xả / Steamed Clams w/ Lemongrass (Vietnam)
Barbara from The Dropout Diaries
Get exclusive updates
Enter your email and I'll send you the best travel food content.
Plump baby clams, cooked in a little pot with lemongrass and delivered steaming to your table. The clam shells are too hot to pick up at first, and you always burn your fingers because these clams are too good to wait for.
Each clam is a spoon and a tiny meal – you scoop up some lemongrass broth and some sweet chilli sauce in the half of the clam that contains the meat and deliver the taste explosion to your mouth. FABULOUS. One pot never lasts long, so keep an eye on the waiter so you can order another.
10. Nasi Lemak (Malaysia)
Mei and Jo from ccfoodtravel.com and Cikipedia
One of the dishes that I would travel across the world just to eat, is the Nasi Lemak. Somehow, this combination of rice cooked in coconut milk, chili sambal anchovies, half a hard boiled egg, deep fried chicken, sambal squid, peanuts and cucumbers really gives me the shivers just thinking about it.
No other meal quite cuts it, like the Nasi Lemak does.
The best way to serve Nasi Lemak is wrapped in or served on a banana leaf, as it lends an aromatic fragrance to the rice. When used to pack the steaming hot coconut milk rice, you just need to unravel the green, conical package and let your nostrils be assaulted by the most heavenly aroma on earth.
11. Bibim Guksu (South Korea)
Sook from Heart, Mind & Seoul
Bibim Guksu is a popular Korean noodle dish that perfect for hot Summer days. The noodles are cold and mixed with a spicy and sweet gochujang (Korean red pepper paste) sauce.
12. Panang Curry with Chicken (Thailand)
Dave from Go Backpacking
A thick, coconut cream-based Thai curry with a peanut flavor. Red peppers add spice, however the heat level will depend greatly on whose preparing it (and whose eating it). Chicken can be substituted for beef, tofu, or vegetables, and it's typically served with jasmine rice.
13. Turkish Hamsi (Turkey)
Julia & Barry from Turkey's For Life
As the hamsi (anchovies) swarm the Black Sea towards the Bosphorus Strait each winter, Turkish fishermen drop their nets. On any winter arrival in Istanbul, the first thing we do is head for Karaköy fish market for the perfect street food, Hamsi Ekmek. The anchovies are deep fried and served with rocket leaves and thinly sliced onion in a fresh, crusty bread.
14. Reuben Sandwich (Sherman's Deli, California, USA)
Kent and Caanan from No Vacation Required
Choosing a favorite food was not an easy chore. We have had some truly amazing meals in some once-in-a-lifetime restaurants and in some distant locations. However, sometimes it's the really simple dishes done exceptionally well that stand out – a perfect Caesar salad or a spot-on bowl of fettuccini alfredo, for instance.
The Reuben sandwich at Sherman's Deli in Palm Springs, CA is one of those simple wonders we keep coming back to (literally and figuratively). They say a picture is worth a thousand words, but I think this picture is worth 10 amazing mouthfuls.
15. Chashumen – Shoyu Pork Noodle (Ginza District, Tokyo, Japan)
Pomai from The Tasty Island (Honolulu Food Blog)
I have yet to come across a broth, chashu, menma and noodles as special and OISHII as the bowl of ramen "of the Heavens" from this shop. Earthy, aromatic, deep and complex immediately splash my memories.
The closest authentic Japanese ramen to it I've been able to find here in Honolulu is the Shoyu Ramen from either Goma Tei (Ward Center) or Ramen Nakamura (Waikiki).
16. Pastel de Nata / Pastéis de Belém (Belém Bakery, Portugal)
Sarah from Food Bridge
Portugal's legendary egg custard tarts– a full bodied, velvety cream encased in a flaky caramelized pastry crust, were one of the highlights of my visit to Lisbon. My friend had another way of describing them, "It's disgusting how good these are".
The original egg custard tarts were first made in Lisbon almost two hundred years ago by the nuns of Jeronimos Monastery. The nuns opened a bakery in the Belem neighborhood of Lisbon using a secret recipe passed on from the monastery. Eventually the pastries as well as the shop became known as Pastéis de Belém and their popularity quickly spread to other areas of Portugal. Outside the Belem Bakery the pastry is known as pastel de nata (plural, pasteis de nata).
17. Jalebi (India)
Arti from My Yatra Diary
Indians love their food and they love their sweets! Amongst the hordes that they have on their platter, one that I personally am madly in love with is the round and round, Jalebi!
Jalebis are made up of flour dough and are crisp, soft and plump at the same time. The dough is rolled out into hot ghee in a specific round shape/pattern and then deep fried till they become crusty and crunchy. These are then finally dipped in a special kind of sugary syrup called the chashni to give it the desired sweetness and taste. Served either hot or cold, are best had as a breakfast snack with hot milk or as a dessert after completing the full course of a meal.
So the next time you are in India, do not forget to stop by the streets of India and grab this Indian flavor! Because, yes… it's totally worth it!
18. Meze (Turkey)
Cameron & Nicole from Traveling Canucks
Meze is a selection of small dishes served typically before a larger meal or, in our case, it's THE meal. We love Turkish meze because it allows us to sample a wide variety of foods over a longer period of time – it's the perfect social dining cuisine!
We love the combinations of fresh cheeses, cured meats, pureed dips, pickled vegetables and grilled seafood, and nobody does it better than the Turks. I'm getting hungry just talking about it!
19. Khinkali (Republic of Georgia)
Daniel & Audrey from Uncornered Market
Khinkali may look like simple dumplings, but the combination of herbs and spices with the freshly minced meat that creates a delicious broth inside makes them anything but simple.
Each dumpling is stuffed and then twisted over 20 times to get a little knob at the end. To eat, sprinkle with freshly ground pepper and pick up by the knob. Take a small bite and then suck out the broth (or else you can get burned!); then you eat everything else but the knob. At the end of the meal you can count how many khingale you've had by the knobs on your plate.
20. Potato Wedges w/ Sour Cream & Sweet Chill Sauce (Australia)
Cailin from The Taste of Travel & Travel Yourself
Served either as an appetizer or side to a meal, potato wedges with sour cream and sweet chilli sauce is exactly what it sounds like it is, seasoned potato wedges that you dip in a mix of sour cream and sweet chilli sauce, sounds slightly odd but so delicious!
21. Dolsot Bibimbap 돌솥 비빔밥 (South Korea)
Sam from Nomadic Samuel & Smiling Faces Travel Photos
Dolsot Bibimbap is a special variation of bibimbap (Korean mixed rice) that is prepared in a sizzling stone pot where the rice nestles with various mixed vegetables, raw egg and spicy red pepper paste. The stone pot is so hot that the raw egg is cooked against the side of the bowl while the bottom section of rice is coated with sesame oil rendering it a lovely crispy golden brown.
It's by far my favourite my meal in South Korea.
Not only is it equally amounts delicious and healthy but more important it is a budget conscious meal. A bowl should cost no more than $4-6 USD and comes with a generous serving a side dishes and soup that can be refilled frequently upon request.
22. Fugu "Puffer Fish" Sashimi (Shimonoseki, Japan)
Erica from Kizzling Around
(I included the city since it really does taste the best there)
"This is not your average piece of sashimi."
Pieces of boiled skin and thin green onions are wrapped in a thinly sliced and slightly transparent piece of fugu sashimi, which is then dipped in soy sauce with either lemon juice or vinegar and momijioroshi (ground daikon and red chili peppers). This dish is delicate and the flavors subtle with a variety of textures for additional enjoyment.
23. Truffle Extravaganza Meal (Tuscany, Italy)
Akila & Patrick from The Road Forks
After hunting for truffles with Giulio the Trufflehunter and his beautiful dog Edda, we were treated to a feast based entirely on this delicacy. Though all of the dishes were delicious, the one that makes us salivate even now was the perfect gnocchi that melted like clouds on our tongue, topped with a thick shaving of freshly found truffles.
24. Salteñas (Bolivia)
Stephanie from The Travel Chica
This savory baked pastry gives Bolivia the prize for the best style of empanada in Latin America. The dough is thick like a pot pie crust in order to hold the hearty filling. There are two styles, and the salteñas de caldo filled with a chopped beef stew, lots of spices, and a little sweetness are the ones I would travel across an ocean for.
25. Sichuan Hot Pot (China)
Dave & Deb from The Planet D
We had the Sichuan Hot Pot in Sichuan Province itself in Chengdu, China. It is an eye sizzling array of thinly sliced meat and fresh vegetables displayed on a table surrounding giants sunken pots of spicey boiling water and oil. You cook it yourself and that is half the fun. The other half is biting into the most flavourful mouthful of food you will ever have in your life.
Biting into the Huajiao pepper is a unique moment in dining as your tongue goes numb and your eyes pop open as you embrace the heavenly sensation of the deep burn.
26. Bæjarins Beztu Pylsur (Reykjavík, Iceland)
Jen from Savory Simple
Bæjarins Beztu Pylsur is a small hot dog stand in the middle of Reykjavík, Iceland that always has a line down the block. These hot dogs are like nothing you'll find in America; they're made with native Icelandic lamb and served with an assortment of condiments including fried onions and a mayonnaise-based sauce.
We've joked about taking a weekend trip back to Iceland just for the hot dogs. They're that good.
27. Samoosas (South Africa)
Heather from 2Summers
South Africa has the largest population of Indians outside of India, and South African Indians have developed their own unique interpretation of Indian food. Samoosas (spelled with two 'o's, not one), the ultimate South African Indian snack, come in a wide variety of flavours and are far tastier than samosas in other countries.
The best samoosas in Johannesburg are at World of Samoosas, a take-away counter tucked between fabric shops in the sprawling Oriental Plaza. My favourite samoosa varieties are spinach and feta and cheese and onion, washed down with a Styrofoam cup of sweet masala tea.
28. Aioli (France, specifically Provence)
Matt from Matt Bites & Matt Armendariz Photography
And while it's nothing more than eggs, garlic, great oil and technique, the results are much greater than the sum of its parts. Maybe because we just can't seem to do it the same way here, or maybe because I've always enjoyed it in France with tons of chilled wine, great company, and a sunny late afternoon view like no other.
It's easy yet so satisfying.
It's basically just an emulsifcation of oil and eggs with tons of garlic. It's enjoyed with whatever vegetables are around, even some slices of bread. And you dip and eat. It couldn't be easier. Or enjoy on fish or other types of meats. I'm no purist but I do appreciate the real deal.
29. Troll King Salmon (Seattle, WA, USA)
Gerard and Kieu from GQ trippin
We'll fly to Seattle, Washington in a heartbeat for Elliott's Oyster House and their Troll King Salmon baked to perfection on an alderwood plank. Finished with a side of market vegetables and smoked tomato-onion beurre blanc sauce – it is quite possibly the best fish dish we've ever had.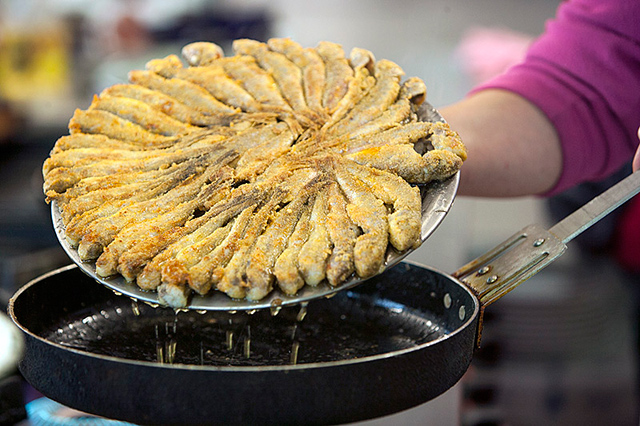 30. Hamsi Tava (Black Sea coast, Turkey)
Robyn from Eating Asia and photo by David Hagerman Photography
In northern coastal Turkey hamsi (anchovy in Turkish) season runs from September through March or so. These cold water beauties are rich and oily, so much better than hamsi pulled from the Marmara, and anchovy love is an indelible part of Black Sea culture.
For this dish the fish are cleaned and the head is removed but they're otherwise left whole — then they're dipped in cornmeal and fried to a gorgeous crunch in a slope-sided skillet called a tava.
31. Madagascar Vanilla Millefeuille (Chateau Richeux, Brittany, France)
Andi from Misadventures with Andi
Any meal in the restaurant at Chateau Richeux is a culinary delight, but the real magic begins when they pull out the dessert cart.
Chef Olivier Roellinger feels that you should never stop being a kid and you can have whatever you want, as much as you want, as many times as you want from his fully loaded cart. The highlight being the millefeuille of the day made with vanilla from Madagascar, it will have you driving the three hours it takes to get there from Paris on a regular basis, or at least planning the trip!
32. Mahaberawi (Ethiopia)
Joel – food and travel lover
Although it may be a cuisine you have never heard of, that does not change the fact that Ethiopians have some of the best food on this earth.
Using a slightly sour, soft flatbread made from the Teff grain as a base, everything is eaten by hand. A communal dish is served with healthy sections of roasted meat, earthy spiced curries, and plenty of vegetables both raw and cooked. For a single evening-time feast, I find this meal impossible to beat.
33. Tagine (Traditionally from Morocco)
Jodi from Legal Nomads
The tagine is both the name of the dish and the name of the conical clay pot that houses it. I chose this dish because of the sheer volume of possibilities that it offers: chicken and vegetables, beef, prunes and sesame, an omelette steamed to perfection and more, all simmered in the earthenware tagine. Each option is different in taste because of the spices and condiments used to build it.
There are many other meals I'd travel to eat, but tagine is permanently connected to the history and food culture of Morocco as a whole. From the Atlas Mountains, where I saw hundreds of clay cones in a line, bubbling up toward the sky, to cooking tagines under the sky in the Sahara, it's a dish that can be found and enjoyed from all walks of life in the country. It also just happens to be absolutely delicious.
And just because your mouth is still watering…
34. Chuanchuan – Chengdu Hot Pot (Chengdu, China)
Steph from Twenty-Something Travel
I love spicy food and a traditional hot pot from the Szechuan Province of China fits the bill perfectly. Picture a boiling cauldron of hot oil and chili into which you dip strips of lamb, tiny sausages and all sorts of vegetables until they are cooked and tender.
The meal is messy and will leave your eyes streaming, but it makes my mouth water just thinking about it.
35. Bao Zi 包子 (China)
Michael from Art of Backpacking
These steamed filled buns can be easily found as a breakfast meal on the streets in China. I ate them nearly every morning for breakfast in Xi'an, China. They can be filled with lamb (my favorite), beef, or vegetables and can be dipped in a sauce made with vinegar and spicy sauce.
36. Num Banh Chok (Cambodia)
Karen from Rambling Spoon and photo by Jerry Redfern
This is my comfort food: lemongrass fish curry over tiny rice vermicelli and shaved banana flower, rich with coconut and slightly sweet, balanced with a sour twist of lime and the pungent saltiness of prahok (fermented fish).
Every dish is slightly different, topped with available vegetables and herbs—long beans, cilantro, chile, basil and a variety of local leaves that run a full range of flavors, from light and minty to mouth-puckering bitter or sour.
This is the dish I crave in Cambodia.
Fresh. Simple. Local.
After compiling this article, I discovered these characteristics are the resounding answers when it comes to food worth traveling for.
It's often not the most complex dishes worth navigating the globe to consume, but rather the dishes made with simple, fresh ingredients, by experienced loving hands.
Something on this list is so incredibly delicious, it was recommended twice – did you catch (pun intended) that? Now that justifies a culinary trip.
Thank you very much for reading this article. If you enjoyed it, please share it with a friend!
Now I want to hear from you.
What would you travel across the world to eat?
Leave a comment now.
Get exclusive updates
Enter your email and I'll send you the best travel food content.