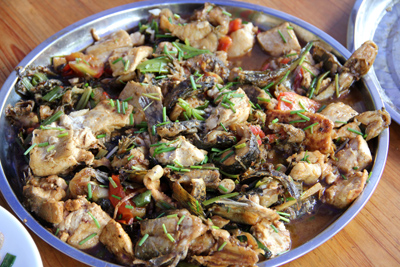 Chinese food…
…is simply one of the word's most widely enjoyed and most influential cuisines.
Throughout my stay in Yangshuo, China, I was able to sample quite a few dishes – many of them were mouthwatering delicious!
Here are 27 Popular Chinese Dishes!
1. Yangshuo Beer Fish (Pijiu Yu 啤酒鱼)
At first I found it hard to believe that "beer fish" is one of the most iconic dishes served in Yangshuo, China (it just doesn't sounds too Chineezy?).
Normally the dish is made with an entire fresh water river fish chopped up into chunks and simmered in a sauce filled with tomatoes, chili peppers, onions, and a splash of beer to liven-up the sauce.
Beer fish is one of the most popular Chinese dishes to enjoy in Yangshuo!
2. Taro Pork and Fat Roll (Lipu Taro Looped Roll 荔浦芋头扣肉)
Another famous dish in Guilin and Yangshuo is the lip-licking Lipu Taro Roll 荔浦芋头扣肉.
The meat-loaf looking blob is a combination of alternating slices of fatty pork belly and soft mashed taro. The thick brown sweet peppery gravy glazes the ingredients and it's absolutely spectacular.
3. Stir Fried Eggplant in Chili Sauce (Shao Qie Zi 烧茄子)
I have a very soft spot in my heart for eggplant.
In my opinion it's a wonder vegetable that can be cooked in almost anyway to taste delightful. From Egyptian street food to Sri Lankan food, eggplant is made deliciously across the globe! This is one of the dishes I learned to took at the Chinese cooking school.
4. Pork Stuffed Tofu
Deep fried little balls of soft tofu are emptied out and stuffed with a mixture of minced pork, green onions and oyster sauce. They are steamed until they become perfect little pork balls – perfect with a bowl of rice.
5. Tomato and Egg over Noodles
The combination of stir fried tomato and egg was never so appealing until I visited China. It is popular in Guangxi province, China, as a solo dish, or over the top of rice or noodles.
6. Tomato and Egg Noodle Soup
Tomato and egg is equally as delicious, if not more tasty, in noodle soup. This particular bowl from Gan's Noodles in Yanghsuo, was exceptional.
7. Bitter Melon and Egg
Along with tomato and egg, bitter melon and egg is another one of the popular Chinese dishes to eat in Yangshuo. It goes so well with a fresh bowl of rice and a scoop of Guilin chili sauce!
Get exclusive updates
Enter your email and I'll send you the best travel food content.
8. Stuffed Li River Snails (阳朔酿田螺)
Many Chinese tourists head straight for the stuffed Li River Snails – one of Yangshuo's popular speciality dishes. There is actually very little snail meat and most of the shell is filled up with minced pork and spices.
These little guys go down great with a few cups of Chinese tea!
9. Little Fried Li River Shrimp
Along with the stuffed snails that come from the Li River are the deep fried bite-sized Li River Shrimp. I think they are the same variety of shrimp that are used in Thai dancing shrimp, but these guys are stir fried up with a little rice wine, some salt and pepper.
10. Deep Fried Fish Hot Pot
Hot pots are your best friend in Yanghsuo.
They are cheap, huge, and extraordinarily delicious! Though you can get a choice of meat, I often opted for fish. This pot contained deep fried meaty chunks of river fish soaked in an awesome chili soup that also included bean sprouts and cilantro.
11. Thin Sliced Fish Pot
This version of hot pot in Yangshuo included extremely thin strips of raw fish. Everyone grabbed a strip of fish with their individual chopsticks, plunged it into the boiling cauldron of soup and in a matter of seconds it was ready to be drenched in the chili garlic sauce and be devoured!
12. Sichuan Style Chili Fish Hotpot
There's not a lot I like better in this world than Sichuan Shuizhuyu – to me it's the pure form of food generated ecstasy.
While it's not a dish that is native to Gaungxi Province, luckily a few Sichuan specialities have found their way to Yangshuo!
13. Clay Pot Rice and Toppings
Another Yangshuo Chinese food speciality is rice cooked in a clay pot and served with a choice of stir fried vegetables and meat. The high heat of the clay pot gives the rice a slight crunch along the edges!
14. Guilin Noodles (桂林米粉)
One of the local homegrown comfort foods in Guangxi Province and around the Guilin area is Guilin Noodles.
A bowl of these delicious rice noodles loaded with toppings is cheap and available everywhere. The noodles are famous to eat in Guilin and one of the more popular Chinese dishes in the region.
15. Steamed Dumplings (Jiaozi 餃子)
Steamed dumplings known as Jiaozi 餃子 are popular throughout Chinese food.
The interiors are filled with a variety of ingredients throughout Chinese cooking, though these were filled with minced pork and chives.
16. Chinese Pickled Vegetables
Around the center of Yangshuo, near the park are a number of street stalls that set up and serve take-away bags of pickled vegetables. They are perfectly vinegary and heavy on glorious chilies. I particularly found the young pungent ginger (pictured) to be incredible!
17. Yangshuo Barbecue
Yangshuo barbecue restaurants serve a selection of skewered meats and vegetables that you self choose and then each stick of food is either fried or grilled.
I choose a few vegetables, some wonderful eggplant, and a pig's penis (a little chewy..).
18. Yangshuo Grilled Spicy Tofu
One of the most delicious little snacks on-the-go is Yangshuo's spicy tofu pieces. They can be found grilling on the back of bicycles all over town.
After ordering the vendor sprinkles on cumin, green onions, and a choice of a variety of Chinese pickles.
19. Stinky Tofu (Chòudòufu 臭豆腐)
I was extremely excited to get my first tast of the legendary stinky tofu while I was in Yangshuo. The fermentation of the tofu is how it earned its "stinky" nickname.
The stinky tofu was deep fried and filled with a tasty vinegar and garlic sauce. Each cube of stinky tofu was melt-in-your mouth and absolutely delicious!
Check out a video of eating stinky tofu here.
20. Sichuan Style Foo Jook Hot Pot (Ma La Tang)
On similar terms with the Chinese self cooked hot-pots is the street food version of choosing your own sticks and letting the vendor boil them in her fragrant soup.
These Chinese street food bowls that are originally influenced from the culinary wondrous region of Sichuan, are awesome!
21. Chinese Hamburger
With a "No Good, No Pay" policy, there wasn't much I could do to avoid the sampling of something known as a the Chinese hamburger.
Though it was no ordinary hamburger, the chili marinated beef filled with vegetables and noodles was quite a flavor packed treat!
22. Baozi (包子)
Popular throughout China and Asia, Baozi (包子), steamed bread dumplings are available as a breakfast food all over Yangshuo.
They can be filled with an assortment of fillings, but I really liked them filled with egg and chives and the ones filled with transparent rice noodles.
23. Stir Fried Pumpkin
Before visiting China, I preferred to think of pumpkin as something that should only be used as a dessert in things like pumpkin pie. In Thailand pumpkin is used frequently in Thai desserts but also in stir fried dishes.
The best stir fried pumpkin I ate while in China was at the Chinese Farmer's Market restaurant and the dish included whole chunks of garlic and chives.
24. Leng Mian Cold Noodles (冷面)
Chinese lamian noodles are the famous hand pulled noodles of China. This huge plate of hand pulled noodles served cool is known as Leng Mian. It is more of a cool noodle salad, topped with beef tomatoes, cucumbers, carrots and fresh dressing.
These noodles are most commonly eaten in and around Lanzhou, but they have spread their deliciousness throughout all of China.
25. Stir Fired Dao Xiao Mian Noodles (刀削麵)
If you'd prefer to eat a plate of stir fried noodles, Da Xiao Mian is a choice option. These noodles are hand sliced with a knife right off a big blob of noodle dough and land in a big pot of boiling water.
After they are finished cooking, the noodles are stir fried up with a few other tasty ingredients.
26. Candied Taro Bites (Ba Si Yu Tou 拔丝芋头)
There's no better way to describe these bite sized pieces of sweet deep fried taro than utterly delicious.
Small pieces of taro are battered in something similar to caramel and then deep fried. They arrive at your table piping hot – the caramel still melting.
They are so hot and sticky that you actually have to dip them into cold water (bottom left) so you don't leave caramel strings all over the place!
These are good, real good. – no surprise that Ba Si Yu Tou is a one of the very popular Chinese dishes!
27. Black Sesame Pudding (Zhi Ma Hu 芝麻糊)
Black sesame seeds are spectacular – they've got a truly admirable flavor. This Chinese Zhi Ma Hu 芝麻糊 is made with black sesame seeds and a number of other ingredients to turn it into a thick starchy sweet pudding.
Get exclusive updates
Enter your email and I'll send you the best travel food content.