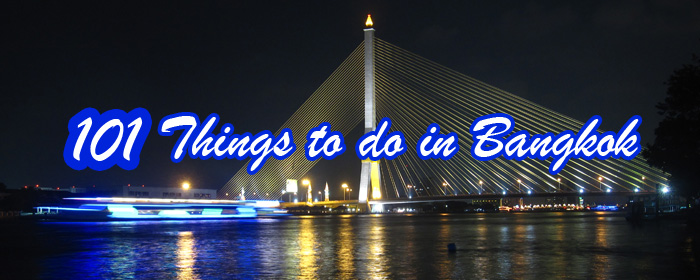 The list of 101 Things to do in Bangkok is in no particular order, just organized by the main categories:
[unordered_list style="tick"]
Nature, Exercise, and the Great Outdoors
Entertainment
Shopping and Markets
Temples and Religious
Museums and Galleries
Eating and Dining Attractions
[/unordered_list]
Do you have my Bangkok travel guide yet?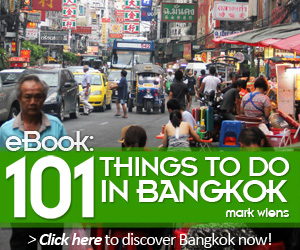 Did you known the new and improved 101 Things To Do In Bangkok is now available as an exclusive travel eBook?
That's right. And it's packed with my personal Bangkok travel tips, 101 awesome attractions, and precise directions on how to visit them all.
Here's what Richard Barrow (the top Bangkok based blogger and English news reporter) said, "One of the best looking eBooks I have seen for Bangkok and Thailand, And I usually get them all."
Get my Bangkok guide by clicking here.

1. Swim With Sharks at Siam Ocean World (สยามโอเชียนเวิล์ด พารากอน)
The ultra modern Siam Ocean World is a thrilling glimpse into the deep sea. Walk on the bottom of the tank with an oxygen filled helmet, swim with dangerous sharks, or view it all from the glass protected viewpoints.
Siam Ocean World is a Bangkok attraction that's a fantastic place if you are enticed by the world of the ocean and its teeming life!
B1-B2 Floor, Siam Paragon, 991 Rama 1 Road, Pathumwan, Bangkok 10330 Thailand | Click Here for the official website.
2. Wrestle a Crocodile at the Samphran Elephant and Crocodile Farm (สวนสามพราน นครปฐม)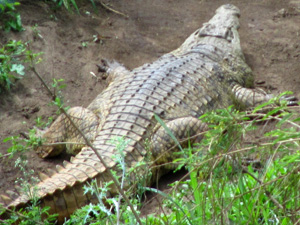 The Samphran Elephant Ground and Zoo is one of the great family things to do in Bangkok. The park offers exciting shows such as the "Elephant Theme Show," and the "Crocodile Wrestling Show."
Watch stuntmen as they direct animal activities that will have you on the edge of your seat!
Open Monday – Friday 8:30 am to 5:30 pm, Petkasem Road K.m. 30, Samphran District, Nakhon Pathom Province 73110 Thailand | Click Here to visit the official website for more information.
3. Hook a Mekong Giant Catfish at Bung Sam Lan Lake (บึงสำราญ)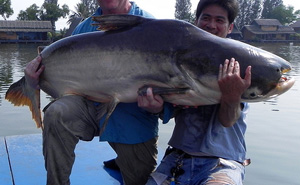 Bung Sam Lan Lake is a dream come true for those who are enthusiastic about sport fishing.
The lake, that is located just outside of Bangkok, is stocked with some of the largest kinds of fish on the planet: the Mekong Giant Catfish and the Arapaima Gigas. You just might land that 80 kilo whopper!
For more information check out these guided fishing tours.
photo credit gloomisus
4. Spend a Day at Bangkok's Dusit Zoo (สวนสัตว์ดุสิต)
It's not the most impressive zoo in the world, but the Dusit Zoo makes for a great outdoor family outing. Among the 2000 animals, there are plenty of Southeast Asian unique species and a famed exhibit of Gibbons. The Dusit Zoo is one of the things to do in Bangkok that is especially geared towards children!
Entrance is 100 THB for adults and 50 THB for children | Dusit Zoo  Rama 5 road, Khwaeng Dusit, Kate Dusit, Bangkok
5. Stroll through Buddhamonthon Park (สวนพุทธมณฑลสาย4)
Buddhamonthon is a giant park and shrine located in Nakhon Pathom, just outside of Bangkok, Thailand. The huge grounds are well maintained and perfectly manicured. Buddhamonthon makes a great place to spend some time enjoying nature and getting a break form too much city exposure.
6. Spend Some Leisure Time at Lumpini Park (สวนลุมพินีวัน)
A giant expanse of green vegetation in the midst of a concrete jungle is what makes Lumpini Park such a breath of fresh air. The park is great for jogging, cycling, walking around, or just relaxing in one of the ideal pagodas.
Located in between Sala Daeng and Rajadamri BTS stations.
7. Take a Shot at Indoor Football (Soccer)(ฟุตซอลไทย)
Just as Bangkokians are crazed by watching football, many youth live to play indoor open air 5 a side turf football (soccer). The sport moves at a quick pace, so be prepared for some running!
For more information on indoor football, check out this article and listing.
8. Take a Swing at the Driving Range (ไดร์กอล์ฟ)
Business men in Bangkok are golf fanatics. There are golfing ranges set up in giant nets all over town. It's sometimes a bit pricey to rent clubs, but if you really want to play, pick up a club from Chatuchak weekend market and head to the range.
Buckets of golf balls cost about 20 THB per tray. Take a look at these Thailand driving ranges.
9. Be a Fan at a Thai Kickboxing (Muay Thai) Bout (ดูมวยไทย)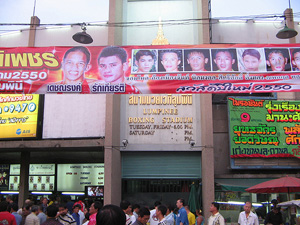 There are 2 main Bangkok stadiums to catch a Thai Kickboxing match: Ratchadamnoen Stadium and Lumpini Stadium. Lumpini seems to be the crowd favorite, as it is older with a more interesting history.
Ratchadamnoen Stadium: Monday – 18:00, Wednesday – 18:00, Thursday – 17:00 and 21:00, Sundays – 16:00 and 20:00, Prices start at around 800 THB and go up to 2000 THB for ringside
Lumpini Stadium: Tuesday and Friday – 18:30 – 23:00, Saturday – 17:00 – 20:00 and 20:30 – 00:00, Price ranges from 800 THB to 2000 THB
photo credit charno
10. Train as a Thai Kickboxer (เรียนมวยไทย)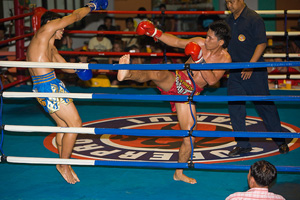 After watching a kickboxing fight, are you ready to do some training yourself? There are a number of locations around Bangkok that offer Muay Thai camps, training you to be a kickboxer. Search around for a school that suits your needs. Some charge hourly while other schools are more like camps – a place to train for a few days or weeks and stay in their provided accommodation.
photo credit gordons-joint
11. Enjoy a World of Happiness at Bangkok Safari World (ซาฟารีเวิลด์)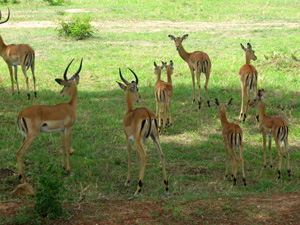 Safari World claims to be Thailand's most popular "animal and leisure park." The park is definitely one of the types of things that kids will surely enjoy in Bangkok.
The park offers an array of creative and interesting shows and sights including things like a sea lion show, orangutan boxing, and a cowboy stunt show.
Safari World Public Company Limited, 99 Panyaintra Road, Samwatawantok, Klongsamwa, Bangkok , 10510 Thailand | Click Here to see their official website.
12. Workout at the Rustic Lumpini Park Gym (สวนลุมพินีวัน)
There are few places to push weights in the world that are as cool as the outdoor gym within Lumpini Park. For just 35 THB per session, you'll be pumping giant tires and doing exercises on ancient benches with rusted out weights.
See this article for more information.
13. Catch a King Cobra at the Bangkok Snake Park Show (สถานเสาวภา สภากาชาดไทย)
Want to see a man catch a King Cobra with his bare hands?
The snake show begins on weekdays at 2 pm and it's one of the best snake shows I've ever seen! The most interesting part is that during the show, the commentator explains some facts and goes through the anti-venom treatment for each of the snakes on display.
The show is put on at the Queen Saovabha Memorial Institute, a division of the Thai Red Cross.
You can easily include the snake show on a walking tour of Silom.
Click Here for more information.
14. Gaze at the Sunset from Benjasiri Park of Benjakiti Park (near Prom Phong BTS Station)(สวนเบญจกิติ)
One of my favorite things to do in Bangkok is walk around one of the many lush green well maintained parks.
Benjasiri Park is located next to Prom Phong BTS station while Benjakiti Park, located as a Garden of Eden in between the sky rise expensive district of Asoke and the lower class area of Khlong Toey.
At Benjakiti Park you can watch the sunset over Bangkok's skyrise buildings while enjoying the flickering reflection of the lake.
15. Attend a Thai Football Match (ชมฟุตบอลไทย)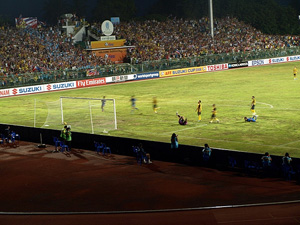 Thailand, just like much of the world, is obsessed with football (soccer). Take a look at the Thai Football official site to see if you are lucky enough to catch a live football match during your visit to Bangkok!
photo credit Ittikarn
16. Watch a Sepak Takraw Match (ชมการแข่งขันตะกร้อไทย)
Sepak Takraw is a popular Southeast Asian sport that's played by overly athletic acrobats who bus crazy moves in a sport that's a combination of volleyball and football. The sport is simply a joy to watch and marvel at the insane abilities of the athletes.
Click Here for a list of where to watch Sepak Takraw in Bangkok.
17. Attempt a Session of Hot Yoga (โยคะร้อน)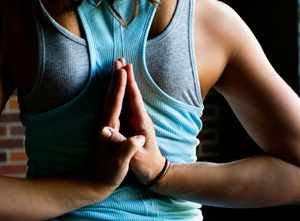 Get ready to heat things up and sweat, because the heater will be cranked up to do Hot Yoga!
As soon as you make that first move, hold that first position, your brow will start dripping. But don't worry, it's all part of the cardiovascular workout that will strengthen your body!
I attempted to do hot yoga once, and it was much more difficult than I had anticipated!
Absolute Yoga along with a host of other studios offer the class and training.
photo credit lyntally
18. Cycle on a Biking Tour of Bangkok (ขี่จักรยานทัวร์รอบกรุงเทพ)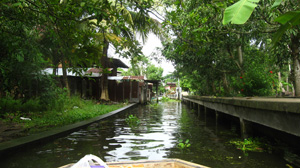 There are also plenty of things for you to do in Bangkok if you wish to exercise and experience the greener side of the city.
One of the best choices is to take a bicycle tour of Bangkok and you'll be able to get an amazing perspective of the city. There are a number of tour operators that offer Bangkok Bike tours for an adventurous day!
Do some searching around for a bike tour to suit your interest, I would recommend Follow Me Bangkok bike tours.
19. Segway through Bangkok (เลื่อนล้อรอบเกาะรัตนโกสินทร์)
Yes, not only do you have an opportunity to view Bangkok from a bicycle, but also from a goofy (but comfortable) Segway tour that is now available for the mainstream.
Click Here to see the official website for more information if you are interesting in riding a Segway around Bangkok.
20. Take a Bangkok Canal Boat Cruise (นั่งเรือชมรอบเกาะรัตนโกสินทร์)
Bangkok did not gain reputation as the "Venice of the East," for no reason. Canals and water passage ways weave through the entirety of the city. Taking a canal tour can be a rewarding thing to do in Bangkok.
Long Tail boats can be hired along the Chao Phraya River for around 1000 THB for an hour cruising around the waterways.
21. Take a Boat to Koh Kret Island (นั่งเรื่อไปเกาะเกร็ด)
About 20 km North of Bangkok, accessible by a series of passenger boats, is a little island in the middle of the Chao Phraya River, known as Koh Kret Island.
The island is great little Bangkok escape and is famous for its pottery and weekend market. If you are looking for a fantastic day trip in Bangkok, visiting Koh Kret island is a really fun activity.
Check out this article for more information on visiting Koh Kret.

22. Breeze Through Bangkok on a Tuk Tuk (นั่งตุ๊กตุ๊กชมรอบเกาะรัตนโกสินทร์)
Few things are more popular for tourists in Bangkok than riding around in the back of a Tuk Tuk.
Catching a Thai style tuk tuk from place to place can be an exhilarating way to travel. However, having ridden in tuk tuks plenty of times, I'll warn you that they are not the most comfortable form of transportation and I really don't like how your view of the roadside is blocked (due to the low ceiling).
If you are really into Tuk Tuk's you might even be interested in taking a group tour of Bangkok on a Tuk Tuk Tour!
23. Gawk at the Siam Niramit Theater Show (สยามนิรมิต)
Bangkok's most renowned theater performance, doesn't come cheaply, but is well worth the price tag. The majestic show is a world class performance of traditional Thai culture in the "Journey to the Enchanted Kingdom of Thailand."
The show costs 1500 THB and shows are held daily at 8 pm | 19 Tiamruammit Road, Huaykwang, Bangkok, Thailand 10320 | Check out their official website for more information.
24. Sing like a Pop Star at a Karaoke Room (คาราโอเกะ)
Karaoke singing is one of the more popular local things to do in Bangkok for entertainment.
Mix a party with some Sangsom (local liquor) and maybe a little Red Bull, and you just may start feeling like a pop star! Karaoke dive bars are located on many street corners and local hotspots throughout Bangkok.
If you need some pre-karaoke singing lessons, take a look at this survival guide.
25. Roller Coaster Away at an Amusement Park (นั่งรถไฟเหาะที่สวนสนุก)
The 2 main amusement parks in Bangkok are Dream World and Siam Park City.
If defying gravity and thrills are what you seek, head to a Thai amusement park for the day!
Address: 99 Sukhapiban 2 Road, Bungkum  Bangkok, Thailand
26. Doze-Off at a Luxury Movie Theater (ชมภาพยนตร์ที่โรงหนังสุดหรู)
Bangkokians love watching movies. From EGV Major to Esplanade, Bangkok is full of gigantic arctic condition theaters where one has the option of booking VIP seats that are so comfortable, it might be impossible to stay awake.
Theaters are located at most shopping centers throughout Bangkok | Hint: Wednesday is the best day to watch a movie – discounted prices!
Get exclusive updates
Enter your email and I'll send you the best travel food content.
27. Khao San Road (ถนนข้าวสาร)
If you're backpacking southeast Asia, you will undoubtedly eventually arrive on Khao San Road (you can judge for yourself whether you like it or not).
There's an abundance of street shopping, great used English book stores, many eating options, and a night life that never takes a break. If you're looking to be in the young backpacker energized environment where there's never a dull moment, you may want to spend time on Khao San.
To be honest, as there are so many tourists and rowdy backpackers, Khao San road is not the place for me, but I have been there plenty of times.
28. Get lost in Yaowarat (Bangkok's Chinatown)(เดินชมเยาวราช)
There's nothing as fun as exploring the messy clutter of Bangkok's Yaowarat district and getting lost in the maze of confusion – while eating delicious food!
Don't worry about a map, just start walking around and see what interesting things you can find!
Yaowarat is one of the top Bangkok street food spots. If you're in the mood for a sit down seafood restaurant, check out T and K seafood, and for dessert grab some bua loy.
Yaowarat is about a 10 minute walk from Hua Lamphong MRT Station, alternatively get there by taxi or bus
29. Get Massaged (นวดแผนไทย)
People tend to associate Thailand with massages, and rightfully so. Bangkok is the self pampering headquarters of all forms and styles of massage and spa treatments.
The great thing is, you can grab a 1 hour foot massage for just 150  -200 THB per hour!
A normal foot massage for an hour should cost 150 – 300 THB, but treatments can go way up from there.
30. Learn to Give a Massage (เรียนนวดแผนไทย)
There are many places to take lessons for giving a massage, but the original Wat Po Thai Traditional Medical School is the de-facto place to go that guarantees to be a great experience.
There are many different courses and options, so take a look at their website to see what works best for you.
31. Hang out with In Search of Sanuk
In Search of Sanuk believes in helping others by having fun – funlanthrophy!
And that's exactly what they do.
A group of volunteers gets together to be of service to local Thai kids. Activities include teaching English, playing games and doing all sorts of activities. ISOS also local refugees in Bangkok.
Check out the various projects ISOS has going on around Bangkok and possibly even volunteer if you are interested!
32. Be a Star (Teacher) at a Thai English Camp (ฝึกสอนโครงการ English Camp)
If you are in Bangkok for an extended time and wish to have a great experience teaching English to excited children, consider signing up to be a teacher at an English camp! Activities are often arranged for kids to have fun while learning English.
33. Learn How to Speak Thai (เรียนพูดภาษาไทย)
If you end up living in Bangkok long-term and want to take on the challenge of learning Thai, there are many options.
Learning to read and write is extremely beneficial because even when a word is written in English, the pronunciation of it will probably be a little off.
For a list of Thai language schools, Click Here.
34. Jam to Live Music (ชมดนตรีสด)
There are plenty of Thai live music venues such as Brick Bar or RCA and there are also a few Western influenced live music bars like Saxophone Pub or Brown Sugar. Choose your style and then head out for an entertaining night while jamming to some of Bangkok's best live music!
Look at this article for 5 great live music venues.
35. Toast on a Rooftop Bar (บาร์ชั้นบนสุดของอาคาร)
Bangkok has a selection of world class bars where you can toast the evening to a spectacular sunset overlooking the entire city. Among the best of the best are Lebua Sirocco at State Tower and Vertigo and Moon Bar at the Banyan Tree Hotel.
Check this out for a complete list of Bangkok's best rooftop bars.
36. Have a Crazy Bangkok Night Out (ปาร์ตี้ในกรุงเทพในเวลาค่ำคืน)
From low-key bars to hard thumping night clubs, Bangkok has a night life option that will suit your interests. There's no need to make plans for a night out in Bangkok, things just seem to unfold as the night proceeds! Just remember to grab some of that famous late night street food!

37. Graze at the Khlong Lat Mayom Floating Market (ตลาดน้ำคลองลัดมะยม)
It's probably my favorite floating market in Bangkok, a floating buffet in the quiet green side of the outskirts of Bangkok.
This weekend floating market is a fantastic place to wind down, enjoy a peaceful stroll and sample all tidbits of Thai desserts and delicious Thai dishes.
Khlong Lat Mayom floating market is located just a 15 minute taxi ride from Wang Wian Yai BTS station.
I like the market so much that I consider something you must do even if you just have one day in Bangkok!
Open: Saturday, Sunday, and public holidays from 9:30 am to 4 pm | Bang Lamad Road, Taling Chan, Thonburi, Bangkok | Click Here for pictures and more information
38. Deck Yourself Out in a Custom Suit (ซื้อชุดสูท)
Ever dream of rockin' one of those old-skool baby blue suits that includes the works (suspenders, cufflinks, ruffles etc.)? Bangkok is a paradise for custom perfect fitting clothes, where you have the luxury of choosing your fabric and style!
Purchasing a custom suit is just one of those things in Bangkok you can't miss (if you're in the market for a suit). Around Pratunam market, there are loads of custom tailors.
My friend paid about 5000 THB for 2 full quality custom suits and 4 ties
39. Go on a Silver, Jewelry, and Gems Shopping Spree (ซื้อเครื่องประดับ)
Bangkok is world renowned for its selection of gems and jewelry. If you are interested in going on a gems shopping spree check out the world's biggest jewelry store or even consider attending the Bangkok gems fair.
40. Shop and Snack at Talat Nam Taling Chan (ตลาดน้ำตลิ่งชัน)
Taling Chan floating market is one of the more popular local weekend markets to visit.
Though it's called a floating market, the land section has grown much larger than the boat market section, making way for a variety of interesting stalls and a bonanza of tasty snacks.
Open: Saturday and Sunday – 9 am – 4 pm | at the intersection of Chimphli and Chak Phra in Taling Chan, Bangkok | Click Here to find more information.
41. Go Counter-Culture at Saphan Phut (สะพานพุทธ)
It's a local youth affair every night at Saphan Phut. Discover the latest trends in Thai counter-culture fashion, get a ghetto street tattoo, and maybe even race a scooter with flashing rims!
The market gets started at the base of Saphan Phut bridge at dark and doesn't stop till late at night. Hanging out at Saphan Phut is one of the hippest things to do in Bangkok at night!
To see a map, click here.
42. Shop till you drop at MBK (Mahboonkrong, มาบุญครอง)
MBK is a gigantic shopping labyrinth that's characterized by swarms of shoppers and vendors selling everything from cell phones to Thai souvenirs and a vibrant food court that serves all forms of Thai dishes.
Be careful though, MBK has been known to suck in its shoppers for hours, and it can be next to impossible to locate an exit! MBK shopping is probably one of the most popular things to do in Bangkok.
Located just outside the National Stadium BTS station in the Siam area of Bangkok. Open from 10 am – 10 pm | 444 Phayathai Rd., Patumwan, Bangkok, Thailand | Click Here to see visit their official website.
43. Walk the Malls at Siam (ชื้อของที่สยาม)
From Central World to the Siam Paragon and Siam Square – if it's luxury shopping and modern shopping malls (and loads of street shopping too) you are after, Siam will go beyond your wildest expectations.
Get off the BTS station at Siam and you will be immersed into Bangkok's modern shopping extremism.
Siam BTS Station
44. Find Duty Free Deals at King Power (คิงเพาเวอร์)
If it's duty free shopping that interests you, shopping at King Power complex just might be one of the ultimate things to do in Bangkok! You must have a proof of an international flight out of Bangkok – then you can shop till you drop.
After purchasing, your things will be waiting at the airport for you to pick up.
Open 10 am to 9 pm | 8 King Power Complex Rangnam Rd., Phayathai, Ratchathewi, Bangkok 10400 Thailand | Click Here to visit the official website and get the details.
45. Go Shopping-Crazy at Chatuchak Weekend Market (ซื้อของที่ตลาดนัดจตุจักร)
Considered to be one of the world's largest outdoor weekend markets, Chatuchak is yet another Bangkok style shoppers paradise that quite literally never ends.
With somewhere around 15,000 vendors, there is hours upon hours of shop-till-you-drop action at Chatuchak.
Located right at the Mo Chit BTS Station | Open on Saturday and Sunday from 6 am to 6 pm | Click Here to visit the official website.
46. Get a Bouquet at Bangkok's Flower Market (Pak Khlong Talat, ปากคลองตลาด)
Bangkok's population demands no small supply of flowers. The central Bangkok flower distribution market is a pandemonium of bright colors and busy people transporting flowers from place to place.
Valentines day? Why not buy an entire truck load of flowers!
Located on Maharat Road – right at the base of Saphan Phut (Memorial Bridge), Open all day but busiest from 2 am to 10 am.
47. Purchase Electronics (and lunch) at Pantip Plaza (ซื้อของอิเล็กทรอนิกส์ที่พันธ์ทิพย์)
It's more than just electronics; it's a mega-structure of all things electric under one roof.
When you get tired of buying things, check out the food court on the 3rd floor for some more great Bangkok street food; its one of the reasons Bangkok is so great!
Located at 604/3 Petchaburi Road, Petchaburi, Ratchathewi, Bangkok 10400 Thailand | Open daily from 10 am to 9 pm | Click Here to see the official website.
48. Wholesale Shopping Madness at Platinum Fashion Mall (แพลตตินั่ม)
Platinum prides itself in being the largest wholesale mall in Bangkok. For people that want to go clothes crazy, Platinum should be among the favored things to do in Bangkok.
For the anti-shoppers, this place is a straight up nightmare.
542/21-22 Petchaburi Road, Petchaburi, Ratchathewi, Bangkok 10400 Thailand | Click Here for more information.
49. Get Your Souvenirs at Pratunam Market (ประตูน้ำ)
Pratunam is a famous outdoor market in Bangkok that specializes in wholesale fabrics, all sorts of clothing, and plenty of fake branded goods.
Crowds of people from around the world choose Pratunam as their choice destination to purchase quantities of things to bring back.
Let's not forget the street food either, there are loads of restaurants, including a decent khao man gai restaurant.
The market is normally open from about 9 am to 8 pm, though stall owners pick and choose their own hours of operation. The market is located at the base of Baiyoke Tower (Bangkok's tallest building), and just a short walk from Platinum mega mall.
50. Buy a tuck-load of fruit from Saphan Khao Fruit Market (สะพานขาว)
Not a normal tourist attraction in Bangkok, Saphan Khao is a favorite local hood for fresh wholesale fruit.
Tuk Tuks and trucks prowl the market, delivering giant heaps of fruit straight from the farms.
Click Here to see the map.
51. Have an Adventure at Khlong Toey Fresh Market (ตลาดคลองเตย)
The Khlong Toey Market is a sprawling fresh market that is packed with interesting sights, sounds, and smell's of inner-city Bangkok.
Fresh meat is sliced with ferociousness under makeshift umbrellas as clunky trucks creep through a sea of market inhabitants.
Visiting Khlong Toey Market is an attraction that will open your senses to Bangkok – it's one of the most popular shopping markets in Bangkok.
Not far from the Khlong Toey MRT station.
52. Buy a Vintage Vespa at Ratchada Night Bazaar (ตลาดของมือสอง ริมแยกรัชดา-ลาดพร้าว)
The Ratchada Night Bazaar is a heaven on earth for those seeking to purchase anything from mint condition Vespa scooters to the hippest fashion, random antiques, or vintage goods.
The makeshift market sets up in an empty dirty lot at evening and doesn't stop until around midnight.
Open: Friday – Sunday from 7 pm to mid-night – Best night is Saturday | Location: on the intersection of Ratchadaphisek and Lat Phrao Road | Click Here for more information and directions.
53. Be Careful at Patpong Night Bazaar (พัฒน์พงษ์)
The street of Patpong is a peculiar street in Bangkok. The outdoor part is a shopping market where you can easily get outfitted from head to toe in fake brand clothing.
The indoor side of Patpong is possibly Bangkok's most notorious street, famous for its rows of go-go bars and adult entertainment. It is this street in Bangkok where you will hear a "hey," that sounds like a man, only turning around to see someone that looks like a female…
Patpong is located in the central Silom area of Bangkok, very close to the Sala Daeng BTS station.

54. Inspect the Mega Reclining Buddha at Wat Pho (Temple of the Reclining Buddha, วัดโพธิ์)
Wat Pho is famous for 2 main things: housing a giant reclining Buddha, and being the origin of the renowned Thai massage. Of the many things to do in Bangkok, visiting Wat Pho is truly incredible!
The reclining Buddha is nothing short of impressive, a massive golden statue with mystifying smile.
After walking around, you may just be inclined to sample a traditional Thai massage in its purest form!
100 THB entrance fee | Click Here for more information and directions.
55. See Thailand's Most Sacred Temple at Wat Phra Kaew (Temple of the Emerald Buddha, วัดพระแก้ว)
The temple is the residence of the Emerald Buddha, a legendary statue that originally came from India. Without doubt, Wat Phra Kaew is one of the most sacred temples in all of Thailand and one of the most popular things to see for tourists in Bangkok.
If you just have one day in Bangkok, this is a must visit cultural and iconic Thai attraction.
Open: 8:30 am – 3:30 pm | Na Phralan, Phra Nakorn Old City, Bangkok, Thailand
56. Tour The Grand Palace (พระบรมมหาราชวัง)
If there's one Bangkok attraction that nearly all tourists that visit share in common, it's touring the Royal Grand Palace.
The palace complex was once the home of the King of Thailand, and also housed official government buildings and the royal court.
It's a breathtaking sight you don't want to miss on a visit to Bangkok.
Entrance fee is 350 THB | Open hours are from 8:30 – 3:30 daily
57. Catch the River Sunrise at Wat Arun (Temple of Dawn, วัดอรุณ)
Standing proud overlooking the Chao Phraya river is the Wat Arun temple of dawn in Bangkok. As the sun rises its way from the horizon in the morning, Wat Arun shimmers in the light, bringing in the new day.
Wat Arun is easily one of my favorite temples in Bangkok, largely due to its water front view and its ancient appearance that reminds me of being back at Angkor Wat.
Entrance fee is 20 THB | Open hours are from 7:30 – 17:30 | Click Here for the official website.
58. See the Golden Buddha at Wat Traimit (พระพุทธมหาสุวรรณปฏิมากร)
Wat Traimit Temple, in Yaowarat, Bangkok, is home to world's biggest solid golden statue, known in full as Phra Phuttha Maha Suwan Patimakon.
What makes the statue interesting is that it was once covered in a thick, unappealing plaster cover before being accidentally dropped during construction to reveal the golden statue. The temple is easy to get to from Hua Lomphong Station.
Address: Thanon Mittaphap Thai-China  Talat Noi, Samphanthawong, Bangkok 10100, Thailand | For a map and direction, click here
59. Watch the Crowds at Erawan Shrine (San Phra Phrom, ศาลพระพรหม)
At the corner of the luxurious Grand Hyatt Erawan hotel in Bangkok, lies one of the most popular shrines in Bangkok. The Hindu affiliated shrine that is dedicated to Brahma is marked by an everlasting stream of local Thai's and it even occasionally hosts traditional Thai dance performances.
The constant human activity in such a small area, makes it one of the more interesting things to see in Bangkok.
Located on the corner of Ploen Chit and Ratchadamri Road.
60. Admire the 5 Baht Coin at The Marble Temple (Wat Benchamabophit Dusitvanaram, วัดเบญจมบพิตรดุสิตวนารามราชวรวิหาร)
The Marble Temple is such an important landmark in Bangkok that the figure is engrained on the back side of the Thai 5 Baht coin. The symmetrical architecture and intricate decorations make the temple a must see.
Open: 8 am to 5 pm | 20 THB entrance fee | Location: Si Ayutthaya Road, Bangkok, Thailand
61. Take a Trip to Wat Boromracha Kanchanapisek Anusorn (วัดเล่งเน่ยยี่ หรือ วัดบรมราชากาญจนาภิเษกอนุสรณ์)
Outside of central Bangkok is the a massive Chinese Buddhist temple complex known as Wat Boromracha Kanchanapisek Anusorn. The temple consists of multiple levels and many separate rooms all decorated with precision.
Address: Thetsaban 9Sano Loi, Bang Bua Thong, Nonthaburi 11110, Thailand | It's a bit far out, best to take a taxi | Click Here for some good information and photos of the temple.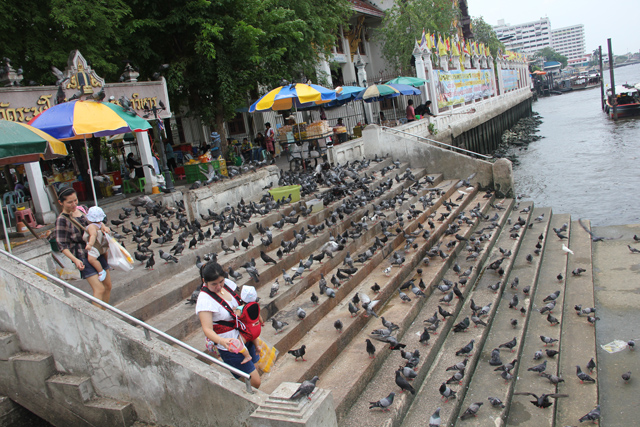 62. Wat Rakang
Wat Rakang is a unique and interesting Buddhist temple in Bangkok, mainly for its pigeon colony and fish feeding. The temple itself is kind of an average temple, not overly jaw-dropping, but most come to feed the fish and the pigeons.
When I went last time I thought I was going to get attacked by all the birds, but luckily they left me along despite taking lots of photos as they were flustering about!
Location: Next to Wang Lang Market, across the Chao Praya river from Ta Pra Chan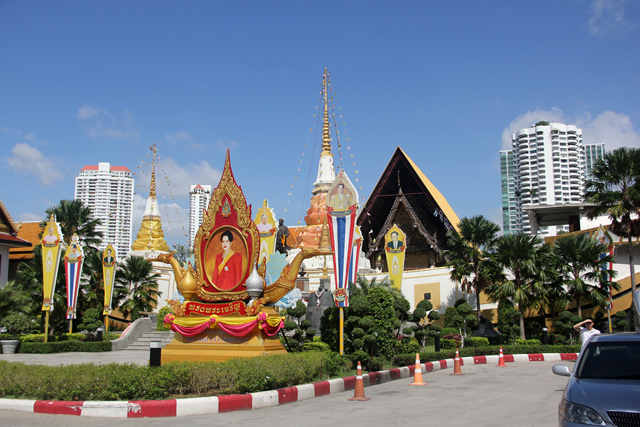 63. Learn the History of Wat Yan Nawa (The Boat Temple, วัดยานนาวา)
Wat Yan Nawa is so interesting because of it's Chinese boat shaped design. King Rama III commissioned the unique temple shape so that people would remember the old style Chinese junks in a time when modern vessels started being produced.
Location: The temple is just a short walk from Saphan Taksin BTS station.
64. Meet a Community at Church (โบสถ์คริสต์)
From New Song Bangkok to International Church of Bangkok there are many Christian church options in Bangkok that offer services on Saturday nights and Sunday mornings. Check out their websites for more information and service times.
65. Visit Assumption Cathedral (อาสนวิหารอัสสัมชัญ)
The Assumption Roman Catholic Cathedral was built with a French design under the reign of King Rama II. The Cathedral is the most well known and iconic cathedral in Bangkok.
It's a great place to visit when you're walking around Bangrak on any day of the week.
23 Oriental Avenue Bangrak Bangkok 10500 Thailand | Click Here to see the Mass schedule and more information
66. Admire the 3 Headed Elephant and the Erawan Museum (Wat Chang Sam Sien, ช้างสามเศียน)
Inside the ginormous bronze 3 headed elephant is the Erawan Museum which displays religious objects and artifacts from the collection of Khun Lek, the commissioner of the temple complex.
There are multiple levels and staircases that lead all around the interior of the elephant. Also enjoy the neatly manicured lawns and surrounding gardens.
Open: 8 am – 6 pm | Price: 150 THB for adults | Address: Erawan Museum Samut Prakan Province Thailand | Click Here for more information

67. Get Freaked Out at Bangkok's Forensic Museum (พิพิธภัณฑ์นิติเวชศาสตร์)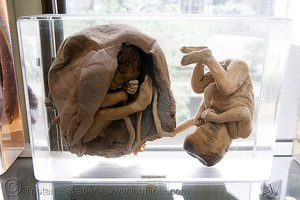 Songkran Niyomsane Forensic Medicine Museum to be specific, is one of the gutsier museums to visit in Bangkok. Don't miss the hand-dissected human beings showcasing the nervous and cardiovascular systems!
If you aren't to fond of human innards, this educational museum just might gross you out – it could be one of the weirdest things to do in Bangkok!
Open: 9 am – 4 pm | Admission is Free | Siriraj Hospital 2 Prannok Road Bangkoknoi Bangkok 10700 Thailand | Click Here to visit their website and get more information.
photo credit loupiote
68. Learn a Thai Silk Story at the Jim Thompson House (พิพิธภัณฑ์บ้านจิม ทอมป์สัน)
Jim Thompson was an American who fell in love with Thailand and began a business dealing in Thai silk. He mysteriously disappeared in 1967 – never seen again.
His restored home in the heart of Bangkok is constructed in the traditional Thai fashion and has been opened as a museum – a pretty interesting museum.
I wanted to move it after visiting!
Open: 9:00 – 17:00 | Entrance: 100 THB for adults | 6 Soi Kasemsan 2, Rama 1 Road, Bangkok | Click Here to visit the official website
69. Do a Thai Craft at the Thai Craft Fair (ชมงานแฟร์สินค้าหัตถกรรม)
ThaiCraft is a fair trade company that specializes in high quality handicrafts, hand produced by artists and communities throughout Thailand.
Visit their website for an opportunity to visit a Thai Craft Fair and even volunteer to help out!
70. Look Around the Bangkok National Museum (พิพิธภัณฑสถานแห่งชาติ)
The Bangkok National Museum is a treasure chest stocked with exhibitions that showcase the history of Thailand and a host of precious relics constructed of gold, ceramic, and ivory.
Open: 9 am – 4 pm | Entrance fee: 50 THB | Na Phrthat Rdm Phra Borommaharachawang Sub-district, Phra Nakorn District, Bangkok 10200 Thailand | Click Here to see their official website.
71. Explore the Vimanmek Mansion (พระที่นั่งวิมานเมฆ และหมู่พระตำหนัก)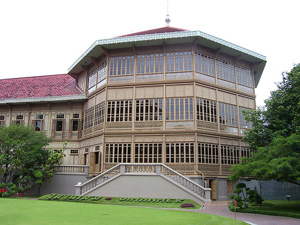 The Vimanmek Mansion was built by King Rama V in 1900 to be a royal palace, and though it is not in official use anymore (for that purpose), it remains as the world's largest mansion constructed of teak wood.
Open: 9:30 am – 4:00 pm | Entrance fee: 100 THB | Ratchawithi Road, Dusit, Bangkok 10300, Thailand | Click Here to see the official website, and be sure to read over the dress code!
photo credit nickanne
72. See traditional Thai homes at Suan Pakkad Palace Museum (พิพิธภัณฑ์วังสวนผักกาด)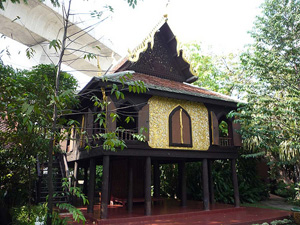 Prince and Princess Chumbhot of Nagara Svarga made the decision to turn their home into a museum. The home is a great insight into a traditional Thai luxury home and presents an ornate collection of art and artifacts.
Open from 9:00 to 16:00 | Entrance fee: 100 THB | 352-354 Si Ayudhya Road, Rajathevi, Bangkok 10400, Thailand | Click Here to visit their official website.
photo credit MiamiLove1
73. Get Artsy at Bangkok Art and Culture Center (BACC)(หอศิลปวัฒนธรรมแห่งกรุงเทพมหานคร)
The beautifully designed Bangkok Art and Culture Center is a multi-function facility that includes current art galleries, auditoriums, an art library, and a few restaurants.
The ultra modern center is a great place to leisurely walk around, enjoy the contemporary art scene, and take advantage of the quiet air-conditioned environment.
Open from 10:00 to 18:00 everyday except Sunday | Located right at National Stadium BTS – across the street for MBK shopping mall | 939 Rama 1 Road Wang Mai Pathumwan Bangkok 10330 Thailand
74. Browse the National Gallery (พิพิธภัณฑสถานแห่งชาติหอศิลป์)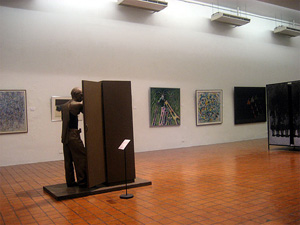 The National Gallery in Bangkok, Thailand is specifically to showcase contemporary as well as traditional Thai art in an effort to preserve the rich Thai cultural heritage.
Open from Wednesday to Sunday 9 am – 4 pm | Entrance fee: 30 THB | Thanon Chao Fa Chana Songkhram, Phra Nakhon, Bangkok 10200, Thailand | Click Here to visit the official website
photo credit hootie_inc
75. Discover Thai history at Bangkok Folk Museum (Bangkokian Museum)(กรุงเทพมหานครพิพิธภัณฑ์พื้นบ้าน)
The Bangkok Folk Museum is a compound that consists of 3 traditional wooden Thai houses in central Bangkok. The museum is set up to educate and remember the history of Bangkok and the Bangrak district where it is located.
Open 10:00 am – 3:00 pm Wednesday through Sunday | Entrance fee: Free | Located on 273 Soi 43, Thanon Charoen Krung
76. Check Out Bangkok's Street Art (นิทรรศการศิลปะ)
There's a creative side of Bangkok that is evident in empty lots, sides of trashy buildings, and covering condemned construction projects.
Bangkok street graffiti seems to only be in correct places, never painted on illegal property. It can be a fun activity to just walk about and notice Bangkok's street art!
77. Bangkok Seashell Museum (พิพิธภัณฑ์เปลือกหอยกรุงเทพฯ)
If seashells aren't already your passion, they just might be after visiting Bangkok's modern Seashell Museum. The complex is stashed with over 3000 seashells from all kinds of species. Discover the hidden beauty of seashells you didn't even know existed!
Open: 10 am – 9 pm | Entrance: 200 THB | Address: 1043/1 Silom Soi 23, Silom Road, Bangrak, Bangkok, 10500, Thailand
78. Visit Inmates at Bang Kwang Central Prison (บางขวาง)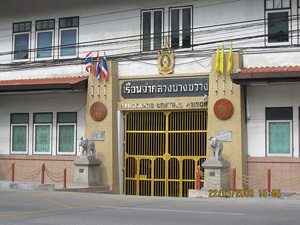 The notorious central Bangkok prison, sometimes referred to as the "Bangkok Hilton," is a high security facility that locks up mostly drug offenders and executes extremely harsh punishment.
It's possible to visit Bang Kwang Prison and visit an inmate.
Click Here for more information | Read about the prison with this BBC article
photo credit everyman61
79. Be a Sailor at the National Museum of Royal Barges (พิพิธภัณฑ์สถานแห่งชาตเรือพระราชพิธี)
As the "Venice of the East," Bangkok has a long history with water importance for transportation. The Royal Barge Museum houses a number of vessels from the royal boat procession.
Open from 9 am to 5 pm daily | Entrance: 30 THB per person | 80-1 Bangkok Noi Canal, Bangkok Noi, Bangkok 10700, Thailand | Click Here for historical background

80. Become a Thai Food Chef (เรียนทำอาหารไทย)
Those who wish to take the flavors of Thai food home with them should be enticed by the many Thai cooking schools offered in Bangkok. You'll learn a few basic dishes like tom yum goong and who knows, you just might learn to cook Thai food like a pro!
Here are some Thai Food schools to give you some ideas:
Cooking schools normally take around a 1/2 day and charge about 1200 THB or more for the course
81. Cruise with Dinner on the Chao Phraya River (กินอาหารบนเรือเจ้าพระยา)
If you are searching for a romantic thing to do on a night in Bangkok, taking a dinner cruise on the Chao Phraya River might just be the most lovely-dovey option.
The scenery is great and food is too!
Here are some dinner cruise boats to take a look at:
Dinner cruises often start at around 7 pm and finish at around 10 pm | Expect to pay over 1000 THB per person for a classy meal!
82. Stuff Yourself at an all you can Eat Thai Barbecue (Moo Ga Ta, หมูกระทะ)
You are presented with a griddle on your table and then it's up to you to grab as much raw food as possible and cook it up right on your own table! Moo Ga Ta is cheap and a great Bangkok local style dining experience.
When I first arrived in Bangkok, I began to frequently eat moo ga ta because it makes for a great social meal and it is indeed as much as you can it. The food quality is not actually that great.
Moo ga ta is similar to a Korean barbecue.
You can find a Moo Ga Ta Restaurant near Victory Monument BTS Station on Phaya Thai Road.
83. Go on a Street Food Rampage (กินอาหารริมทาง)
Overall, one of the best things to do in Bangkok is go on a Thai street food mission. Street stalls are rampant throughout the city, and there's no better way to experience it all than to go all out and enjoy a Bangkok street food binging rampage!
Food is everywhere and its cheap, fresh and delicious!
Make sure you get your copy of the Eating Thai Food Guide to find some of the best places to eat and know exactly what to order!
84. Slurp down Kobe Beef noodles (ก๋วยเตี๋ยวเนื้อโกเบ)
There's only one place that I know of to eat street Kobe beef noodles in Bangkok: Ratchawat Market.
The tender beef and delicate noodles are even better when the bill comes, only 60 THB per bowl!
Open Monday to Saturday, 9 am – 3 pm | Restaurant: Neua Wooah Rai Tiem Taan (Kobe Beef Noodles), 500/2 Rama 5 Road
85. Drink the Best Fruit Shake in Bangkok (น้ำผัก-ผลไม้ปั่นอร่อยที่สุดในกรุงเทพ)
Bangkok's best fruit shake will have you sucking the straw with force and begging for another.
The fruit street stall is located on the outside of Nang Loeng Market, in between Khao San Road and Bangkok's Siam district.
The best way to get there is to take a taxi, and the fruit shakes are so worth it.
Click Here to find out how you can enjoy Bangkok's best fruit shake! | Open: 10 am – 10 pm | Giant shakes cost 30 THB
86. Devour the King of Fruits – Durian (ทุเรียน)
Durian fruit is a passion and a devout obsession in Bangkok.
Even though durian is not everyone's choice of a good time, I consider it one of the most entertaining and delicious things to do and eat in Bangkok! Don't let yourself get away without a sample of Durian in Bangkok!
Yes, I'm a little weird, but I'd go as far as saying that eating durian is one of best things to do in Bangkok!
Durian is available during season all over Bangkok | Cost usually about 40 – 50 THB per kilo | Unfortunately you will need to go to Kuala Lumpur for the Durian Buffet!
87. Let Shrimp Dance in Your Mouth (Goong Ten)(กุ้งเต้น)
Those that can stomach the eating of live dancing shrimp, will be rewarded with one of Bangkok's most unique and tasty dishes.
The small shrimp are mixed with an assortment of spices and herbs to create a live dancing shrimp salad!
While they do dance around in your mouth, it doesn't take long for the little guys to settle down!
Click Here to watch a video! | Available only on select street corners of Bangkok
88. Go to the most interesting Coffee Shop in Bangkok (ร้านกาแฟที่น่าสนใจที่สุด)
P'Luang quit his government job in 2004 to start a street coffee stall from the back of his truck. He's been brewing Bangkok's best espresso ever since!
Open: 7 am – 7 pm | Cost: around 30 THB per coffee | Click Here to find Bangkok's best coffee shop!
89. Head to Nana for Arab Food (อาหารอาหรับที่ซอยนานา)
Tired of Thai Food of want to smoke some Arab water pipe tobacco (sheesha)? Bangkok has almost every dimension of the international dining scene covered.
If you are looking for some fine Middle Eastern food in Bangkok, look no further than Sukhumvit Soi 3, better known as Nana or Soi Arab. From sit down Middle Eastern restaurants, to street food shawarmas, the area is packed with awesome cuisine.
I would highly recommend Beirut Lebanese restaurant, near Nana, one of my favorites!
Short walk from Nana BTS station | Sukhumvit Soi 3 and Soi 3/1
90. Lick your finger in Pahurat eating Street Indian Food (อาหารอินเดียที่พาหุรัด)
Indian food is not known for being in the cheap genre of food in Bangkok. That's part of the reason I was so excited when I located an Indian cove of restaurants in Pahurat that serve Bangkok's best street Indian food at affordable costs.
Click Here to find directions and a map.
91. Thai Street Food Cooked by a 5-Star Chef
There's a little trend in Bangkok these days – former hotel chefs opening their own street food style restaurants and serving outstanding food at fractions of the price.
They not only have perfected their Thai dishes, the chefs are also experts and international fare and also quite creative in coming up with fusion dishes.
I think it's a win win food situation.
Some of the recommended restaurants where chefs have gone street are Golden Bay Leaves (great Thai food and also things like lasagna), Chef Odd (makes a killer steak), and Uncle John.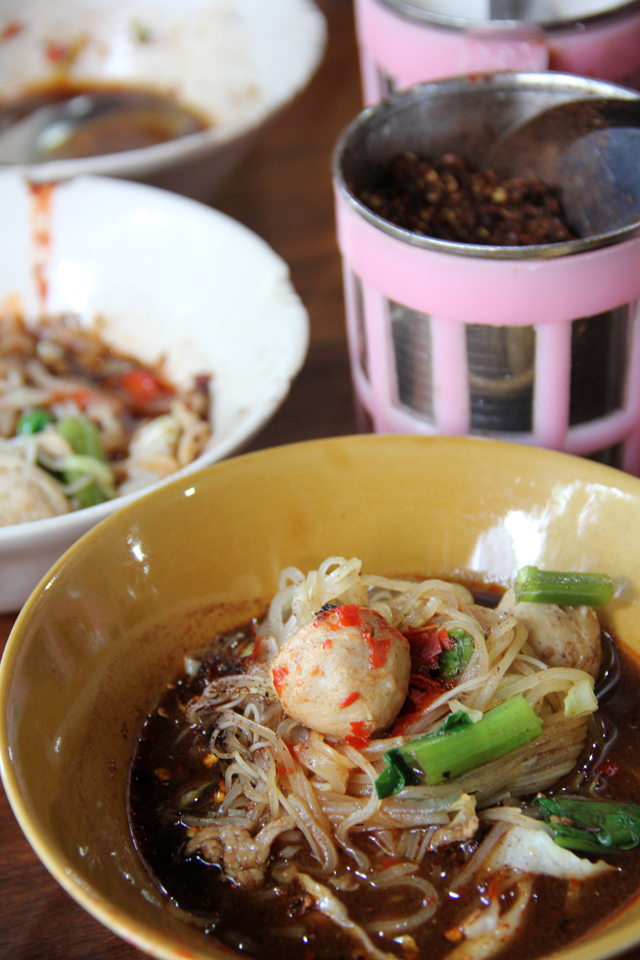 92. Enjoy the Thrilling Boat Noodle Alley (ก๋วยเตี๋ยวเรือที่อนุสาวรีย์)
Thai locals love to eat, and boat noodles are high on the list of most sought after soup noodles.
Crowds go crazy, devouring as many bowls of boat noodles as possible and competing against other tables to see who can eat the most, stacking noodle bowls on the edge of the table for prideful evidence.
Topping the list of explicit Thai food pictures, if you're a foodie, this is one of the must-eat things to do in Bangkok!
Sud Yod Guay Teow Rhua ("Best Boat Noodles") Located near Victory Monument BTS station | Open: 11 am – 9 pm | Cost: 9 THB per bowl! | Click Here for more information
93. Dine on Bird's Nest Soup (ซุปรังนก)
Bird's nest soup is one of those Chinese inspired cure-all delicacies. Though it's still expensive, a bowl of bird's nest soup can be purchased in Bangkok for $5 – $10 (very low world price), a decent price to say you ate a bowl of bird spit!
Get bird's nest soup in Yaowarat, Chinatown, Bangkok | Click Here for more information
94. Eat on Top of Bangkok (ร้านอาหารที่ตึกใบหยก)
Baiyoke Tower, Bangkok's tallest building, is home to a number of high class restaurants and bars so you can be at the top Bangkok! On the very peak is a revolving lookout where you can catch a 360 degree view of Bangkok at night!
222 Soi Ratchaprarop 3, Rathaprarop Road, Ratchathewi, Bangkok 10400 Thailand | Expect to pay around 1000 THB per person for a meal at Baiyoke Tower.
95. Attend the Vegetarian Festival (เทศกาลอาหารเจ)
The Bangkok vegetarian festival is an annual celebration that brings together a host of people all searching for delicious Thai vegetarian food and deep fried snacks.
There's no telling what sort of vegetarian surprise will be available next year (last year I found all forms of fake meat)!
Also, if you're vegetarian and want to eat some of the best vegetarian food in Bangkok, be sure to head to Ari BTS station and eat at Baan Suan Pai.
Festival is located in Yaowarat, Bangkok | Usually in September of October
96. Try Thailand's Energy Drink Selection (เครื่องดื่มชูกำลัง)
Small brown bottles of liquid energy are famous in Thailand. Motorcycle drivers and tuk tuk touts all have their favorite, and you can too! Try Thai Red Bull, M-150 (liquid cocaine), or Carabao.
All drinks available at 7/11
97. Pamper Yourself at a Marvelous Japanese Buffet (บุฟเฟต์อาหารญี่ปุ่น)
Bangkok rates as one of the better cities in the world to enjoy a go-crazy all you can eat Japanese sushi buffet for an affordable price. My favorite in town is Takumi Japanese Restaurant located within the Swissotel on Ratchada Road.
Takumi Japanese Restaurant Bangkok | Open: 12 pm – 2 pm, 6 pm – 10 pm | Click Here for official website
98. Devour the Colossal Platter at Today Steak (สเต็กสามย่าน)
Get ready to loosen your belt, because there's no way to avoid a few extra kilos when eating at Today Steak Bangkok at the Sam Yan market. Their steaks are some of the cheapest and best in town, and after eating the all-things deep fried platter you might just contemplate spending the night right there!
Today Steak – Sam Yan Market, Chula, 2nd Floor (behind MBK shopping center) | Price: 100 – 250 THB | Click Here for map on how to get to Sam Yan Market
99. Dine at Bangkok's Biggest Restaurant – Royal Dragon Restaurant (ร้านมังกรหลวง)
The Royal Dragon Restaurant in Bangkok may have been overtaken as the world's largest restaurant, yet with over 1,000 staff and seating for 5,000, it's definitely the largest dining facility in Bangkok. Waiters and waitresses double as food-flying acrobats, delivering Thai dishes in an efficient yet show oriented fashion.
Address: 35/222 M.4 Bangna – Trad Rd. Bangn Bangkok, 10260 Thailand | Click Here to visit the official website
100. Taste Test the Notorious Bug Cart (แมลงทอด)
The infamous bug carts in Thailand that consist of a random selection creepy crawlers, are a novelty and sought after treat in Bangkok. Getting a sample of each form of deep fried bug is a memory building and entertaining thing to do!
Located all over the streets of Bangkok. You can watch me eating bugs in Bangkok right here!
101. Eat a REAL Ice Cream Sandwich (ไอติมใส่ขนมปัง)
Bangkok doesn't take the definition of "Ice Cream Sandwich" figuratively. They take it to the extreme on the streets, plopping a couple scoops of coconut ice cream into a hamburger bun and calling it an ice cream sandwich!
Located all over the streets of Bangkok | 10 THB | Click Here for a great photo! | Check out more Thai desserts.
There you have, all 101 Things to do in Bangkok! The crazy thing is, there's probably 1001 and more things to do in Bangkok!
Get my new and improved Bangkok Travel Guide!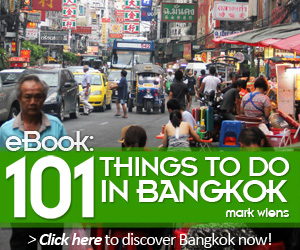 Here's what you're about to discover…
101 awesome things to do in Bangkok
Google map showing all the attractions
Directions written in Thai (really helpful if you don't speak Thai)
My personal Bangkok travel tips
Make the most of your time in Bangkok!
"You can download the colorful eBook as a PDF file and this then plays on your computer, e-readers, or devices like iPad which is what I used." – Richard Barrow (Bangkok blogger and news reporter)
Get exclusive updates
Enter your email and I'll send you the best travel food content.