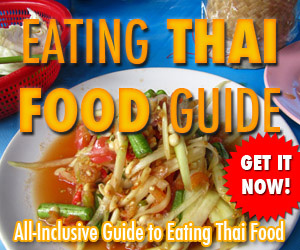 Thai desserts are yet another explorable sector of the extensive realm of best Thai dishes.  An indulgence of Thai desserts is an eye-opener to a new angle of Thailand's sweet flavors and a food gastro-adventure that's sure to never get boring.
After eating and gathering over 100 best Thai dishes, it was surely time to devour all the sugary treats that Bangkok has to offer.
Most Thai desserts are a sweet and sometimes filling snack opposed to a light and airy Western style dessert.  They are characterized by sweet syrups, coconut cream, tropical fruits, and sweet sticky rice.
The ultimate guide to Thai desserts is divided into a few categories to make it easier to navigate: Sticky Rice Desserts, Jelly/Custard/Gooey, Soup/Pudding, Cakes/Bread/Pancakes, Fruit/Based, Ice Cream, and Random.
If you have a chronic sweet tooth or an occasional sweet craving, this Thai Desserts (Khanom Thai): The Ultimate Thailand Sweets Guide is for you!
I have "***" my personal favorites with 1-3 stars.  My personal choice really comes down to sticky rice durian and Bua Loy Nam King, though most are quite delicious.  Take a look at the list and feel free to let me know your favorite Thai desserts!

Khao Niew Toorien ข้าวเหนียวทุเรียน (Durian Coconut Milk Soup with Sticky Rice)***
Sticky rice with chunk of Durian swimming in a thick coconut cream syrup is surely one of the most unique Thai desserts!
Khao Tom Mud ข้าวต้มมัด
(Banana Leaf Sticky Rice)
Sticky rice, coconut milk, sugar, sweet black beans, all candied in a banana leaf wrapper
Khanom Gluay ขนมกล้วย
(Banana Treat)
Sticky rice, bananas, sugar and shredded coconut made into a green treat. It becomes green by soaking Pandanus leaves in cool water and adding it to the mixture.
Khao Niew Ma Muang ข้าวเหนียวมะม่วง (Sticky Rice with Mango)*
Sweet sticky rice with sweet yellow mango on top and covered in coconut cream syrup.  Khao Neow Mamuang is among the most popular Thai desserts.
Khao Niew Moon ข้าวเหนียวมูน (Colored Sticky Rice)*
Selection of sticky rice made with sugar, coconut milk, salt and a little flavor to create the variation of color
Khanom Jark ขนมจาก
(Palm Leaf Treat)
Flour, coconut meat, sugar and salt grilled in a palm leaf wrapper
Khao Mahk ข้าวหมาก
(Fermented Rice Pudding)**
Whole grains of sticky rice sweetly fermented into a pudding that remains slight crunchy
Khao Lam ข้าวหลาม
(Sticky Rice in Bamboo)
Sticky rice sweetened with black beans and syrup and roasted in a bamboo trunk
Khao Niew Sang Kaya ข้าวเหนียวสังขยา (Sticky Rice with Custard)**
Sweet sticky rice topped with a slice of creamy custard
Khao Niew Dam ข้าวเหนียวดำ
(Sweet Black Sticky Rice)
Sweet black sticky rice with shredded coconut on top
Khao Mao Tod ข้าวเม่าทอด (Fried Banana with Roasted Rice)**
Super ripe banana wrapped with roasted unripened sticky rice and coconut before being deep fried
Khanom Khao Mao ขนมข้าวเม่า (Unripe Sticky Rice Dessert)
Unripe roasted sticky rice used to make a sweet dessert

Tong Yip ทองหยิบ
(Flower Egg Yolk Tart)
Egg yolk, sugar, and flower water boiled in sugar syrup and formed into flower like shapes. Tong Yip, Tong Yord and Foi Tong make up a popular trinity of Thai desserts.
Tong Yord ทองหยอด (Round Egg Yolk Tart)
Egg yolk, sugar, and flower water boiled in sugar syrup and formed into round balls
Foi Tong ฝอยทอง (Shredded Egg Yolk Tart)
Egg yolks and sugar boiled in sweet syrup and then formed into hairlike shapes
Khanom Krok ขนมครก
(Coconut Rice Dumplings)*
Traditional coconut and rice flour dumplings with a choice of topping and cooked in a waffle like heated pan
Woon วุ้น
(Jelly)
All kinds of Thai jelly similar to Jello
Woon Ma Plow (Coconut Jelly)
Clear coconut jelly hardened into a coconut shell
Khanom Chun ขนมชั้น (Thai Jello)
Sugar, coconut milk, and flour mixed and set in cookie pan to harden into a jelly
Khanom Chun Gafe ขนมชั้นกาแฟ
(Layered Coffee Jelly)
Brown layered jelly with a hint of coffee flavoring
Khanom Duang ขนมด้วง
(Sticky Morsels)
Tapioca and rice flour with coconut milk and sugar made into little food colored morsels and sprinkled with shredded coconut
Sang Kaya Fug Tong สังขยาฟักทอง (Pumpkin and Custard)**
Pumpkin hollowed out and filled with the creamiest custard
Khanom Piek Poon ขนมเปียกปูน
(Burnt Coconut Jelly)
Flour, sugar, and shredded coconut meat residue that is burnt on the outside to create the black effect and made into a jelly
Takoh ตะโก้ (Coconut Cream Jelly)**
Tapioca flour mixed with heavy coconut cream, coconut pulp and sugar to create a intense coconut custard topping over tapioca pearls and sometimes corn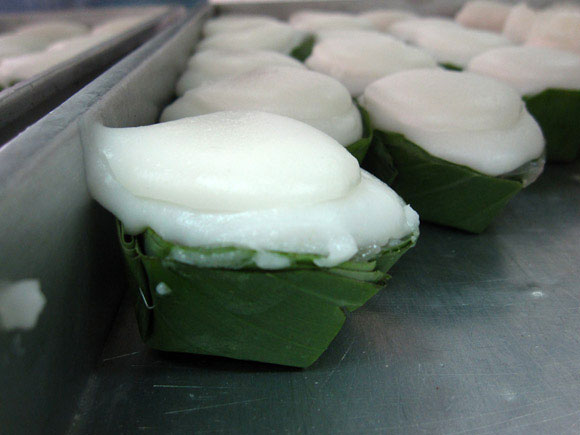 Khanom Takoh ขนมตะโก้
(Coconut Pudding Cake)
Jelly custard on the bottom with coconut cream pudding on top
Woon Kati วุ้นกะทิ
(Condensed Milk Jelly)
Jello like jelly with condensed milk topping
Khanom Thuay ขนมถ้วย (Thai Coconut Custard)**
Coconut milk custard made in small bite size bowls
Khanom Sai Sai ขนมไส่ใส้ (Coconut Treat)
Coconut fruit inside with coconut pudding outside and covered in a banana leaf
Khanom Thien ขนมเทียน (Sticky Cake)
Tapioca flour and peanuts made into a wet cake and wrapped in a banana leaf. Especially eaten during Chinese New Year

Bua Loy Nam King บัวลอยน้ำขิง (Mochi Rice and Sesame Balls in Ginger Water)***
Dumplings of rice flour encasing black sesame paste and floating in sweet ginger soup
Sakoo Piek สาคูเปียก
(Tapioca Pudding)*
Tapioca balls in sweet pudding paste
Tao Huay Nam Khing เต้าฮวยน้ำขิง
(Soft Tofu and Sweet Croutons in Ginger Water)**
Vibrant sweetened ginger water with pieces of soft tofu and sweet croutons
Nam Kang Sai น้ำแข็งไส
(Mixed Ice Dessert)
A choice combination of various jellies and candied fruits topped with chunks of ice and sweet syrup
Khanom Wan Ruam Mit (Mixed Sweet Dessert)
A sweet concoction of mixed treats
Rang Nok รังนก (Sweet Bird's Nest Soup)**
Bird's nest soup made into a healthful dessert snack, and just barley sweet
Pakim Kai Tow ปะกิมไข่เต่า
(Sweet Salty Soup)
Sweet and salty soup combined together with sticky rice flour and coconut milk
Fug Tong Gang Buad ฟักทองแกงบวช
(Pumpkin in Coconut Milk)
Pumpkin candied in coconut milk with sugar and salt
Taptim Grob ทับทิมกรอบ (Water Chestnuts in Coconut Soup)
Water chestnuts in a sweet icy coconut soup
Nam Tow Hoo น้ำเต้าหู้ (Tofu Water)*
Sweetened tofu water almost tasting like milk
Salim ซาหลิ่ม (Glass Noodle Dessert)
Glass noodles in sweet coconut milk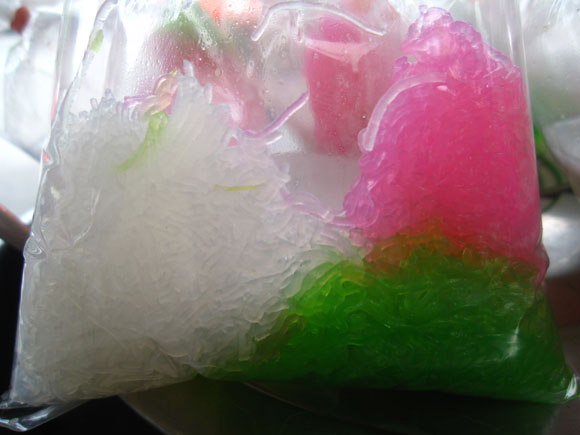 Khanom Thungtag ขนมถังแตก
(Sweet Thai Pancake)
Flour and coconut milk with yeast, salt and sugar mixed into a pancake. Eaten with foi tong or an assortment of toppings.
Roti Gluay โรตีกล้วย (Banana Pancake Treat)*
A doughy pastry fried in butter with a banana and egg mixture on the inside before being covered with sugar and sweetened condensed milk. Can be found all of over Thailand but is especially a popular Thai dessert in the South.
Khanom Buang ขนมเบื้อง
(Sweet Thai Crepe)
Sweet Thai crepe with meringue and foy tong on top
Khanom Sahlee ขนมสาลี่
(Sweet Bread)
Flour, sugar and lime juice mixed into a sweet bread and steamed to remain cooked and still moist and fluffy
Taung Muan Sot ทองม้วนสด
(Sweet Rolled Sesame Pancake)
Soft pancake with roasted sesame seeds
Tong Muan ทองม้วน
(Crunchy Pancake)
Flour, coconut milk, eggs, salt, sugar and black sesame seeds cooked in a waffle maker
Tua Pap ถั่วแปบ (Peanut Rice Cake)*
Soft rice flour morsels with peanuts, mung beans, sesame seeds and coconut
Khanom Pang Wan ขนมปังหวาน (Sweet Breads)
Not really Thai but a selection of hamburger buns filled with synthetic bright sweet things. Thai desserts sometimes take on interesting forms, shapes and flavors!
Roti Sai Mai โรตีสายไหม
(Thai Cotton Candy Burrito)**
Thai style candy floss of pure sugar wrapped into a crepe and eaten like as a super sweet burrito
Khanom Mun ขนมมัน
(Coconut Cassava Cake)
Cassava mixed with coconut and made into a moist cake
Khanom Tua Tud ขนมถั่วตัด
(Coconut Peanut Cake)
Ground peanuts mixed with coconut and formed into moist cake
Khanom Moa Gang ขนมหม้อแกง
(Thai Custard Cake)*
Thai custard cake baked and sprinkled with deep fried red onions
Khanom Tuay Foo ขนมถ้วยฟู
(Sweet Steamed Bread)
Plain flour with sugar and food coloring steamed into a sweet bread snack
Khanom Tarn ขนมตาล (Palm Sugar Pudding)
Small cake of steamed palm hearts
Cake Gluay Hom เค้กกล้วยหอม
(Banana Muffin)
Muffin made with banana
Khanom Pia ขนมเปี๊ยะ
(Chinese Baked Cookie)
Rice flour cookie with sweet filling
Khanom Thom ขนมต้ม
(Dessert Balls)
Flour and sugar made into small bowls with nutty filling and covered with shredded coconut
Pang Gi แป้งจี่ (Coconut Pancake)*
Small bite sized coconut pancakes
Khanom Khai ขนมไข่ (Baked Egg Cake)
Cake made with eggs and flour and shaped in a small molded pan
Khanom Baa Bin ขนมบ้าบิ่น (Fried Cake)***
Sticky rice flour and sugar fried on a griddle to become crispy and golden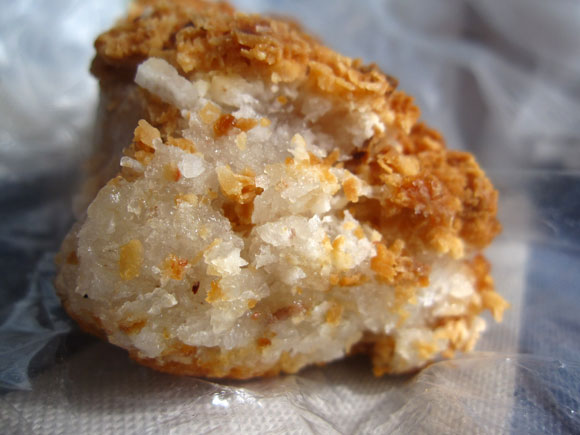 Khanom Keng (Sticky Cake)
A traditional cake made with super sticky rice flour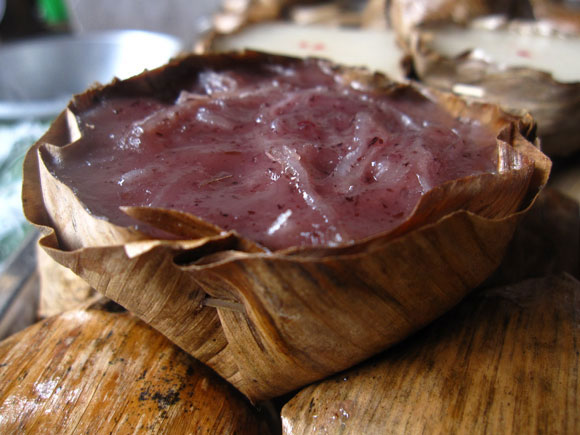 Nam Polomai Ruam Ban (Thai Mixed Fruit Smoothie)***
The super Thai style mixed fruit shake created with the finest tropical fruits blended with ice and sweet coconut water makes for the finest and freshest Thai desserts available.
Gluay Buad Chee กล้วยบวชชี
(Bananas in Coconut Milk)
Bananas with coconut cream
Putsa Cheum พุทราเชื่อม
(Candied Chinese Date)
Candied Chinese dates in sweet syrup
Looktan Cheum ลูกตาลเชื่อม
(Candied Palm Seeds)
Palm seeds boiled in water and then highly sugared
Grataun Song Kreung กะท้อนทรงเครื่อง (Candied Santol Fruit)*
Santol fruit candied and mixed with a peanut, chili, dried shrimp flavored sweet glaze
Mamuang Nam Plah Wan มะม่วงน้ำปลาหวาน (Green Mango with Sweet Sauce)*
Green mangoes dipped into a sweet fishy paste with dried shrimp and red onions
Gluay Cheum กล้วยเชื่อม (Bananas with Syrup)
Sweet bananas in syrup with hot coconut milk on top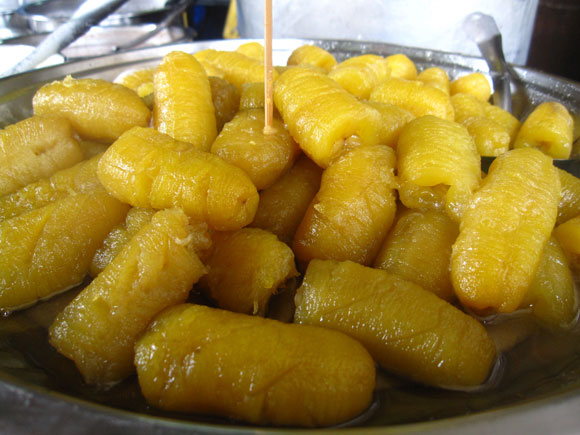 Gluay Kaek กล้วยแขก (Fried Sweet Bananas)*
Battered and deep fried bananas into a crispy crunch


Itim Kati ไอติมกะทิ (Coconut Ice Cream)***
Coconut infused ice cream with peanuts usually served in a coconut shell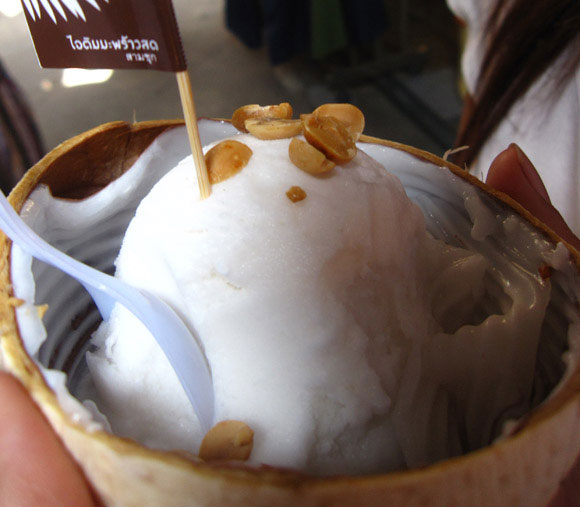 Itim Khanom Pung ไอติมขนมปัง (Ice Cream Sandwich)***
Sliced bun, sticky rice, scoop of ice cream, peanuts, preserved palm fruit and condensed milk combined into a true Thai ice cream sandwich! Thai desserts can be fun and interesting to eat!
Itim Bohrahn ไอติมโบราณ (Creamy Popsicles)**
Fruit flavored frozen ice cream rectangles
Itim Tod ไอติมทอด (Deep Fried Ice Cream)
Good old fashioned deep fried ice cream

Look Choop ลูกชุบ (Mung Bean Candy)
Smashed and sweetened mung bean paste made into cute candies to look like fruit and glazed in sweet candy
Med Kanun เม็ดขนุน
(Mung Bean Yolk)
Mung bean paste formed in egg yolk and sugar
Mun Sumpalung Cheum มันสำปะหลังเชื่อม
(Candied Cassava)
Cassava candied in sweet syrup
Kai Wan ไข่หวาน (Sweet Eggs)
Eggs cooked in sugar water with a hint of ginger
Toorien Guan ทุเรียนกวน (Durian Paste)
Fragrant Durian with sugar made into a substance that resembles toothpaste.
Note: Eat at your own risk, some may not consider Toorien Guan to be the best of Thai desserts!
Mamuang Guan
(Mango Fruit Roll-Up)
Mango made into sweetened and dried fruit roll-up sheets
Lod Chong Nam Kati ลอดช่องน้ำกะทิ
(Green Noodle Surprise)
Green noodles made from flour and pandanus leaves and eaten with a ladle of sweet coconut milk
Khanom La Grob ขนมลากรอบ
(Honey Candy)
Made from flour egg yolks and honey and fried in a big pan
What looks good?  Do you have a favorite Khanom Wan, Thai dessert?
What are your favorite Thai desserts?

Don't forget to check out 100 best Thai dishes!
If you enjoyed this, please be sure to check out the Eating Thai Food Guide and the Vegetarian Thai Food Guide now!