Ngiu Chap Beef Noodle Soup
Restaurant: Gaya Street Restaurant
Location: Kota Kinabalu, Sabah, Malaysia
Cost: 5 MYR (1.57 USD)
Throughout my stay in Asia, I've enjoyed more than a few beef noodle soups.  I was recommended to sample Sabah, Malaysia's own variation known as Ngiu Chap. This Kota Kinabalu favorite can be ordered with a choice of noodles and a combination of mixed beef toppings.  This bowl included beef, beef balls, a little bit of tripe, a small piece of tongue, and a few parts that I had no idea where they originated.  The broth was not overly greasy yet still powerfully beefy.  It tasted like the beef had been simmered for hours with onions and other aromatic herbs.  One of my favorite things about clear soup in SE Asia is the handful of fresh herbs (in this case cilantro and green onions) thrown on and usually left to float on top.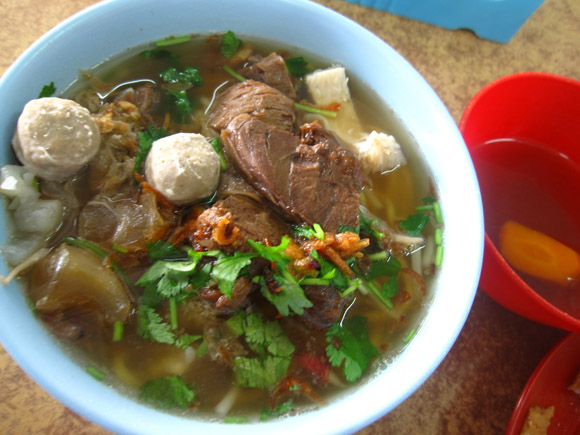 My bowl of Ngiu Chap arrived in all it's spendor from the smiling waitress who waited as I took my first bite.  A slurp of noodles from my chopsticks, a ladle of soup from my spoon, and a quick wipe to my mouth with a napkin, and I smiled back at her, both of us sensing the food connection.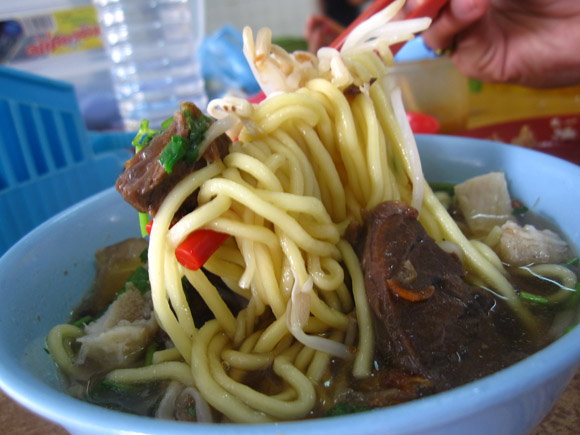 Though it was just a beef soup, the main beneficial assets were the thumb-sized tender chunks of beef and the clear flavorful broth.  I can see on a rainy day how Ngiu Chap might rate highly as a comfort food among crowds from Sabah, Malaysia.
[smartads]
Migration Mark Rating: 7/10